How To Get The Most Out Of Your Fitness Class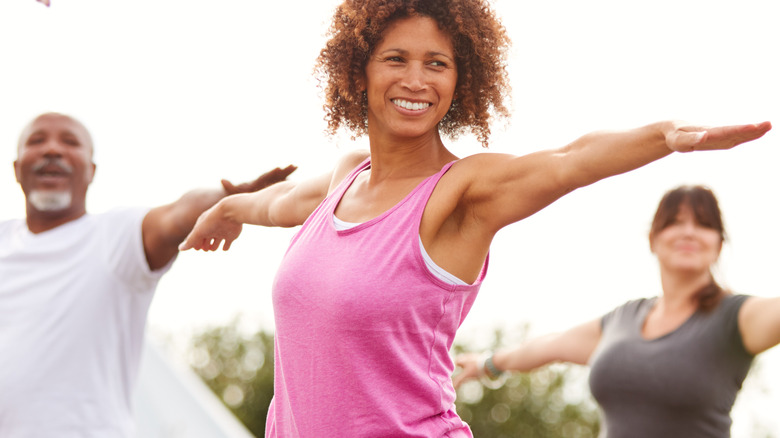 Monkey Business Images/Shutterstock
Everyone should remember to stop comparing themselves to unrealistic beauty standards and be kinder to their bodies this summer. However, if you feel a bit insecure and want to get healthier, or even if you just like the idea of living a more active lifestyle, it might be a good idea to take a fitness class. Not only can exercising change your physical appearance, but it can help you relieve stress and give you an excellent sense of accomplishment.
Advertisement
Although there's nothing wrong with a solo workout, there are many advantages to opting for a fitness class. For instance, being in a group setting can help you feel more encouraged and determined to keep going, and your instructor will help you ensure you're doing your workout correctly (via Fhitting Room). Additionally, we've all had those days when we planned to go to the gym after work but ended up eating snacks while binging Netflix instead. While there's nothing wrong with occasionally choosing to relax instead of working out, signing up for a class with specific schedules will help you stay motivated to commit to showing up instead of backing out, per Verywell Fit. Once you decide to try a fitness class, you should make the most out of it.
Advertisement
Come prepared and enjoy the fitness class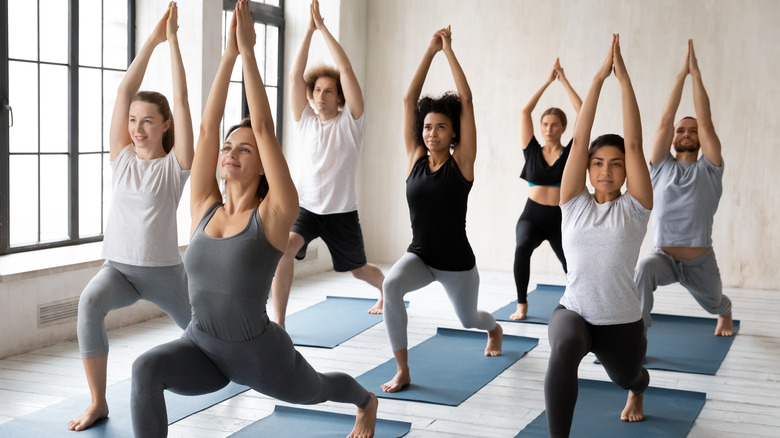 fizkes/Shutterstock
It's crucial to be prepared for any class you attend, including fitness classes. It's best to show up ready to sweat by investing in proper activewear so you'll feel more comfortable when exercising (via Mountainside Fitness). Plus, you should come ready to sweat! While it may be tempting to avoid working out to the point where you get all tired and sweaty, truly successful workouts aren't easy. 
Advertisement
Furthermore, PopSugar explained that you should try your best to have fun during your workout class. While exercising can get tiring sometimes, you should avoid complaining or comparing yourself to others. Think of it like this: if you're paying to be part of the class, you should try to enjoy it, so do your best to have a positive mindset. Moreover, it's always nice to say hello to your instructor when you arrive and thank them before leaving.
Many fitness classes involve cardio, and when doing cardio-intensive workouts, you should remember to pay attention to your posture to improve your performance and avoid hurting yourself (via Daily Burn). And while effort is crucial, you shouldn't push yourself too far out of your limits. According to The Guardian, you should begin with around two classes per week and stick with it, and once you get used to it after a couple of months, try three sessions. It's also a good idea to experiment with different workouts instead of limiting yourself to only one type of class. 
Advertisement
Try these fitness classes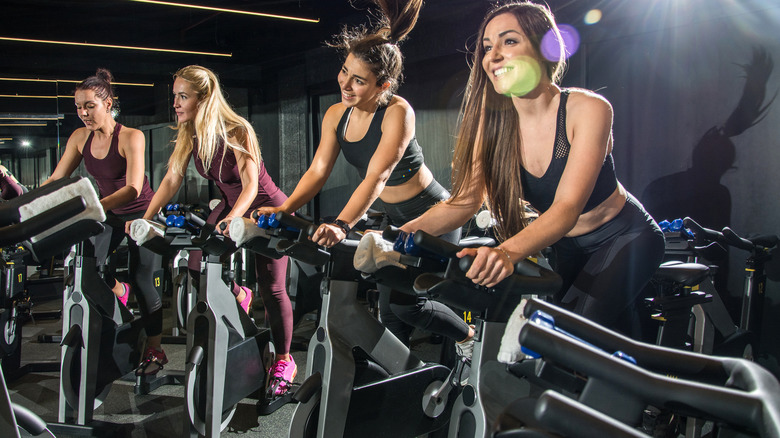 Bojan Milinkov/Shutterstock
If you're ready to take the next step and sign up for a fitness class, you should be sure to pick the best course for your interests and goals, so you'll benefit from having an understanding of what each type of class has to offer before you make your decision. For example, if you're searching for a cardio-focused class that can help you lose weight, you should consider taking a spin class, per Natural Force. During one of these classes, you'll be working out on a bike. Or, if you want to get a quality workout while learning how to defend yourself, you should look into a kickboxing class. On the other hand, Zumba classes are great for anyone who likes to dance.
Advertisement
While attending in-person fitness classes is an excellent way to work out and make friends, we understand that they may not be practical for some people, especially if you have a super busy schedule or transportation is an issue. However, you can still enjoy a fitness class from home! Byrdie named Alo Moves the best overall virtual workout class because you can explore many easy-to-access classes such as Power Barre and Sweat and Tone.
So, are you ready to challenge yourself to make the most out of a fitness class?