How To Update The Early Aughts Blue Eyeshadow Trend And Rock It Today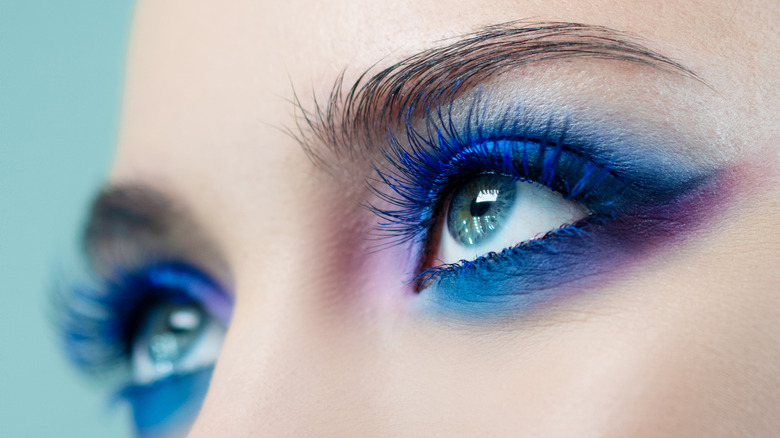 Lia Koltyrina/Shutterstock
We may receive a commission on purchases made from links.
Do you remember "We R Who We R" by Ke$ha? Although this song came out over a decade ago, it still holds up today as a party anthem with iconic lyrics such as "DJ, turn it up, it's about d**n time to live it up" and "you know we're superstars, we are who we are." This song is still a beloved choice to play at nightclubs and parties because it's all about living a young, wild, and free life without caring what other people think. But the music video is just as memorable as the song lyrics — primarily because of the makeup. One look that particularly stood out was Ke$ha's glittery blue lipstick with matching blue eyeshadow.
Advertisement
Believe it or not, blue eyeshadow may not have hit its peak popularity in the "We R Who We R" music video. According to Glamour, blue eyeshadow is trending again! But are you really surprised by this bold makeup trend? After all, more people have been incorporating neon pops into their makeup and nailing the chic metallic shoe trend this summer, so 2022 is a perfect time to explore daring fashion and beauty trends.
Here's how to flaunt blue eyeshadow with confidence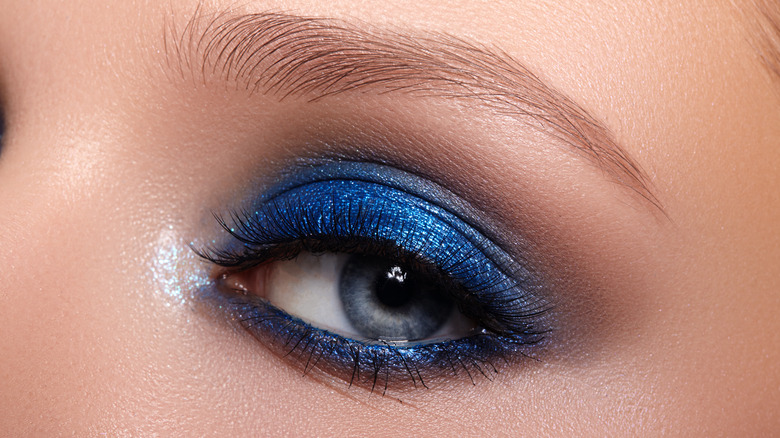 marinafrost/Shutterstock
We understand that some people may be intimidated by blue eyeshadow, but it's lots of fun to wear once you try it. Plus, you don't have to try to be Ke$ha and pair it with a wild blue sparkly lipstick if you don't want to be too bold. There are plenty of other ways to rock this cool hue on your eyelids.
Advertisement
Anyone looking for inspiration regarding how to flaunt blue eyeshadow can search #blueeyeshadow on Instagram, where over 560,000 posts and counting pop up. If you're going for a subtle, ethereal look, for instance, you should opt for a very light, shiny shade of blue on your lids or even add a tiny pop of it to the corner of your eye that faces inward. On the other hand, bright, glittery blues and intense, ultra-pigmented shades are perfect for dramatic night-out looks.
Some shades of blue that work with any eye color include bright aqua, shiny teal, light sky blue, blues blended with other hues like purple, dark navy blue, intense turquoise, and subtle denim (via Byrdie). Thus, whether your eyes are deep brown or light bluish grey, you shouldn't be afraid to start experimenting with blue eyeshadow.
Advertisement
The best blue eyeshadows
If you're ready to take the next step and purchase some blue eyeshadow, there are a plethora of options. For instance, if you want to ease into blue eyeshadow with a denim-inspired matte hue, PureWow named the Powder Kiss Soft Matte Eye Shadow in Good Jeans the best matte shadow. This blue eyeshadow has a creamy feeling and is available at Mac for $23. Plus, it has a perfect five-star rating. Or, if you want to try a liquid-to-powder shadow, the Skywash Sheer Matte Lid Tint is available at Glossier for $18. This eyeshadow is long-lasting, vegan, cruelty-free, and won't be likely to smudge.
Advertisement
Meanwhile, if you're on the hunt for a bold, reliable blue eyeshadow, Stylecraze named the Maybelline Expert Wear Eyeshadow in Acid Rain the best fade-proof choice. This eyeshadow will last for as long as 14 hours and is okay to wear with contacts. You can purchase it on Amazon for $5.50, where it has between 4 and 5 stars with over 3,000 reviews and counting. One happy reviewer even wrote, "I wear blue eyeshadow every day. This is my number one go-to ... I am totally in love with this eyeshadow."
So, which blue shadow do you plan to buy first?