Are Dip Powder Manicures Bad For Your Nails?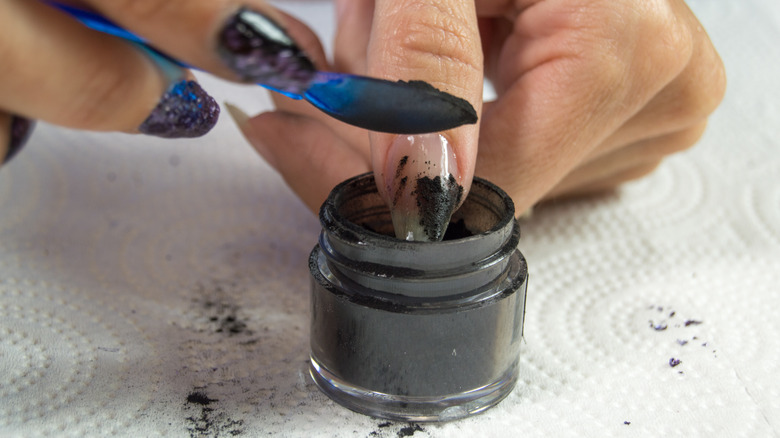 Neal Bryant/Shutterstock
If you've visited any nail salon recently, you've probably noticed how popular dip powder manicures have gotten in recent years. Although gel and acrylic manicures have dominated the nail trends for years, dip powder nails are the newest trend you need to know about.
Even though dip powder manicures have just seemed to pick up steam, it's anything but new. According to PopSugar, the dip powder style of manicures has been around since the 1980s. These manicures have become more popular since they claim to be healthier for your nails than gels and acrylics. When getting a gel or acrylic manicure done, you expose yourself to UV rays and weaken your nails when removing them. For this reason, dip powder manicures have become the go-to for those looking for something less harsh on the nails.
However, even dip powder manicures have downsides you should consider before your next appointment. When deciding which manicure to get, you should know all the pros and cons to better understand which technique is the best for your nails.
Are dip powder manicures bad for you?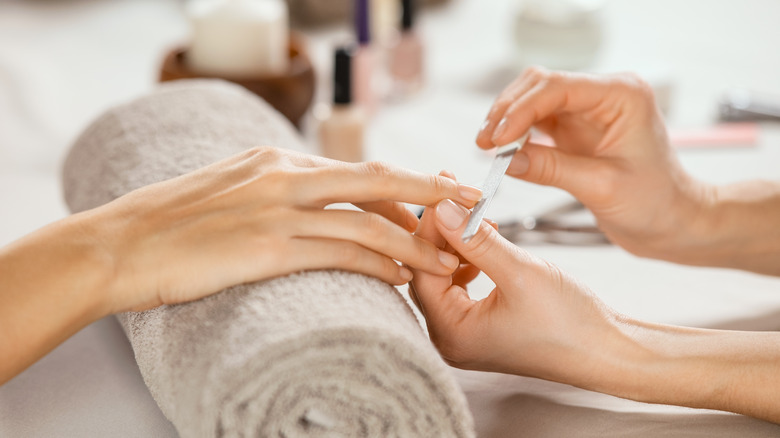 Rido/Shutterstock
Although there is no evidence to say whether dip powder is better or worse for your nails, there are risks to be considered. According to professional nail artist Mazz Hanna, one of the top concerns of dip powder is whether or not it is sanitary. Even though you shouldn't, several salons will use the same powder pot when dipping customers' fingers. Although this isn't the case in all salons, dipping several customers' fingers into the same powder raises the risk of bacterial infection. The risk of bacterial infection mostly comes down to the sanitary procedures taken by each manicurist (via The Zoe Report).
According to Elle, one of the other concerns with dip powder is the chemicals involved. Often compared to acrylics, dip powder manicures involve many harsh chemicals that need to be handled by professionals. The base chemical of dip powder is the same as those in acrylics. Like any procedure that involves high-grade chemicals, they come with their own set of risks and chances of irritation. For this reason, dip powder manicures need to be handled by someone with experience handling these chemicals.
What is the safest manicure technique?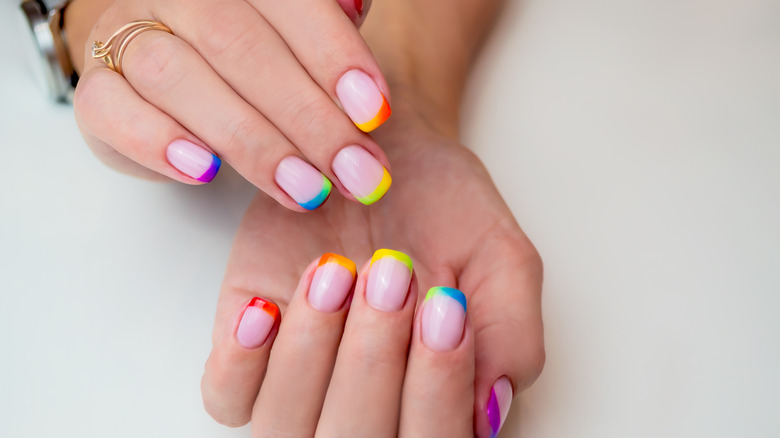 Yuliya Ufimtseva/Shutterstock
Even though most manicure techniques have risks to consider, there are still ways to beautify your nails with little to no damage.
According to Orly, the safest type of manicure is a regular manicure or a french manicure. Since both techniques only involve swiping polish over the nail, they do not require any damaging or risky technique. Another safe option would be trying press-on nails. These nail designs can be applied and removed as much as you like, as they are removable with nail polish remover. The downside is that they are short-term options that can get easily chipped in just days.
When comparing gel, acrylic, and dip powder manicures, the general rule is that they can be safe if handled by a professional and done less often. Since they are long-lasting manicures, there is no need to get them routinely changed out. According to Easy Nail Tech, they're suitable if you let your nails breathe between uses and limit your use of acetone to remove them.