What To Do With Your Wedding Dress After The Big Day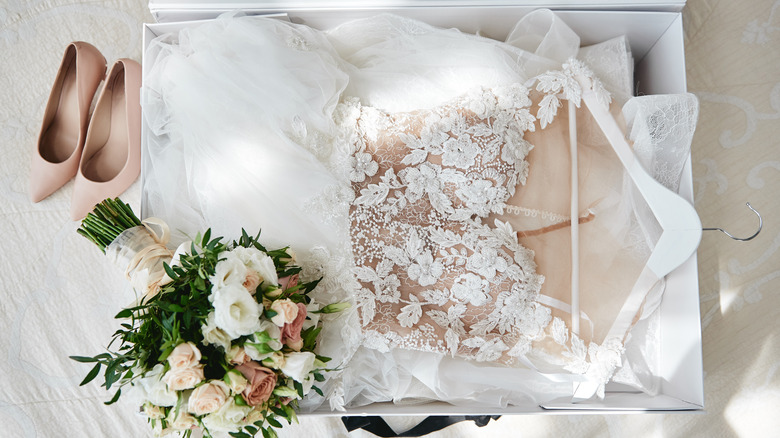 Mirage_studio/Shutterstock
Choosing your wedding dress can be one of the most exciting moments of your life. Whether you dream of a fairytale princess gown or a nontraditional dress, your wedding dress is a big part of the big day. As such, the wedding dress has become one of the most important parts of weddings. According to Grand View Research, the wedding wear industry is likely hit a value of $87.86 billion by 2025. Wedding dresses are getting more significant to future couples. However, when the big day has come and gone, what are you supposed to do with the dress?
Naturally, it can be hard to know what to do with your dress after you've worn it for the big day. After all, it will look silly if you wear it on any other day. Between your emotional attachment and the excess fabric, there's a lot to take into account. The decision on what to do with the dress is ultimately entirely up to you. Although there is no right or wrong answer on what to do, there are multiple options you can consider.
Repurpose and save your wedding dress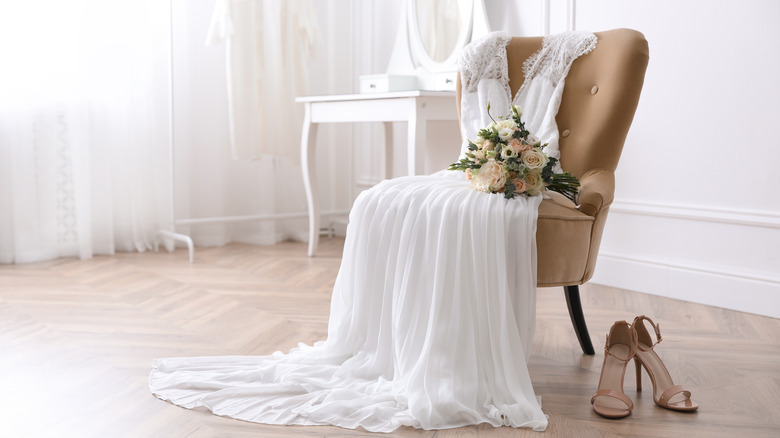 New Africa/Shutterstock
Since many decide to keep their dress to later pass to their children, a wedding preservation box could be the solution. According to Brides, these kits average between $200 and $300 and provide everything to properly store your dress. The kits are either sent to you directly or involve you sending your wedding dress to be packaged by a professional. This method is one of the best ways you can maintain the style of your wedding dress without exposing it to wear and tear over time.
Another option for those who want to reuse their wedding dress is to transform it. Depending on the style and fabric, you can easily re-dye it to another color to turn it into a beautiful evening gown. Re-dying is easier with silk gowns as silk is the easiest material to alter when it comes to color. In the end, you have a silk gown that you can use for a formal event or date night. You can also alter your dress to create a shorter, mini version if you prefer something less formal (via Refinery29).
According to The Knot, the less conventional method of repurposing your dress is by making it into home decor. With your dress fabric, you can also turn it into throw pillows, quilts, or tablecloths. If you want to make a statement, you can also have your dress framed to turn it into sentimental wall art.
Where you can send your wedding dress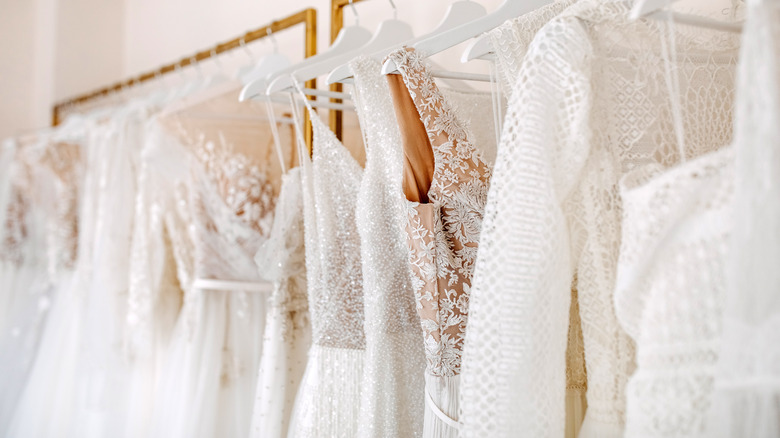 Natalia Bostan/Shutterstock
Wedding dresses can take up a lot of space, especially if it's something you don't care to see every day. For many, wedding dresses aren't worth keeping around, so they get rid of them. Thankfully, there are many ways you can get rid of your wedding dress without throwing them in the trash.
According to Loverly, one way you can put your dress to good use is by donating it. Some charities will take in your wedding dress and give it to those who may not have the means to purchase a new one. There are also resell organizations such as Brides for a Cause that will resell your wedding dress with the proceeds going to various charitable organizations. Either way, a donated dress can find a new home and serve a new life with someone else.
If you want to make money back from your dress, you can opt to sell it secondhand yourself. Websites like eBay and Facebook Groups are easy ways to find brides who are searching for a deal. No matter which route you choose, just make sure it's a path to which you want to commit. And don't feel pressured; it's your dress, after all.