How To Get Perfect Beachy Waves Without Using Heat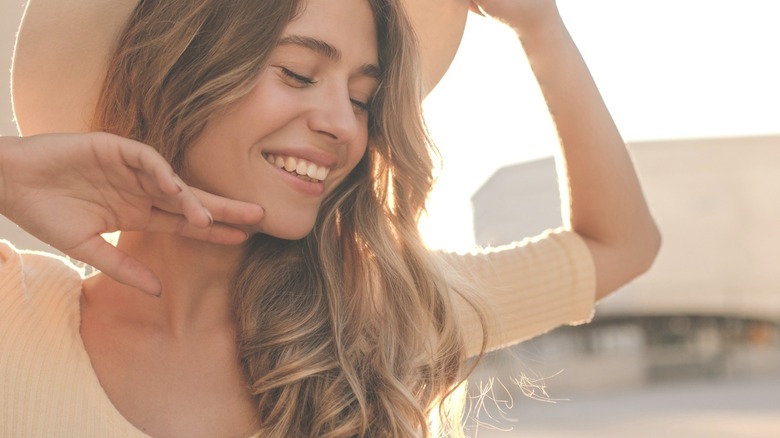 Look Studio/Shutterstock
Despite its name, beachy waves are not exclusive to those lucky few who live by the beach, swim in the ocean every day, or spend the summer vacationing in the tropics. They're also not exclusive to certain hair types, textures, or lengths. The wonderful truth is that anyone can have beachy waves, and the even better news is that you don't need heat tools to achieve them. Curlers and flat irons are one way to get the look, but as effective as they might be at making you seem like you just stepped off the plane from Cabo, the damage from heat-styling is not worth it for many people. Besides, the last thing anyone feels like doing on a hot summer's day is holding a steaming hair iron near their face.
Luckily, you don't need heat for beachy waves, and the tools that you will need are either cheap to acquire or already lying around the house (looking at you, hair pins). Products do help with this look, and Aussie Hair recommends starting with a shampoo that doesn't strip your hair of moisture and an equally hydrating conditioner. According to Refinery29, there are several products to look out for that work both in conjunction with heat styling and with other methods, including sea salt spray and texturizing spray. But regardless of the approach, beachy waves without heat are easier to achieve than most people think.
How to achieve beachy waves with braids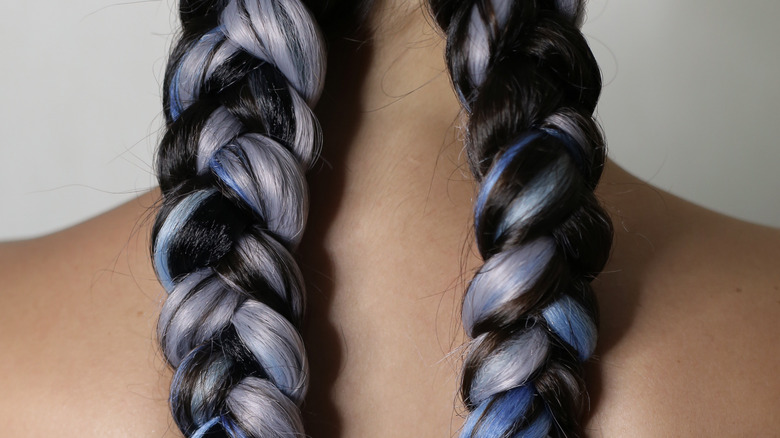 gorgeoussab/Shutterstock
If you want beachy waves without using heat, braids are your best friend. Two French or Dutch braids work on short, medium, and long hair. It helps to begin with a little sea salt spray and then separate the hair into two sections and braid. Finish off with a gentle spritz of hairspray to set the look in place, then keep the braids in overnight. When you unravel them in the morning, simply adjust the twists with your fingers to create the exact finish you want and then add a touch more hairspray as a final step.
For looser waves, Hello Glow recommends gently tugging each bunch of hair in the braid out wider, and starting them further away from your scalp. According to Women's Health, making your braids too tight can actually prevent volume, so pulling out the hair is a good practice to get into. It's best to start your braids on hair that's damp but not soaking wet, or else it'll take too long to dry. Make sure that you don't take out the braids until your hair is completely dry, as this will make the waves less prominent. Braiding can take a minute to master, but there are lots of free tutorials online, with plenty of easy-to-follow videos on YouTube. Once you become a braiding expert, you can even incorporate different kinds of braids into your finished waves for the ultimate beach-inspired look!
Other heatless methods to wave your hair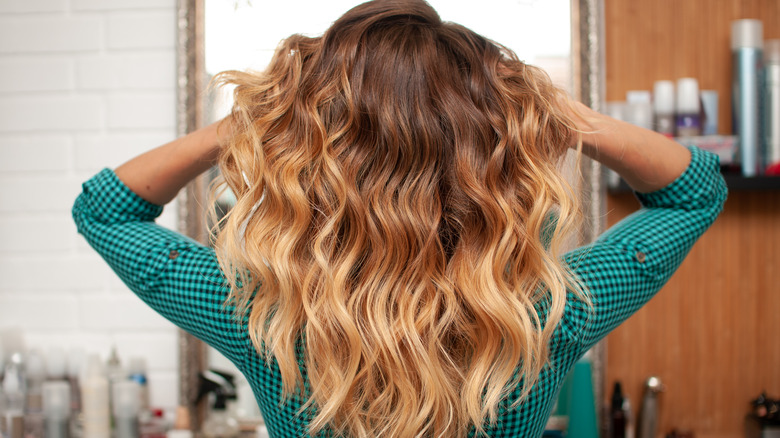 Oksy001/Shutterstock
Don't sweat it if braids aren't for you. One of the most common heatless methods, other than braiding, is barreling your hair with pins (via Cosmopolitan). Begin with a texturizing spray, and then part your hair vertically into loose sections. Create a barrel of hair by wrapping the section around your fingers in the direction away from your face. Secure the barrel with a pin curl clip from below, sliding it upwards into your hair. Repeat on every section, making sure to always wrap the hair away from your face. Remove the clips once your hair is dry and then gently tousle the waves into place.
A heatless method that is particularly effective on natural 4C hair is similar to the barreling method, but it also involves twisting the sections of hair as you wrap them around your fingers into loops. According to Cosmopolitan, you simply have to pin the twisted loops against your scalp and keep them in overnight if possible before letting them loose in the morning. Another twisting method involves separating the hair into two or three sections and splitting each in half. Twist the two halves of hair around each other tightly, eventually wrapping into a bun before securing in place with pins or a tie. Repeat on all sections, add a little hairspray, and leave for at least 30 minutes before unwrapping. These heatless approaches won't dry out your hair, but they will leave you with dreamy beachy waves perfect for the summer.