How To Make Your Lip Gloss Last Longer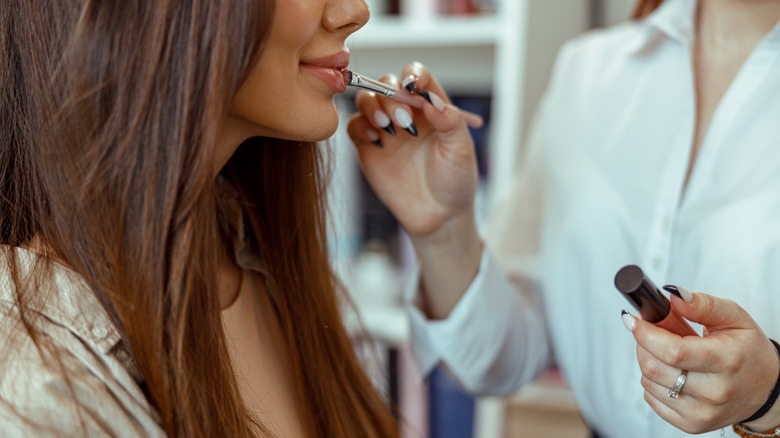 Yaroslav Astakhov/Shutterstock
Lip gloss can be a fun way to complete any look. As opposed to lipsticks or lip stains, lip glosses can help create a more youthful and feminine look. Recently, lip glosses have returned to the spotlight thanks to the resurgence of trends from the '90s and early 2000s. However, one of the downsides of them is the short amount of time they stay on. According to Kaja Beauty, lip glosses don't last more than a few hours, at most, because of their ingredients. Since they only last a few hours at a time, lip glosses often need to be reapplied throughout the day, much to the annoyance of many.
Advertisement
Even though they can be a hassle to apply throughout the day, lip glosses remain the best way to get a wet makeup look. Thankfully, there are ways to get your lip gloss to last more than just a few hours without the need to reapply.
Getting your lip gloss to last longer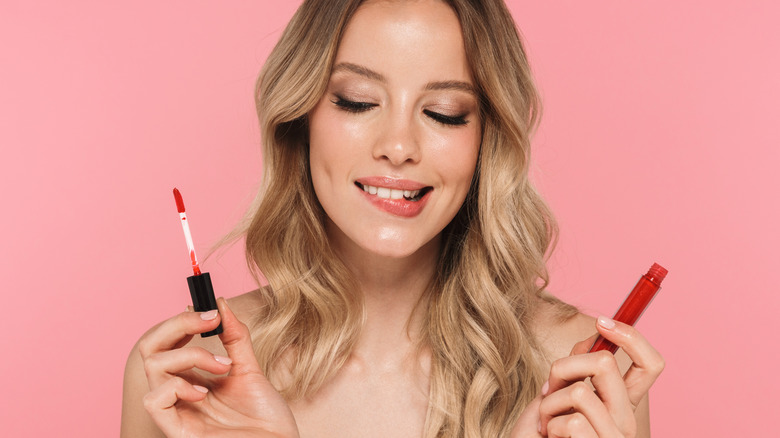 Dean Drobot/Shutterstock
Before applying lip gloss, make sure you are starting with a clean base. Like with your general skincare and makeup routines, lip care is crucial in helping your lip gloss last longer. Exfoliating your lips before applying lip gloss ensures you get rid of any dead skin on the lips. After removing the lip scrub, follow up with a hydrating lip balm to smoothen the lips. After letting your lips absorb the lip balm and they are dry, you can start applying products (via L'Oréal Paris).
Advertisement
As noted by Makeup.com, you can continue with a lip liner. By applying a liner you help the lip gloss stay within the outline of your lips and prevent it from bleeding outside. Lip liners also help by giving your lip gloss something to stick and hold to. You can even use a small amount of powder on the lips instead if you don't have a liner on hand. If you want to add grip and a statement, you can layer your lipstick underneath your lip gloss to add an extra punch of color while maintaining a glossy lip. The idea is simply to add something underneath for it to grip onto and last longer.
How to pick out your next lip gloss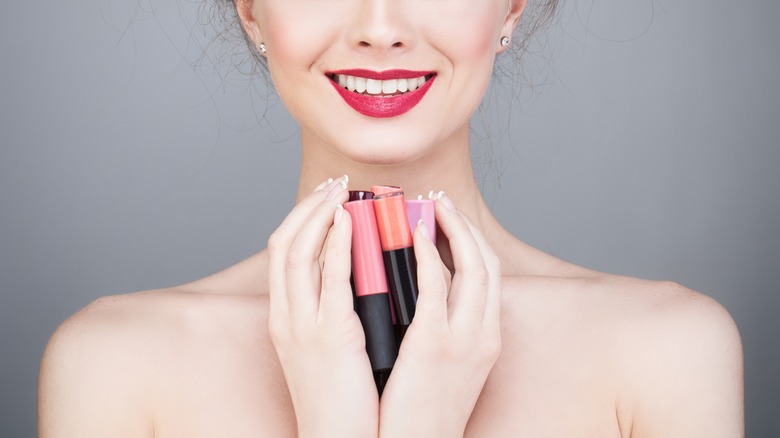 Artmim/Shutterstock
Picking out the correct lip gloss is also key to having it last all day. According to Prevention, a lip gloss' formula will help maintain it throughout the day — or not. Lip glosses that are stickier tend to have more of a grip due to the polymers that make them up.
Advertisement
Although a stickier gloss can last longer, it may be another struggle to prevent it from clumping together. According to Byrdie, you need to apply lip gloss correctly if you go with a sticker formula. Instead of swiping gloss on the top and bottom lips, try only dabbing it to the middle of your bottom lip and pressing them together to spread it. This method prevents it from overflowing with gloss and then spreads it out evenly. Now, if you want a fuller look, you can swipe your entire bottom lip and follow by pressing your lips. This method adds extra gloss without creating a mess. When applied correctly, lip gloss can be a fun way to add sheen and shine to your lips.