7 Reasons Why Your Hair Won't Hold A Curl - And What To Do About It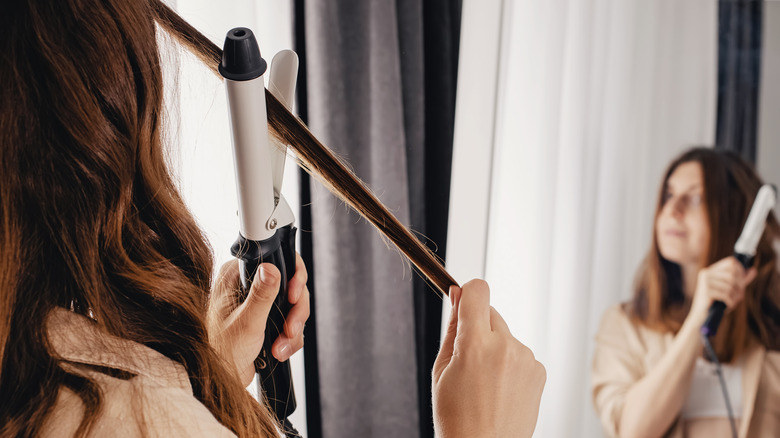 Chiociolla/Shutterstock
Few things are more annoying than spending time in front of the mirror creating the perfect curls, only to be left with flat, wilted locks soon after. Wouldn't it be nice to keep your curls all day — or even into the next day? And, dare we say, possibly even three days? This fantasy can be your reality once you figure out the reasons your hair won't hold a curl and what to do about it.
Advertisement
Curls are a common hair goal, and yes, genetics are a factor in how easy it is for your hair to hold a curl. It all comes down to your strand shape. Those with a round hair shaft, which results in naturally straight hair, will generally struggle to hold a curl. By comparison, those with oval shafts (wavy hair), oblong shafts (curly hair), and flat shafts (kinky hair) can hold texture for longer because their hair shaft already supports that shape.
Genetics can make curls easier or more challenging to achieve. But that doesn't mean you can't obtain your curly-haired dreams. If your hair won't hold a curl, there is usually an easy solution to the problem. From using the wrong products and tools to applying too much moisture or needing a trim, getting to the root (so to speak) of the problem will improve your results.
Advertisement
You're not using the right hair tool or heat setting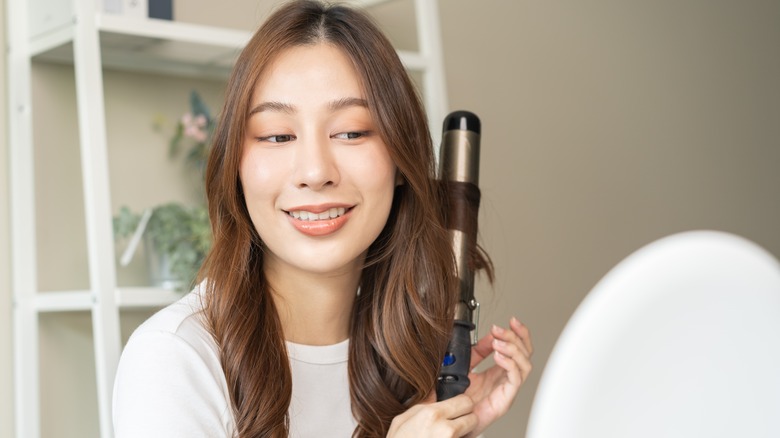 Kmpzzz/Shutterstock
Your styling tool is the first place to look when determining why your hair won't hold a curl. Using a curling iron that is too large for your desired curls will make looser curls that tend to deflate quickly. While the large barrels are great for natural-looking waves, they're not entirely helpful in creating defined curls. Another important factor to consider when it comes to heated styling tools is the temperature you use to curl your hair. Fine hair types may be able to get curls at a lower temp, while thicker and coarser hair types will need to up the heat a bit.
Advertisement
Choosing a curling iron that produces heat evenly and doesn't cause frizz or damage to the strands is essential. Ceramic and tourmaline curling irons are great options because they distribute heat evenly and are gentler on hair. A tool with adjustable temperature is also key, as you will want to set your curling iron to a maximum of 200 degrees Fahrenheit if you have fine hair. For those with thick or coarse hair, you can dial it up a bit higher — but always stay under 400 degrees to avoid damaging your strands.
Now, for choosing your barrel size, you'll want to go with a barrel size smaller than 1 ½ inches for curls. If your hair is long or you want loose curls, a 1 ¼-inch barrel will do the trick. For medium-length hair, try a 1-inch barrel. A ¾-inch barrel produces tighter curls and works well on shorter styles.
Advertisement
You're not using the right styling products before and after curling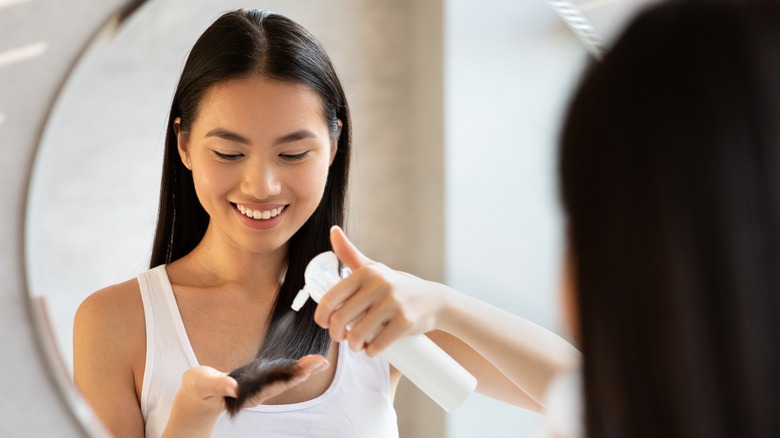 Prostock-studio/Shutterstock
One of the top reasons your hair won't hold a curl is due to the products you're using (or not using). Products that are too heavy on your hair will be counter-productive and weigh hair down, even if it's a specific curl-holding product. The flip side of that problem is that not using a holding product at all means your curls will probably loosen and fall out. And are you forgoing the hairspray? It is a must for setting curls in place.
Advertisement
The key is to select a styling product designed to hold curls in place and created for your hair type. Straight and fine hair types need added texture to hold a curl, but the product should be light to not weigh down delicate strands. Go for a texture spray and steer clear of heavier formulas. If you have coarse or thick hair, feel free to use a texturizing styling gel or mousse. 
Here's a tip for adding instant texture to hair that either tends to be limp or is a bit on the oily side: Give your mane a good spritz with dry shampoo and allow it to set before curling. This will add some grip and make curls stay put. Once your curls are finished, it's time to apply hairspray. Opt for a dry solution rather than a wet hairspray, as wet formulas tend to add unwanted moisture that will make curls go flat.
Advertisement
You're not sectioning your hair before you style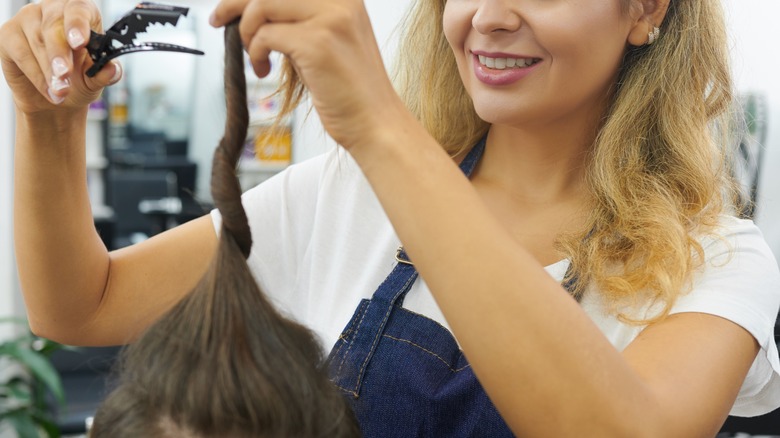 Dragon Images/Shutterstock
Are you going at your locks with a curling iron without dividing the hair into sections first? Though sectioning your hair is more time-consuming, this is a crucial step in achieving curl longevity as it ensures even curls. This is especially true if you have thick hair, as it guarantees you aren't missing pieces. Any pieces of hair that are left out will make your 'do look flat. 
Advertisement
Here's how to section your hair to create curls with staying power. You are going to divide your hair into three sections and will need clips to secure each one in place. If you have ultra-thick hair, you may need to create more sections. Start by sectioning the hair at your crown from the front (just above your temples) to the back of your head. Once the section is secured, move on to the second section, from just above your ears to the back of the head, and secure.
Leave the third (bottom) section loose. You will begin curling the bottom section in approximately one-inch pieces. Keep in mind the larger the piece of hair, the looser the curl. Apply heat styling spray to each section as you go if you feel you need extra protection for your strands. Work your way toward the top of your head until you reach that final section on the top.
Advertisement
You're curling the strands from the bottom up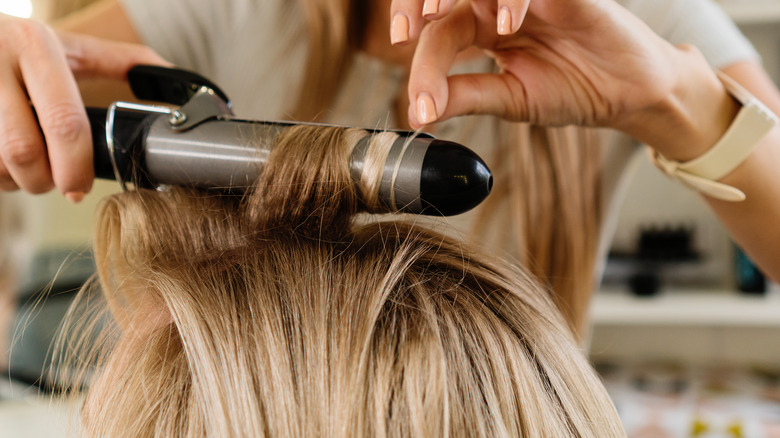 Vagengeym_elena/Getty Images
If you've never considered which direction you roll your hair onto your curling iron, it's time to start. It may seem like a no-brainer to capture the ends of the hair into the curling iron clip and roll up, right? But curling from bottom to top adds weight to the ends of the hair and weighs the curls down, meaning they won't last as long. Plus, this technique creates no volume near the crown of the head and tends to make loose curls with no staying power.
Advertisement
When curling pieces of hair, wrap rather than clip the pieces, starting at the top and winding the hair around the barrel until you reach the ends. This will give the curl a bit more texture and add some volume at the top for a stronger hold. If you want to utilize the clip on the barrel, clip the hair at the top of the hair shaft, gently releasing small bits of hair and curling it up as you release.
Another way to add texture, volume, and long-lasting curls is to vary the direction in which you curl. For example, curl a face-framing piece toward the back, curl the next piece forward, and continue alternating on either side of the head. This will give you varying curl patterns so the strands aren't all blending into one giant curl as the day goes on.
Advertisement
You're curling clean hair and not rinsing products out completely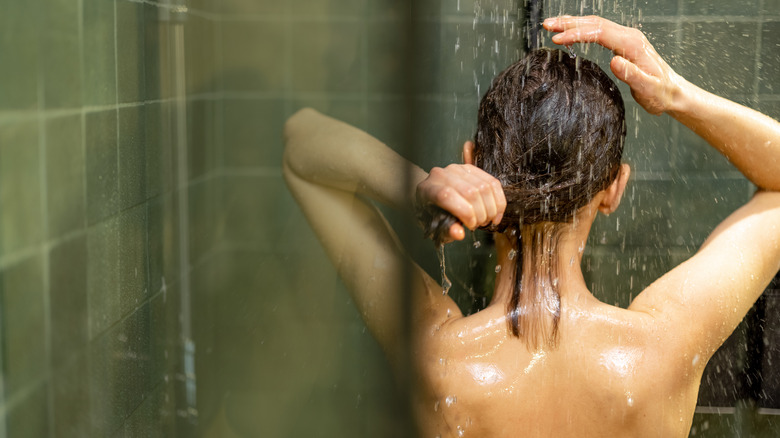 RossHelen/Shutterstock
Curling freshly-washed and dried hair comes with its own set of complications. Hair that is too clean can be slick and slippery, unable to hold a curl. It's also a good idea to look at the shampoo and conditioner you are using. Some products can create a waxy buildup that weighs down the curl.
Advertisement
You'll want to avoid haircare products made with silicones, as this ingredient type can build up on the strands and cause hair to look limp and lifeless. Using a clarifying shampoo can help to eliminate any residue. It's also important to thoroughly rinse out your shampoo and conditioner so the strands are sufficiently exposed to the heat, which will activate the curl.
If you are rinsing well and using a silicone-free shampoo and conditioner but still feel your hair won't hold a curl, we've got you. Use your appropriate styling product to create some texture, then make sure your hair is completely dry before curling. Any leftover moisture will make curls reluctant to hold. For best results, create your curls on second or third-day hair, and always avoid flat ironing your hair before curling.
Advertisement
You're brushing out or handling your curls too much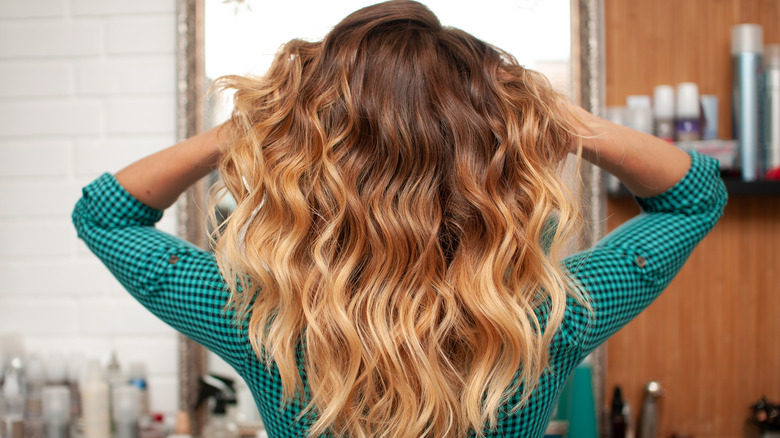 Oksy001/Shutterstock
Yes, there's a perfect hairbrush for every hair type and situation. But when it comes to keeping your curls in place, put the hairbrush down and back away. Brushing through your curls too much will not only make them disappear, but it can also create unwanted frizz. At the very least, your hard work will be undone. Another common culprit of limp, lackluster curls is over-handling. Did you know you shouldn't touch curls that are still warm from heated styling? Yep, it's a thing.
Advertisement
Once you've created your curls, allow them to cool completely before touching them further. This will set the curls in place and make them last way longer than if you begin to pull and touch them while they're still hot. If you wish to style your curls, finger combing works well.
For second and third-day curls, gently freshen up your 'do with a wide-toothed comb or pick to encourage curls to stay in place and avoid pulling them out. If absolutely necessary, you can always add a bit more oomph to your curls with your curling iron — but go easy. The more you handle them, the more likely they are to loosen and go flat.
Your hair is too long or doesn't have layers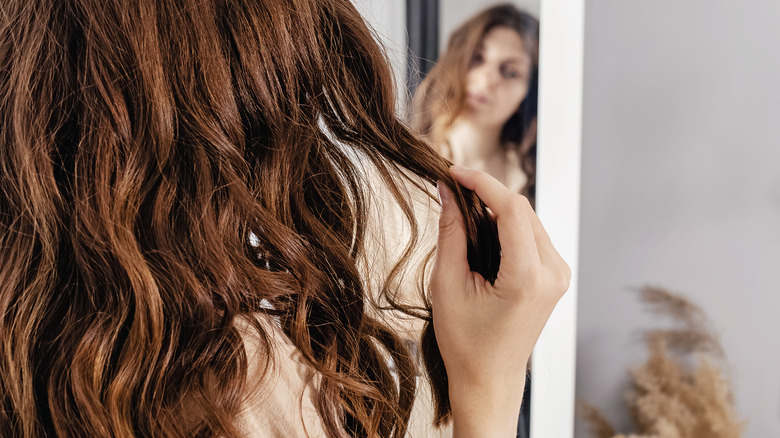 Chiociolla/Shutterstock
Hair that is too long and doesn't have many layers can be more challenging when it comes to hanging on to curls. Curls tend to end up at the bottom of long hair and have less volume near the top of the head. Long hair is also heavier, which means it weighs curls down.
Advertisement
This doesn't mean those with long hair can't create curls. Get a trim so your strands are in their best shape, and have your stylist remove any unnecessary weight that might be pulling your curls down. Don't forget to use a texturizing product (mousse works well on longer hair) and use the top to bottom curling method described above.
After you've created your curls, spritz each curl individually with hairspray and pin it in place, allowing the curl to set for several minutes. It also helps to twist and pin curls in place before going to bed at night to maintain as much curl as possible.