This Aesthetic Shower Trend Has Actual Health Benefits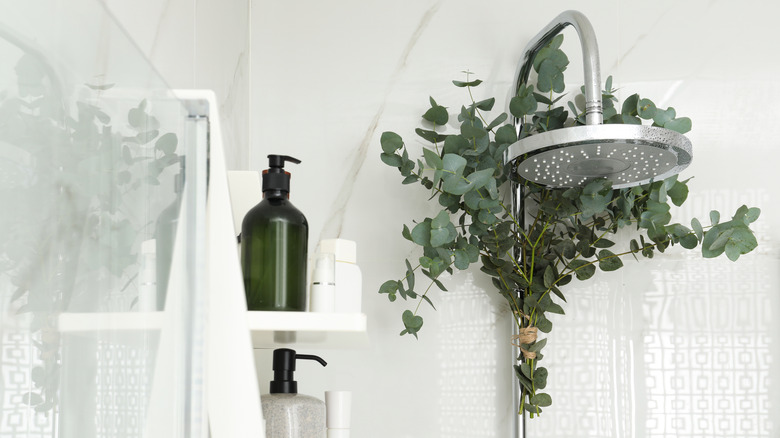 New Africa/Shutterstock
There aren't many times when social media trends are also beneficial for your health. That's why when everyone claimed that eucalyptus in the shower was good for your health, it was worth taking a closer look.
Far from being only a beautiful bathroom decor piece, the eucalyptus shower trend delivers many quality benefits that are worth taking advantage of. According to herbalist and plant specialist Christine Buckley, the eucalyptus plant has a history as a tool in medicine. Originating from the tribes in Australia, the 300 different eucalyptus plants have aided a large number of ailments. After various scientific studies, experts have deduced that the eucalyptus plant was correctly used, given its many medical properties (via MindBodyGreen).
Like any wellness trend that claims to have benefits, it's important to note that there can be exceptions. However, all research points to hanging the eucalyptus plant in the shower could be what you need to feel better.
Benefits of hanging eucalyptus in the shower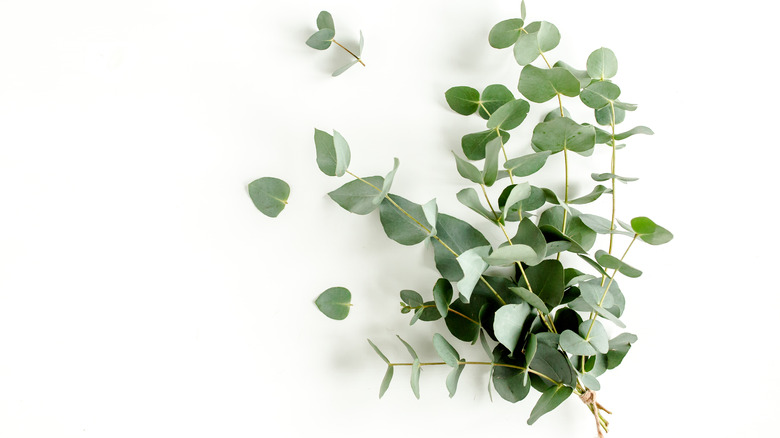 K.Decor/Shutterstock
Besides being beautiful to look at, the eucalyptus plant is known for being anti-inflammatory and a great resource when you have a cold or the flu. According to Dr. Devin Miles, N.D., when eucalyptus oil is inhaled, it causes our respiratory passages to reduce inflammation (via MarthaStewart.com). This oil makes it easier to drain congestion during cold and flu season. The eucalyptus plant is also a great way to stimulate the brain and increase your focus. These mental benefits are able to happen because the plant also helps lower your blood pressure, helping you relax and de-stress.
Along with reducing inflammation in your lungs, throat, and nose, the eucalyptus plant can help soothe joint and muscle plan. According to an article published in the Alternative Medicine Review, the eucalyptus plant is also an analgesic, which means it has pain-relieving properties (via Shape). Even with oil only released through steam in the shower, it can help with any physical pain you may be having, including that from headaches.
What you should know about eucalyptus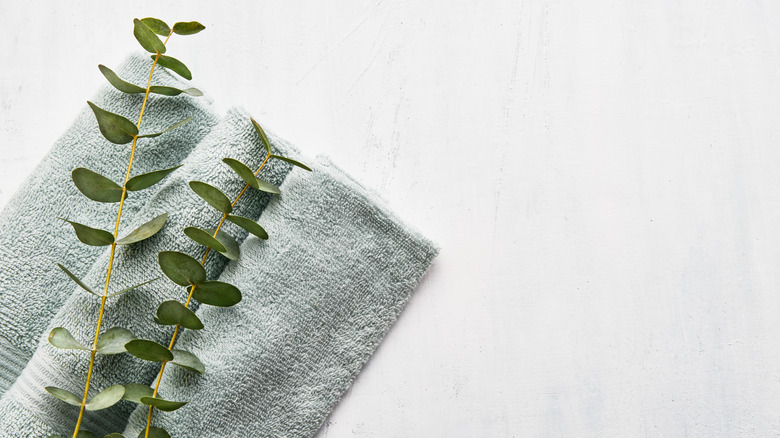 Laima Gri/Shutterstock
Despite being excellent at treating inflammation and muscle pain, there are crucial aspects of the eucalyptus plant to know about before hanging one up. For starters, inhaling or eating eucalyptus is toxic to animals. If you have pets, keep them far away from the bathroom before and after showering to prevent them from inhaling the plant's oil. Also, if you have a history of sensitive skin or reactions to fragrances, you will want to test your sensitivities by only employing a piece of eucalyptus before committing to hanging more leaves in your shower (via Vitacost).
When picking out your eucalyptus, remember that most plants last only about two to four weeks. Once the plant loses its color and scent, it's run out of oil and no longer provides you with its benefits. You can purchase eucalyptus already bunched, but you can also easily create your eucalyptus shower plant at home — and quickly. Simply buy four to five eucalyptus branches with leaves, tie them together, and attach them to your showerhead. Be sure that you hang the eucalyptus a safe distance away from the showerhead as you don't want it to hang directly underneath the running water (via Homecrux).