How To Rock The Hottest Summer Hair Trend, The Botticelli Bob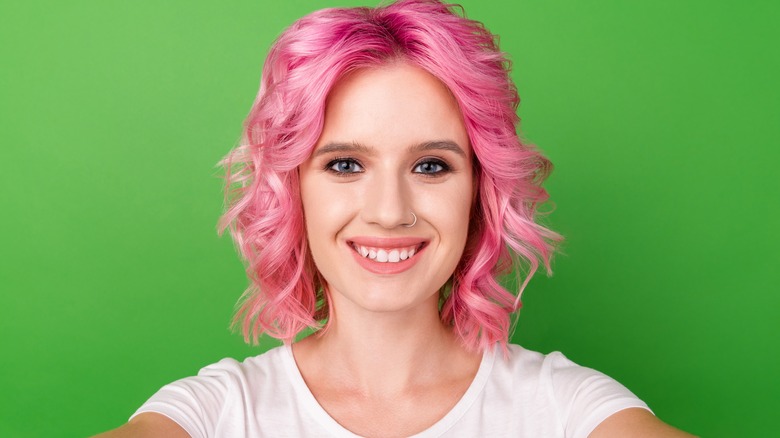 Roman Samborskyi/Shutterstock
We may receive a commission on purchases made from links.
We can't get enough of all the hottest hair trends for summer 2022. We love that wispy bangs are having a moment, along with intense layered looks and curtain bangs (via Byrdie). In addition to those stunning hairstyles, we're obsessing over the trendiest summer hair colors. Some of these summery hues include sweet strawberry blonde, bright, sunny blonde, and the expensive brunette look, per Allure.
But choosing an excellent summer haircut is just as crucial as deciding on a color because you should pick a look that will keep you comfortable under the hot summer sun. Since the temperatures are much warmer in the summertime than during other seasons, many people opt for shorter looks during the summer. One super trendy short look to explore is the Botticelli bob, but just what is it? "Rather than wearing it straight and sleek, the bob is styled with more texture. [It]'s inspired by Botticelli's paintings with loose, wavy, and textured hair," Anthony Cole, a Sebastian Professional international stylist, told Bustle.
This hairstyle is flattering on everyone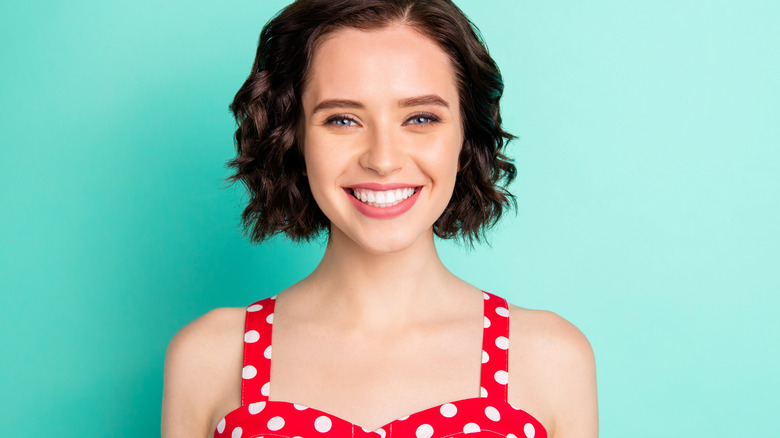 Roman Samborskyi/Shutterstock
Don't let this hairstyle's fancy name intimidate you; at the end of the day, it's primarily just a bob with some extra waviness or texture. If you search #texturedbob on Instagram, you'll see people of various bob lengths, hair colors, and ages rocking the Botticelli bob. For instance, someone with hot pink, near-shoulder-length hair in a Botticelli bob looks just as beautiful as a woman with a chin-length, dark Botticelli bob. Blondes look great with Botticelli bobs, too! Since bobs are known for being universally flattering, the Botticelli variation of this classic cut is no exception. Therefore, his haircut looks good on everyone.
Furthermore, a few of the most beloved celebrities we can think of have flaunted Botticelli bobs. For instance, supermodel Bella Hadid and actor Kerry Washington have flaunted these trendy bobs (via Bustle). How can anyone say no to this hairstyle when some of the most famous women in the modeling and entertainment worlds are rocking it?
The Botticelli bob is easy to achieve
If you have long hair, the first step to getting a Botticelli bob would be to go to the hair salon and have your hair stylist cut your hair into a bob. Once you do that, or if you already have a classic bob, there's not too much you have to do to transform your traditional chop into a Botticelli bob. According to Glamour, you can achieve the look by putting your bob in a couple of braids before bed and taking them out in the morning for some effortless waves.
Another way to get that cool, textured look is to use a texture-enhancing spray. For instance, the Oribe Dry Texturizing Spray is an excellent option for obtaining a Botticelli bob. This invisible texture-enhancing product will last a long time, volumize your bob, and is cruelty-free. Available on Amazon for just below $50, it has an impressive rating of between four and five stars with more than 7,000 reviews and counting.
So, are you ready to flaunt this ultra-trendy, low-maintenance hairstyle?