What You Need To Know About Maintaining Honey Blond Hair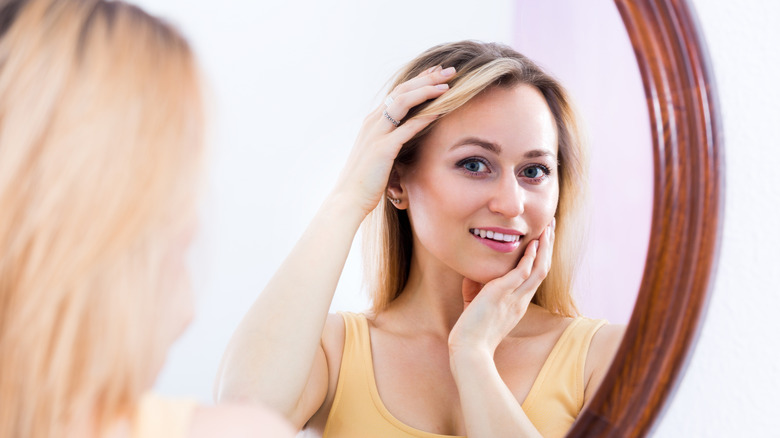 BearFotos/Shutterstock
To know someone with blond hair is to know someone who swears that her hair often changes color. To know someone with honey blond hair is to know someone who often hunts through her hair, wondering why all those glorious strands of gold, brown, and red have faded.
Advertisement
Of course, this could be you. And if you like how your hair looks exactly as it does as you leave the salon (or rinse out the dye from home), you may think you could benefit from tips about how to maintain the quality of your hair color. You're probably right, particularly because honey blond hair doesn't take long at all to go from sumptuous to brassy (via Hair.com).
You may be shampooing your hair less often than you used to in order to prolong the color. This is a good first move, no matter what shade of honey blond you have, including some of the more common ones like honey blond with lowlights, neutral honey blond, sandy honey blond, or honey "bronde" (which is a blond shade with a brunette base). But there is a lot more you can do. And some tactics may work even better than easing up on the shampoo bottle. Just keep the faith because the fun should return in no time.
Advertisement
Learn how to make your color last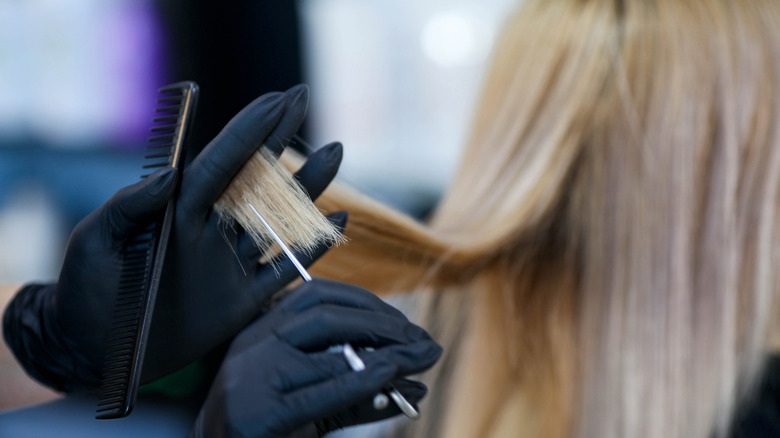 smile23/Shutterstock
In addition to maintaining the color of your honey blond mane, you may be able to extend the time between colorings by shampooing your hair less often. In fact, if you're accustomed to lathering up every day, you may be pleasantly surprised by how good your hair looks and how manageable it is simply by wetting it on those off-shampoo days.
Advertisement
Depending on your activity level and how much you perspire, you may be able to stretch the time between shampoos to two days. In fact, Garnier notes that it's healthier for hair to be washed only two or three times a week. Shampoo softens hair and makes it more likely to break.
When you do reach for a shampoo, use one that's formulated for blonde hair to better preserve those gold, brown, and red strands. Then rinse the shampoo out of your hair with cool (hot warm or hot) water. Cool water will slow the fading process and also promote shine.
Equally important, make a point of getting regular trims. Chemically-treated hair is easy-to-break hair, especially on the ends (via Vogue). Regular trims may be just one more thing to keep track of. But if you set aside a little more time for each hair appointment, you can double up and leave a hair appointment looking like a million bucks instead of just $500,000.
Advertisement
Purple shampoo neutralizes brass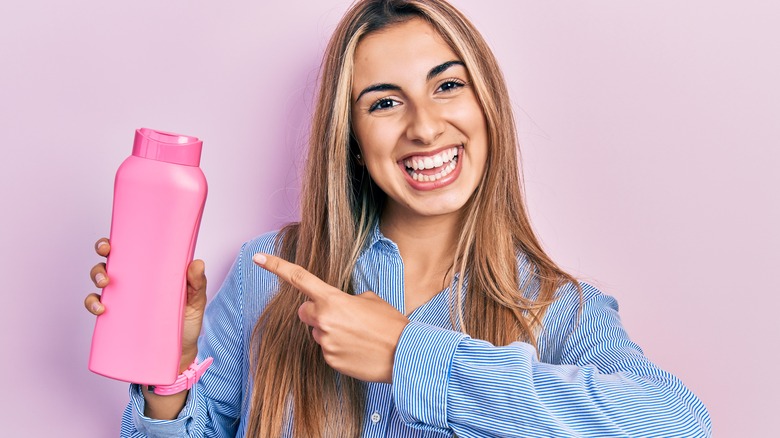 Krakenimages.com/Shutterstock
You might feel like two million bucks after trying purple shampoo — the not-so-secret weapon that reduces brassiness. If some people with blond hair are wary of using it, it may be because they don't understand how it works.
Advertisement
As it turns out, it couldn't be simpler. And if you're familiar with the color wheel, you'll know why. Yellow and purple sit on opposite sides of the wheel, which means that purple neutralizes yellow. Since purple shampoo contains tiny violet pigments, the shampoo softens the tones that can make people with honey blond hair wince: orange, yellow, and every shade of brass (via John Frieda).
Correcting these tones is what purple shampoo does best since it essentially acts like a toner. It couldn't be simpler to use, either. It works like a "normal" shampoo — lather it in, rinse it out — and it should be used on alternate days from regular shampoo. Start your new routine once you achieve your ideal shade of honey blond. Then, maintain the color by switching off between your normal shampoo and the purple shampoo.
Advertisement
And, if you want, use a purple conditioner, too. It could be the crowning touch — for your crown of gold.