Walnut Oil Is The New Skincare Ingredient You'll Start Seeing Everywhere. Here's Why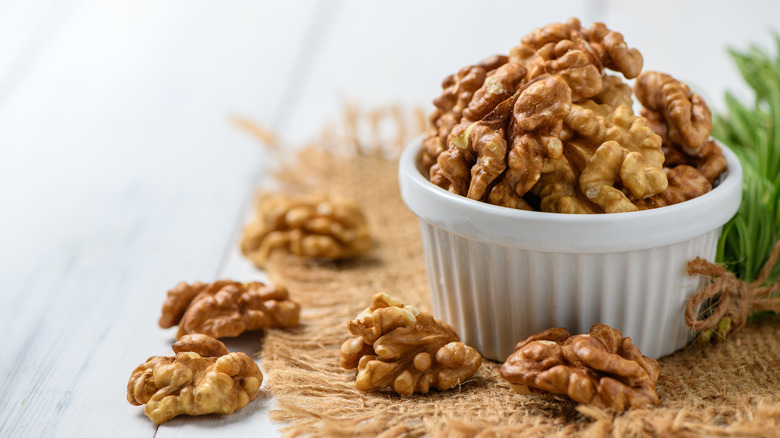 kwanchai.c/Shutterstock
We have seen many ingredients make it into the skincare world. From avocado to watermelon, there is always a new ingredient that's being introduced. Walnut oil is the newest ingredient to make that list. The use of walnut oil in skincare is growing due to its many nutrients, which is also why it's such a popular ingredient in the kitchen. (That, and they're tasty.)
Advertisement
According to WebMD, walnut oil contains a rich amount of omega-3s. In fact, walnut oil contains enough omega-3 fatty acids in 1 tablespoon to fulfill your nutritional value for a full day. Along with omega-3s, walnut oil is rich in anti-inflammatory properties, which can be very beneficial for our skin. With these types of benefits, it's easy to see how walnut oil can be seen as the new must-have ingredient. But how well do these benefits translate into skincare, and how can we start using them to get clearer and healthier skin? 
Benefits of using walnut oil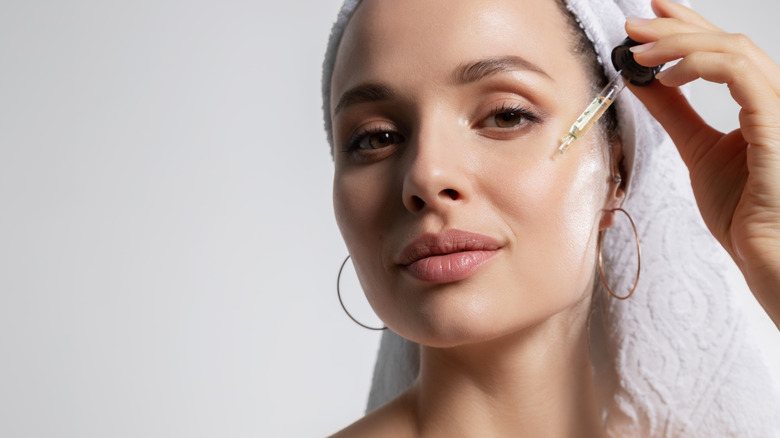 popcorner/Shutterstock
According to Health Shots, many of the benefits that we see from consuming walnut oil can easily be translated into skincare. The anti-inflammatory properties of walnut oil can help with reducing puffiness around the eye area, specifically for dark circles. When used as a topical product, walnut oil can help alleviate this area, showing a more balanced and hydrated eye area. With the high amounts of omega-3s and vitamins, walnut oil is a great product to add if you want extra hydration. All of these vitamins and nutrients lock in moisture and allow your skin to appear more hydrated.
Advertisement
Bold Sky adds that walnut oil is great support if you live in an area prone to environmental triggers. Because of its many nutrients, walnut oil can help protect the skin against the effects of pollution, which can severely damage the quality of the skin. In fact, the omega fatty acids in the oil help rebuild the skin barrier, making it great at consistently replenishing and refreshing the skin cells.
How to use walnut oil in your skincare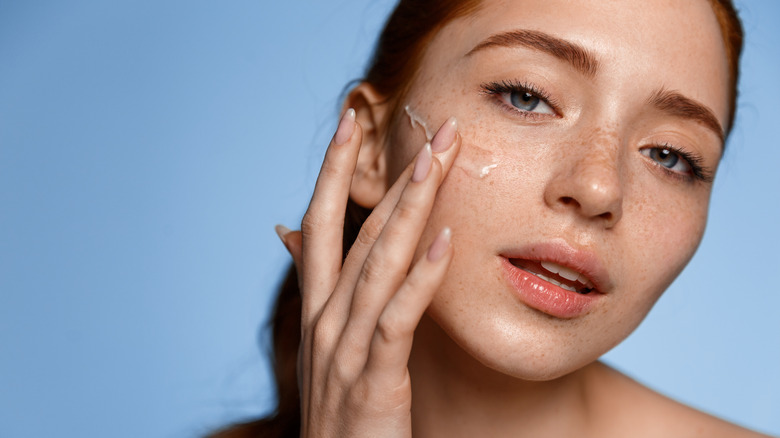 Lyubov Levitskaya/Shutterstock
To get all of the benefits of walnut oil, you have to use it carefully and in the right format. In fact, Dr. Ranella Hirsch tells Byrdie that the best way to apply walnut oil is going to depend on the type of walnut oil you purchase. If you do opt for walnut oil in its oil form, be sure to apply it before heavier creams and lotions. This will allow the oil to be better absorbed into the skin without another product blocking it. 
Advertisement
Thanks to its properties, walnut oil is safe to be used daily with no issue (via WebMD). The only exception is if it is mixed in with another ingredient that is not safe to use daily, like harsh exfoliators or chemicals. As well, those with oily and acne-prone skin to be cautious when applying as it may add more oil to an already oily surface.
Like any new product, remember to do a patch test on the skin to ensure that the product will not cause any type of skin reaction, especially if you have or think you may have any nut allergies.