Here's How To Shape Your Eyebrows To Perfection At Home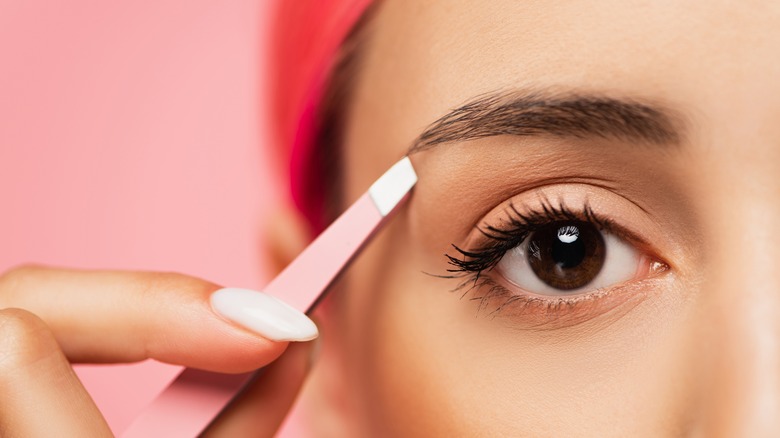 LightField Studios/Shutterstock
We may receive a commission on purchases made from links.
Any esthetician will tell you that shaped eyebrows completely improve your look. But eyebrow shaping takes care and precision, and if you don't know what you're doing, you can end up with over-plucked brows, uneven brows, and other semi-permanent disasters. The good news is that it's possible to get professional-quality brows at home. If you're prepared to invest in the right tools and take a little time to learn what you're doing, you can save yourself frequent trips to the salon and significantly cut costs.
Experts recommend sticking to tweezing the hairs out if you're doing your own brows. While waxing has certain advantages, such as taking less time and removing dead skin cells, waxing on your own can lead to burns and skin irritation (via Healthline). And while waxing may be quicker, it also makes it easier to accidentally remove too much hair. Tweezer brand Regine Tweezers advises that the best time to shape your own eyebrows is straight after a hot shower. This softens the skin and makes it easier to pluck hairs without irritation. Alternatively, you could prep the skin by using a hot washcloth on your face before you start tweezing. Depending on the state of your eyebrows, the whole process of preparation, outlining, and shaping can take up to an hour. But the results may be worth it the effort!
How to begin shaping your eyebrows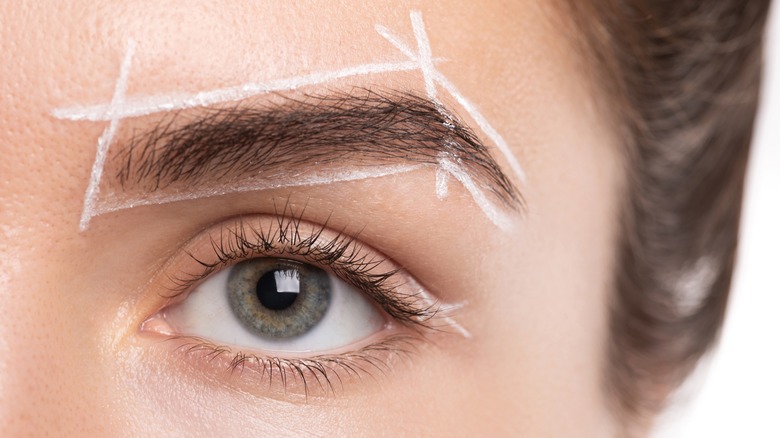 BLACKDAY/Shutterstock
The beauty gurus at Fancy Lash recommend an eyebrow pencil, a clean spoolie, eyebrow scissors, and a good pair of tweezers as essential tools for eyebrow shaping. Slant-tip tweezers are ideal because of their flat tip, which makes it easier to grab even fine hairs. Once you have the right tools, set yourself up in an area with plenty of light (via The Body Shop). If natural light isn't available or strong enough, the best place is by a mirror with vanity or makeup lights.
The key to shaping your eyebrows to perfection is brow mapping. Charlotte Tilbury explains that this involves finding your most natural eyebrow shape by identifying three key points: the brow start, the arch, and the brow end. Begin by using the spoolie to brush up the hairs on your brows. Then, rest your brow pencil on your nostril and hold it up straight until it reaches your brow. This point is your brow start, so mark it with the pencil just above your brow. Then, place the pencil back on your nostril and lean it diagonally at a 45-degree angle across your eye. Mark this as your arch. 
Finally, place the pencil back on your nostril and lean it to the outer corner of your eye. Mark this as your brow end, then connect the three dots with your pencil to create a line above your brow (via It Cosmetics). Draw a parallel line just beneath your brow, and then connect the two lines on each side to create an outline.
The art of tweezing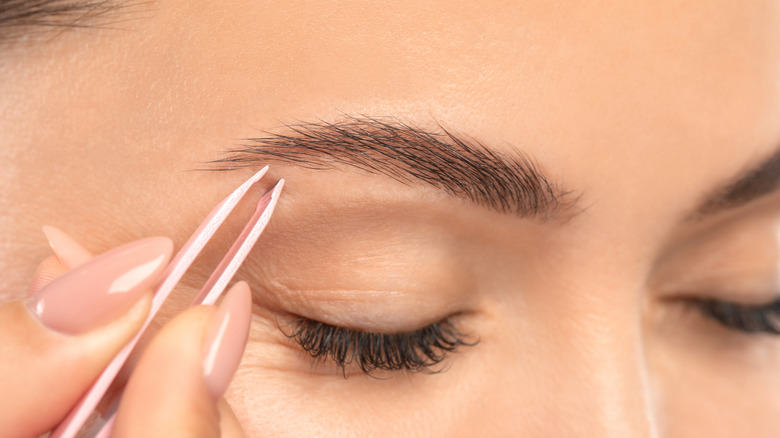 dimid_86/Shutterstock
Once you have the natural shape of your brows outlined with pencil, you can use it as a guide to tweeze and trim hairs that fall outside the stencil. According to Beauty Warehouse, it's important to follow the two-hair rule, where you can only pluck a maximum of two hairs at a time. Alternate tweezing is also an effective method to ensure the eyebrows match: this involves plucking a few hairs from one brow and then repeating on the other brow until they are both complete. Grasp the hairs as close to the root as possible and tweeze in the direction of hair growth (via German Manicure Sets).
Eyebrow specialist company Marie-José & Co recommends plucking in a specific order, beginning with the hairs between your brows as these are usually the clearest and easiest to remove. Then, move to tweezing around the highest point of the arch, followed by the hairs around the brow end. Finally, pluck underneath your eyebrows. The brand also advises stepping away from the mirror every now and then during the process so you can evaluate your progress. Only tweeze hairs that clearly fall outside your outline and leave any hairs you're unsure about; it's better to under-pluck, which can be fixed, than over-pluck, which can't. 
Slow and steady tweezing wins the game. Finish by combing your brows in the direction of hair growth and trimming or tweezing any remaining hairs that fall outside the outline of your new salon-quality brows.