How To Prevent Breakouts While Using Sunscreen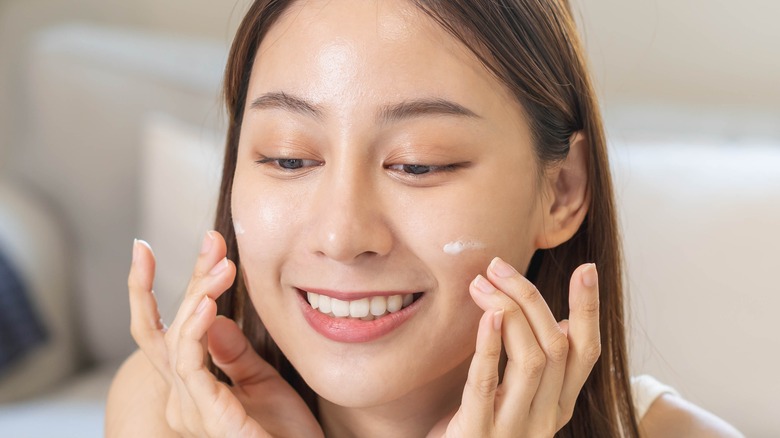 Kmpzzz/Shutterstock
We may receive a commission on purchases made from links.
Sunscreen is the golden rule of skincare that everyone should follow. If you want younger-looking, healthy skin, you need to wear sunscreen. In fact, Dr. Marisa Garshick, a New York-based dermatologist, tells Healthline, "Our face is exposed to UV rays every day, so it's important to provide protection to prevent cumulative sun damage that may occur and result in skin cancer or signs of photodamage, such as sun spots, fine lines, wrinkles, and skin laxity." You need to make sure your sunscreen has sufficient SPF if you are outdoors and always choose broad-spectrum protection as it will protect you from the harmful UV rays that cause aging and burning, per L'Oréal Paris.
While we know sunscreen is necessary to protect our skin from premature signs of aging and skin cancer; people skip it because they want a tan, don't like the chalky residue, or get skin irritation. While it's possible to get breakouts while traveling or by using certain sunscreens depending on your skin type, it's not okay to skip it. With tons of sunscreens available to choose from, learning what ingredients to use and what to avoid can help prevent or stop your acne from getting worse. That's why you need to understand which sunscreens to choose and how to use them to prevent breakouts.
Here's what you need to pay attention to while choosing a sunscreen for acne-prone skin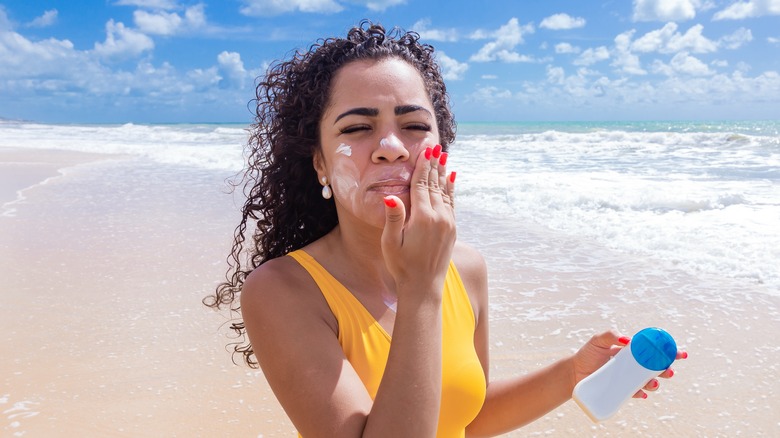 Bernardo Emanuelle/Shutterstock
While we can blame our genetics and the environment for our skin type, learning what works best for our skin can help us choose the right products. "Certain sunscreens contain chemicals that can irritate your skin, making it more susceptible to acne breakouts," board-certified cosmetic dermatologist Michele Green, M.D., who specializes in acne treatments, tells Hum Nutrition. Chemical sunscreens work by absorbing the UV rays where "the heat acts as an occlusion on the skin," which increases sebum production that causes more clogged pores. That's why you must avoid sunscreen with comedogenic ingredients if you're prone to acne. Make sure it's also oil-free just to be safe. 
"Some products are more occlusive than others, leading to clogged pores and breakouts. This tendency further exacerbates if your breakouts are not well controlled, or you find yourself sweating in the summer," Dr. Libby Rhee, a board-certified dermatologist, tells Sunday Riley. She recommends using lightweight mineral face sunscreen in the summer if you're prone to breaking out. Since sunscreen is meant to last for hours, it's important to double cleanse your face to get rid of all the dirt, makeup, sweat, and oil as the build-up will "set in and clog your pores" too (via L'Oréal Paris). Also, check the expiration date on your sunscreen so you aren't using old ingredients that can worsen your skin issues. Now, let's find a perfect sunscreen to prevent breakouts, shall we?
Best sunscreen for skin that's prone to breakouts
One should never have to choose between sun protection and avoiding skin breakouts, and for that, there are some fantastic sunscreens out there that protect your skin from the sun's UV rays while keeping breakouts at bay.
One of the best face sunscreens for acne-prone skin is Andalou Naturals Vitamin C Beauty Balm. This mineral sunscreen has 20% zinc oxide, doesn't feel greasy, and has excellent reviews online from those with acne. It's infused with vitamin C, which helps brighten your skin, while its light tint helps even out your skin tone. Meanwhile, EltaMD UV Clear Broad-Spectrum SPF 46 is great because it goes on transparent with a "sheer, shine-free finish." It has hyaluronic acid for hydration, too! This sunscreen has over 3,900 five-star ratings as well, so many people adore it.
Supergoop! Unseen Sunscreen SPF 40 is also a good choice because this oil-free sunblock protects you from UVA/UVB rays, as well as from blue light from your phone and computer screens. This gel formula has a natural finish without looking greasy, which we can all appreciate. Plus, it has four out of five stars, meaning folks have been loving it. Finally, for an affordable pick, you can always rely on Neutrogena Clear Face Liquid Lotion Sunscreen because it's lightweight and has SPF 55. It's fragrance-free and non-comedogenic, so it's also great for anyone with sensitive or irritated skin. On this sunscreen, one Amazon reviewer wrote, "It still has the usual odor and consistency of typical sunscreens, although it is slightly more fluid and subtle so a small amount can be applied easily and my skin can still breathe." Not bad!