Are Ephemeral Tattoos Worth The Hype?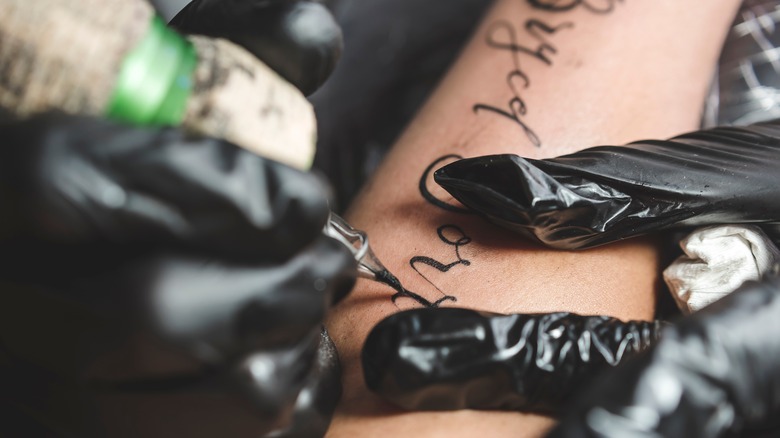 MDV Edwards/Shutterstock
Tattoos have come a long way from the domain of edgy outcasts. Now, you can find subtle or not-so-subtle ink on people of all backgrounds and careers. And who hasn't watched an episode of tattoo shows like "Ink Master" or "Miami Ink" and felt the itch to get some art?
But even though tattoos are becoming increasingly mainstream and normalized, there are still many people who hesitate to take the leap. A study from the American Academy of Pediatrics reports that 42 million people between the ages of 20 and 55 cite the permanence of traditional tattoos as the main reason they're hesitant to get one.
Of course, there are a few short-term options on the market. Many of us probably have childhood memories of sticking on temporary tattoos with a wet washcloth, then watching them disintegrate in a matter of days. Henna tattoos also go through waves of popularity, especially during festival season, but they're limited to brown hues and still only last for one to two weeks (via Authority Tattoo).
More recently, up-and-coming brands like Inkbox have been exploring the idea of temporary tattoos for grown-ups, but, once again, these designs only have a lifespan of a week or two. So, what if you want a tattoo that will last longer than your beach vacation but shorter than your entire life? A pioneering chain of studios called Ephemeral Tattoo is finally providing the perfect answer.
What are ephemeral tattoos?
Ephemeral Tattoo creates a whole new way to experience body modification, utilizing a proprietary semi-permanent ink that is designed to fade between nine to 15 months. The ink is bioabsorbable, biocompatible, and plant-based, meaning that, unlike typical tattoo ink, it's made to be naturally broken down and removed by your body.
If this sounds questionable to you, you can put your mind at ease. The special ink used by Ephemeral Tattoo uses FDA-approved materials and has been put through a clinical study overseen by chemical engineers and dermatologists, ensuring its safety and effectiveness on multiple skin types (via The New York Times).
"We believe that getting a tattoo should be an open, accessible, and joyful experience. That's why we're creating a world where your body can be a canvas for unapologetic self-expression–without the lifetime commitment," Ephemeral Tattoo's website states. "We know that getting a tattoo can be an intimidating experience. At Ephemeral, we've rewritten the rulebook so that everyone is free to express their individuality without fear or regret, in an inclusive and supportive environment."
What kind of ephemeral tattoo can I get?
Right now, it seems that the art at Ephemeral Tattoo is limited to black, line art-style designs, which look best while fading — though the website's FAQ section hints that color inks may be in the works. Ephemeral offers two pricing categories: subtle tattoos, which are small, minimalist, and start at $195, or statement tattoos, which are larger, more intricate, and start at $350. As with most traditional tattoo studios, you can book online with a deposit and then enjoy a consultation with your artist to develop or customize your piece.
Ephemeral has made the conscientious choice not to apply tattoos on clients' hands or feet yet since they haven't done thorough testing on those areas (via The New York Times). But other than that, you have a lot of freedom to collaborate with your artist and create a design and placement that expresses your personality. Whether you're stressed by commitment or want body art with endless potential for evolution and self-growth, these semi-permanent masterpieces are a fantastic way to experience tattoos with no strings attached.
Hoping to find an Ephemeral Tattoo storefront near you? There are currently five studios listed on the company's website, with locations in Brooklyn, Los Angeles, San Francisco, and Atlanta, plus a new Houston studio taking appointments from September 2022.