How To Blow Dry Your Hair To Perfection Without All The Damage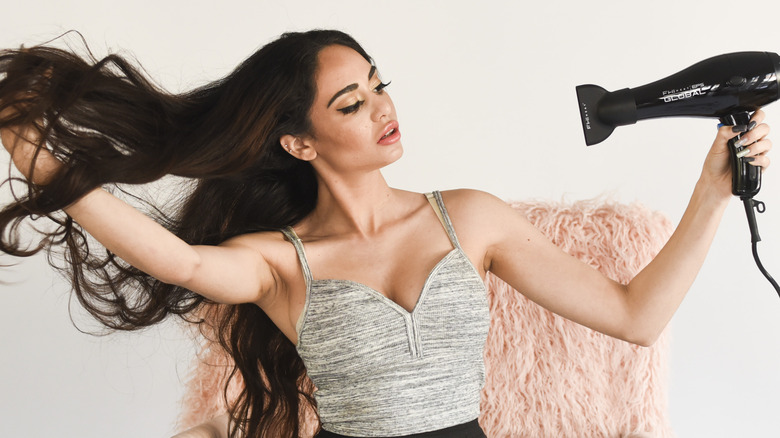 Michael Bezjian/Getty Images
Contrary to popular belief, you don't need to be a professional hairstylist to blow dry your hair to perfection. Using the right products and techniques, you can achieve salon-quality locks that are smooth, voluminous, and obedient in sitting just where you want them to. The only problem? Blow drying falls into the realm of heat styling, which can damage the hair. Dyson explains that when hair is exposed to high heat without protection, it undergoes changes at a molecular level, causing it to become weak and lose elasticity. However, it is possible to blow dry your hair without the damage.
Haircare brand Philip Kingsley argues that blow drying will not harm the hair strands as long as the hair is prepared with the correct products and the right techniques are used. The good news is the products are widely accessible, and the techniques are easy to learn. By following a few simple steps before, during, and after blow drying, you can ensure that your hair stays healthy and looks like you just stepped out of the salon.
Crucial products to protect your hair
First things first: it's important to prime the hair before you start blow drying with a boost of hydration. Naturally Curly recommends using a deep conditioner to moisturize your hair and counteract any dryness caused by heat styling. The website also points out that you can make your own deep conditioner at home with ingredients like egg yolks and olive oil, so you don't need to buy products that will break the bank. Schwarzkopf explains that it's best to wash your hair with warm water, as this is gentler than hot water. Do a final rinse with cold water to close the hair cuticle layer, which can help to control frizz before blow drying. Then generously treat your hair to heat protectant, either in the form of a spray or a cream from roots to ends (the latter is ideal for thicker hair).
According to hair tools company Sam Villa, adding a texturizer to the roots will result in more volume, and it's important to use a finishing cream, oil, or spray after blow drying to lock the look in place. Finally, hair spray is also important as it provides a protective coat around the hair strands. In terms of tools for success, a high-quality blow dryer is less likely to cause damage to your hair than a cheap one, and a round brush is crucial to correct blow-drying technique.
How to blow dry your hair properly
The golden rule of safe blow drying is waiting until the hair is mostly dry. Blow drying soaking-wet hair will not only take a long time to fully dry, but this can also cause damage as hair is at its weakest when it's wet. Denver's Deseo Salon recommends waiting at least 15 minutes after towel drying before applying heat. The salon also stresses gently towel drying rather than tugging, as this can also cause damage. When it's time to apply heat, opt for a low-to-medium setting to reduce the chance of drying out your hair.
According to style blogger Emily Henderson, it's important to avoid holding the dryer nozzle too close to the hair, particularly while the hair's still wet, as this leads to both damage and frizz. It also helps to blow dry the hair in sections. This ensures that you're adequately drying your whole head, as leaving any moisture can lead to heavy-looking hair with kinks (via The Memo). Mow Hair advises starting with the front sections and moving to the back, as the front sections tend to be finer and dry more quickly. Once you've dried the front sections — including bangs — clip them to your head to secure them. Use your round brush to gently pull each section as you dry it until your hair is completely smooth and dry. Add your finishing cream and hair spray and you'll have picture-perfect hair without all the damage.