Does This TikTok Foundation Hack Work As Well As People Claim?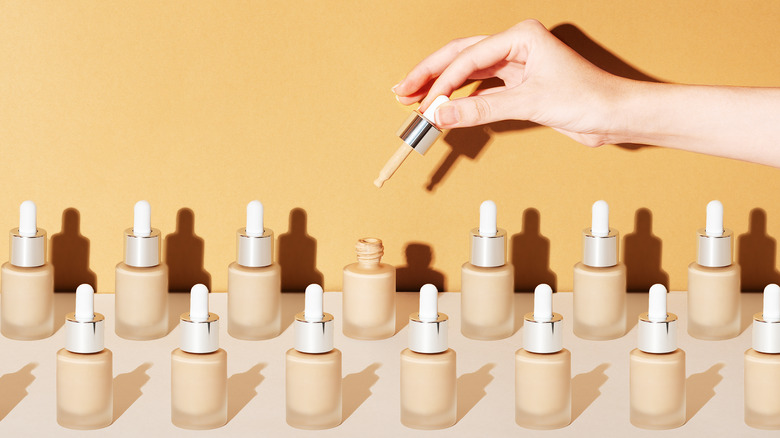 Alice Tsygankova/Shutterstock
By now, we know that TikTok is the place to find unorthodox and unknown hacks. Naturally, too, one of the biggest categories you can find hacks in is the beauty world. It seems like every week there are new beauty hacks taking over and claiming to be the best way to apply products. The newest hack to hit the social media platform is the simple act of mixing your foundation with water, and it's caused some waves. With over 20 million views in its hashtag, the #foundationinwater trend calls for only your favorite foundation and some water. The result should be a dewy finish for a hydrated look that prevents any cakiness.
Although TikTok has delivered some amazing beauty tips and tricks recently, not everything has been a home run. However, with so many people standing by this hack, it's worth seeing whether a little bit of water can give you that fresh, dewy makeup look.
Should you mix foundation with water?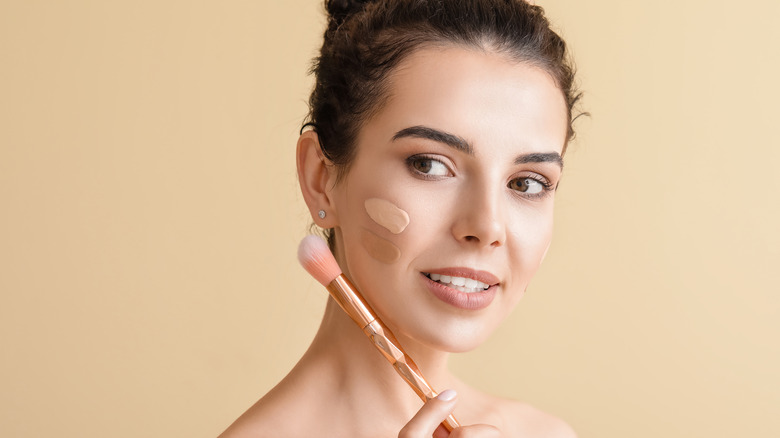 Pixel-Shot/Shutterstock
The idea behind this new TikTok hack is simple: you just drop water with a foundation in a makeup mixing dish — or by adding some setting spray — and continue by applying the mixed result on your face. The original version of this hack called for pumping foundation into a glass of water before using your brush to grab it out of the water and then applying.
However, according to makeup artist Saffron Hughes, the original version of this hack is nothing more than a scam (via Refinery29). "The very first original video of it was an advert for a specific foundation to show how it was waterproof, not a hack that can be used with any foundation," she told the outlet, denoting it as a "gimmick." Although blending water with your foundation does help it become less oily, its finish is nothing that a good setting spray or mist can't do as well.
On the other hand, Huda Kattan, a makeup artist and the founder of Huda Beauty, agrees that the trick is a bit overcomplicated and a waste of product; however, she believes that it does create a dewier finish. As Huda states, the hack helps the transfer-proofing foundation and makes the skin look dewier (via Glamour). Although this hack seems to work, it doesn't appear practical, nor is there any concrete evidence that it won't result in skin trouble.
How to improve your foundation application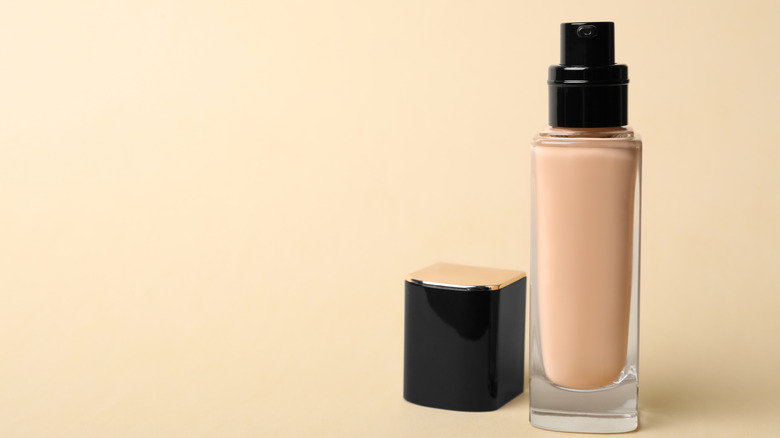 New Africa/Shutterstock
If you want to improve how your foundation looks but don't feel like pumping it into a glass of water, there are a few steps you can take. According to Claire Talks Beauty, one of the best ways to get dewy skin is by mixing your foundation with your moisturizer. Not only are you still hydrating your skin but you're also getting a lighter, weightless look that makes the foundation go on with a proper sheen. It's also recommended to use a light amount of foundation on spots that need coverage instead of going for a full coverage look. This makes the foundation blend in more with the skin and gives a more natural look.
According to Beauty Crew, one of the best ways to get the same dewy foundation look with less hassle is by picking a lightweight foundation. Instead of pumping it into the water, grab an oil-free or satin-finish foundation that can give you the same sensation straight out of the bottle. Go for any foundation that is not matte to get a dewy look. Pairing this with only a small amount of foundation, you can get a natural, glow-from-within look.