This Hair Tool Is About To Change The Game For Your Scalp Health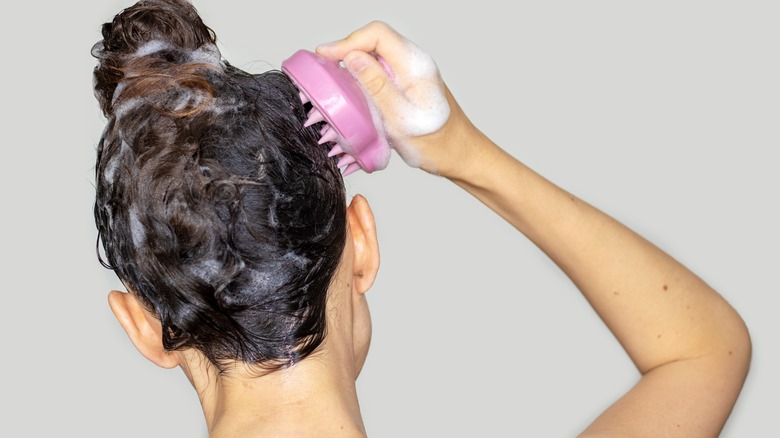 Alexandra Morosanu/Shutterstock
Have you recently noticed that your hair isn't as luscious as it maybe once was? Unfortunately, you aren't alone. According to The New York Times, 2021 saw a spike in Google searches that included the phrase "hair loss."  With heightened and continued stress concerning COVID-19, it's easy to see how our hair can be affected by the world around us.
Thankfully, in recent years, companies have been developing new tools to help combat these hair issues. In addition to targeted shampoos and conditioners, scalp massagers are now the hot new item that claims to help your hair journey and scalp health. 
Hair growth can be a complex journey for many as it depends on each individual's hair. Hair tools like scalp massages can help reboot your scalp health, which can aid your hair growth. Besides scalp health, scalp massagers are a great self-care tool that can easily be added to your hair routine to create stress relief throughout your day.
Benefits of a scalp massager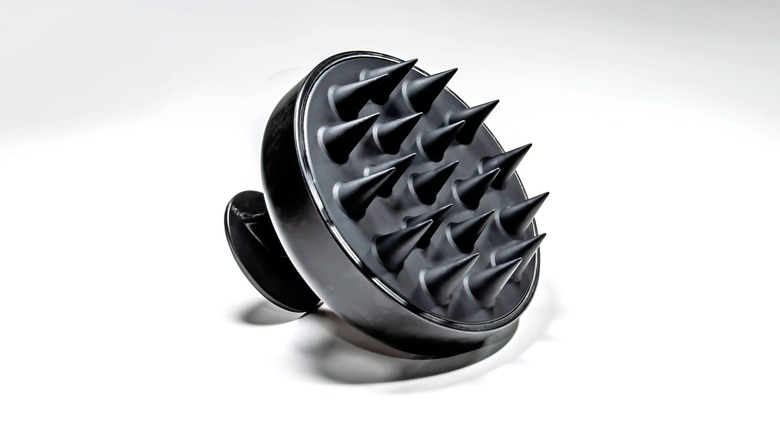 piroon Chavutito/Shutterstock
According to Healthline, a 2019 study found that using a scalp massager regularly could lead to thicker hair growth. This same study also found that massaging helped improve hair loss. This happens because the scalp massage helps focus on the hair follicles responsible for hair growth. Thicker hair is born from the massage stretching the cells in our hair follicles. Furthermore, the massage can help dilate your hair follicles, promoting hair growth. 
In addition to invigorating the cells in your hair follicles, a scalp massage can do a lot for the surface level of your hair. A scalp massager can also help with loosening dead skin cells that may be trapped on the scalp, helping rid your head of them in an easier manner. What's more, scalp massagers can help unlodge product buildup from all the hair products you use. By helping clean up your scalp from these factors, you create a clean base where healthy hair can grow (via Mane Addicts).
How to use a scalp massager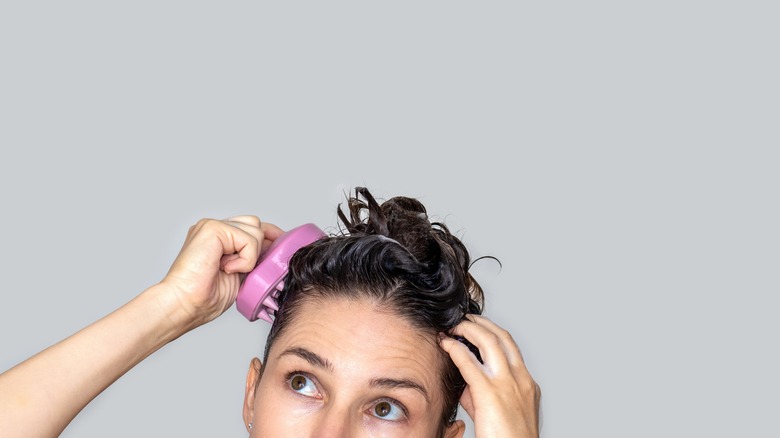 Alexandra Morosanu/Shutterstock
Using a scalp massager isn't complicated, and it only takes a few minutes. According to dermatologist Heather Woolery-Lillard, M.D., the best way to reap its benefits is to take a scalp massager and gently rub it in circular motions on the scalp (via Byrdie). It's easiest to use it in the shower, combining it with your hair masks and scrubs to get a doubly effective cleanse. Lillard warns that you should be gentle when using it on the scalp as anything too aggressive could cause damage, which no one wants. Most scalp massagers can be used with either dry or wet hair, making it easy to incorporate into your daily routine.
Dermatologist Morgan Rabach also recommends using a scalp massager before applying any type of scalp serum (via Harper's Bazaar). Since scalp massagers dilate the hair follicles, they will absorb this product better and be more efficient. The best news is that scalp massagers are not dangerous and can be used however many times a day you'd like.