How To Perfect The Viral Soap Brow Trend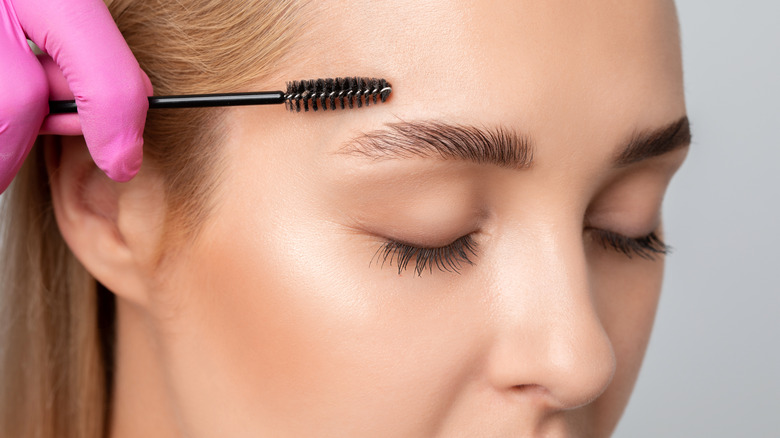 dimid_86/Shutterstock
We may receive a commission on purchases made from links.
Open your TikTok, and you'll find yourself scrolling past the many digital influencer personas. At first glance, it may seem like their picture-perfect images are unattainable, only to be admired through your phone screen. Do people really wear jeweled teeth, spiked buns, and eyeliner-lined lips in everyday life?
These days, our trends seem to be forged through the digital space, and eyebrows are no exception. In the '80s, women pined to have bushy Brooke Shields eyebrows. Then in the 90s, girls were plucking their brows to razor-thin perfection. Fast forward to 2022, and we're apparently putting soap on our brows! As ridiculous as it may sound, this viral trend is way easier than you think and will give you that new millennium babe aesthetic. There is no shame in slicking those brows back like a Jacquemus runway model, but there are some things to know when giving this a try.
The soap you choose is essential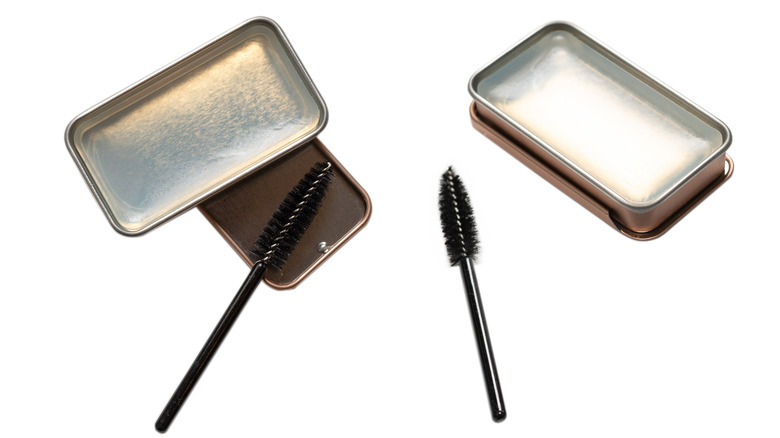 Holiday.Photo.Top/Shutterstock
In 2018, women everywhere were stunting bushy gelled boy brows. We quickly found out, though, how fast a brow gel can dissipate, especially if you live in hot or humid temperatures. Now, a more elevated shiny brow is on the rise, thanks to a fatty substance commonly found in soap called glycerin. Because of its waxy glue-like texture, glycerin soap is better able to coat and hold onto brow hairs, thus giving it a shiny sleeked-back look. One licensed exert, Dr. Dhaval G. Bhanusali, notes that glycerin acts as a "great humectant and can keep eyebrow hair hydrated and healthy (via Allure).
It's crucial, then, that you're not dunking your spoolie into just any soap. Dermatologist Dr. Joshua Zeichner tells Cosmopolitan that most body soap can cause irritation over time due to its alkaline pH levels. So, you'll want to seek out a soap made specifically for eyebrow styling rather than grabbing the four-month-old soap out of your shower.
Some soaps are specifically formulated to snatch your brows and are incredibly cheap. These include Sokgo's Styling Soap, which is available for overnight delivery on Amazon. If you're looking to add even more definition, try West Barn Company's tinted brow soap, which works best for blonde or lighter-colored hair.
Don't be afraid to brush up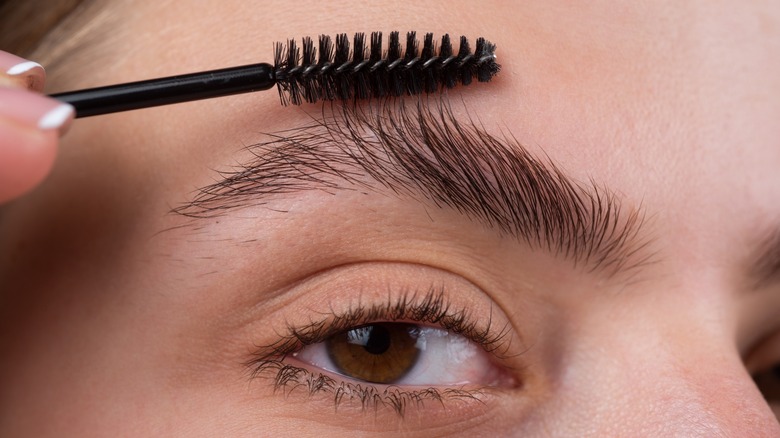 Volodymyr TVERDOKHLIB/Shutterstock
After years of styling your brows, it might feel counterintuitive to comb them upwards. This is a major step in the soap brow aesthetic, however. First, spray your spoolie with a styling mist, and then generously coat it with your soap. Next, apply the product up towards your hairline, making sure to coat each strand. Makeup artist Teresa Marie Guzman tells Ispy that "using the spoolie to direct the brows upward is what will create the bold, fluffy brows you're going for."
If you find once you've combed up that longer strands create a thick spidery look rather than soft and feathery, feel free to use a small pair of scissors to trim along the top. You can also use your spoolie to comb the hairs along your natural brow arch for a softer, cleaner look.
Similar to its more expensive look-alike sister, the laminated brow, which requires costly chemical treatments, soap brows are an amazingly affordable trend to hop on. Anyone can slick their eyebrows back to the gods with, who would've thought, a bar of soap and brush.