Can You Wear Black To A Wedding?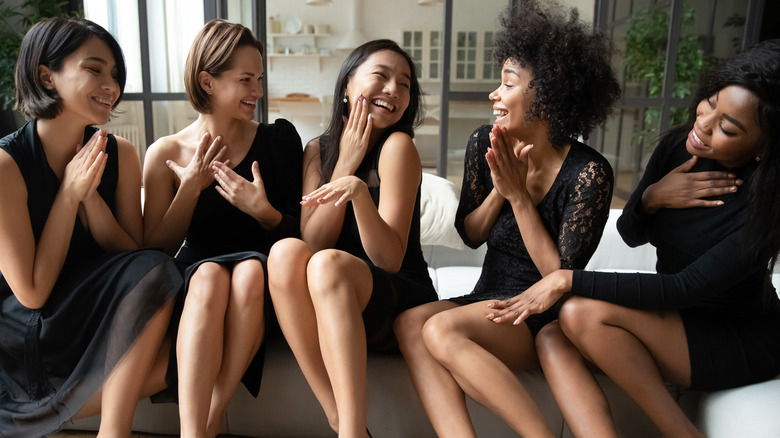 fizkes/Shutterstock
In history, fashion has always played a role in what clothing may represent, whether it's a cultural, societal, or personal choice. It is an ever-evolving scene. Black clothing is often associated with mourning and darkness, but this can also depend on one's culture. For others, black clothing may represent power or boldness (via Colorbux). For example, the death of her husband, Prince Albert, Queen Victoria wore black for the rest of her life in mourning. In doing so, she set the precedent for the Western world regarding what it means to wear black (via Funeral Guide).
Coco Chanel, however, was the first to introduce the famously known little black dress in 1926 on the cover of Vogue. This dress was a bold move at the time when dresses were more colorful or in color-filled designs — so much so, that even wearing a dress in any other plain color was also considered beyond tradition. The 1920s represented a time of revolutionary fashion, especially as sportswear made its way into the industry, creating a form of dressing that was free of rules, per Smithsonian Magazine. Following the First World War and the Spanish Flu, widows in France donned the color black. However, Chanel did what she did best and embraced it.
Fast forward to today's modern world where the little black dress, or even just black clothing, represents empowerment, sexiness, rebellion, and elegance, though it can vary per person. For others, tradition still stands, and wearing black still represents mourning, darkness, or other kinds of negative connotations. The question then becomes if it's appropriate to wear this color so full of history to a celebratory event such as a wedding.
A modern world, a modern color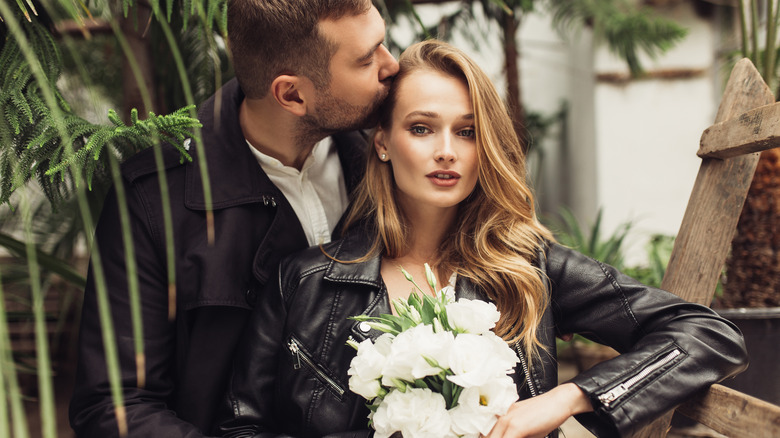 garetsworkshop/Shutterstock
You've all probably heard it before: never wear white to a wedding. But what about black? Weddings, like other traditions, are always evolving. Sometimes, the bride will opt for another color outside traditional white. Some will even wear black themselves. This has become more apparent in the modern millennial wedding, where couples choose non-traditional venues and outfits (via Business Insider). It used to be part of the tradition to also set a color theme, oftentimes being pretty strict. Special events planner Laurie Arons tells Martha Stewart Weddings that "the rules around the color have definitely softened in recent years," adding that some bridesmaids themselves will sometimes rock a chic black gown.
As more weddings take the non-traditional route, some professionals have deemed it okay to wear black to a wedding. "Guests can absolutely wear black to a wedding," president and creative director of Anne Barge Shawne Jocobs tells The Knot. "In the past, black was a color typically worn for mourning. However, over the years couples have been more open to breaking the rules and opting for non-traditional, modern wedding dress codes. Today, there are so many attire options to choose from, especially in black." It might just depend on what kind of wedding it is, and, often, the couple might specify a dress code or theme to follow.
Be respectful and use good judgment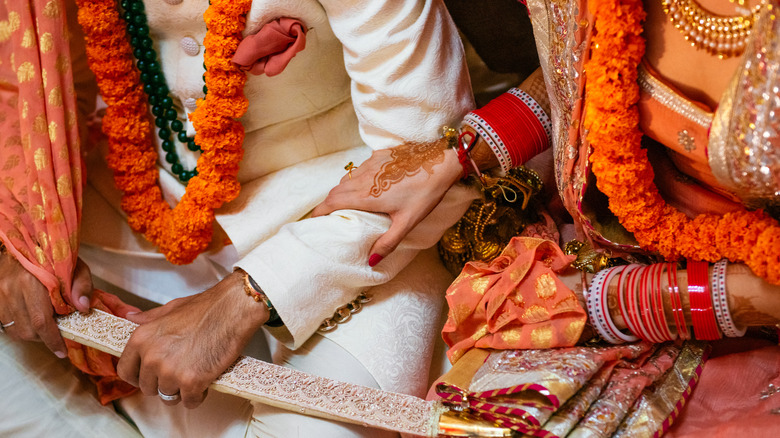 Tyshchenko Photography/Shutterstock
Location and time of day may be another indicator of whether you should wear black to a wedding. Arons says that in a place like New York, it is common to see wedding guests wearing black; however, in the U.S. South, something colorful might be more appropriate. Additionally, a beach location may call for brighter pastels, while a wedding in France might be something more regal (via Martha Stewart Weddings). 
Think a little deeper about all the small wedding details you're aware of. For example, what kind of feel does the invitation have, where is it going to be located, who is the couple, and more indicators of what the wedding might be like. It is also important to keep in mind the cultural aspects of a wedding. Black is a definitive no-go in Indian, Chinese, and Irish weddings, as it may be offensive, considered bad luck, or associated with a funeral (via Culture Trip).
It's probably best to use good judgment once you've looked at more details of the wedding. It's always important to be respectful to the couple and their desires for their big day. The best thing you could probably do if you're still unsure is to always ask the couple what they prefer.