What Is A Toi Et Moi Engagement Ring?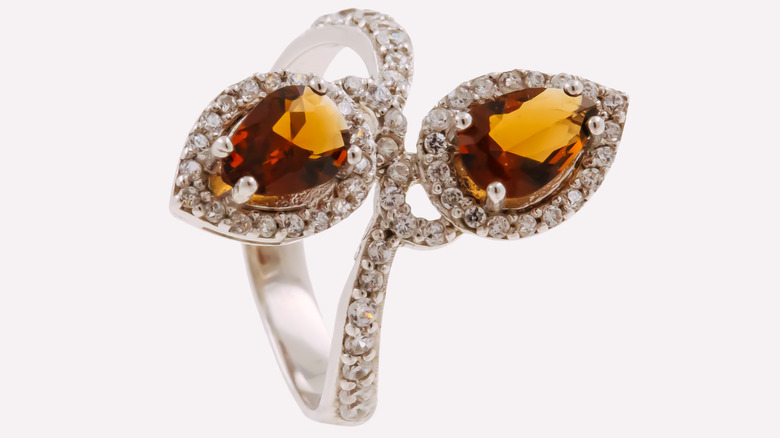 ProximaCentauri1/Shutterstock
One of the most romantic gestures we see all the time, and perhaps the ultimate one, is the marriage proposal. The symbolic gesture is when a person asks the love of their life for their hand in marriage, usually placing a beautiful engagement ring on their left hand. Engagement rings are mostly known to be a gorgeous diamond or stone of choice on a band, but some rings, known as the Toi et Moi, consist of two stones. It translates to "you and me" in French and is meant to represent both people in the relationship who are soon to be united as one (via Taylor & Hart).
The style dates back to 1796 when Napoleon Bonaparte proposed to Josephine de Beauharnais with this style of ring. The ring featured two pear-shaped stones, one sapphire and the other a diamond, both just under 1 carat in size (via The Court Jeweller). Today, it has become a popular choice, especially as more and more celebrities bring it back into the spotlight.
A popular, customizable look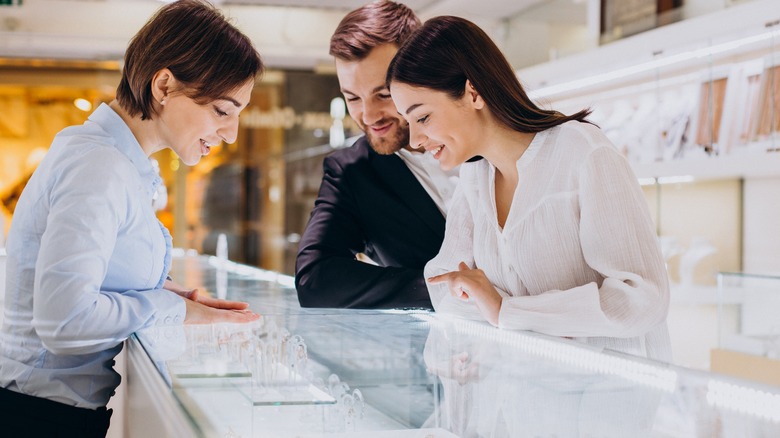 PH888/Shutterstock
This style of ring allows for a flow of creativity and personalization. The gemstones and the stones' placements really allow for a variety of options and customizations. "I love using pear shapes in Toi et Moi rings; they are great complements to many other shapes," certified gemologist and CEO and founder of The Clear Cut Olivia Landau tells MarthaStewart.com. "You can match a pear shape to a rounded cut, like a round brilliant or cushion, but also a shape with sharper points, like a princess or emerald." 
Landau suggests using stones that are more long-lasting with each other for everyday wear, such as diamonds, sapphires, or rubies, emphasizing that whatever gemstones you choose, they should have similar ratings in quality. However, since it's your ring being made to your liking, you have the ultimate choice to customize it how you'd like. After all, it's likely to be one of the most important and meaningful pieces of jewelry in your box.
Jackie Kennedy is an example of how luxuriously a Toi et Moi ring can be designed. Her Van Cleef and Arpels ring featured both an emerald and a diamond surrounded by baguette-cut diamonds in its setting. She later swapped the baguette-cut diamonds for smaller, marquise-cut diamonds (via Vogue France). Other big names to don this unique engagement ring are Ariana Grande, Megan Fox, and Emily Ratajowski.
Things to consider before getting this style of ring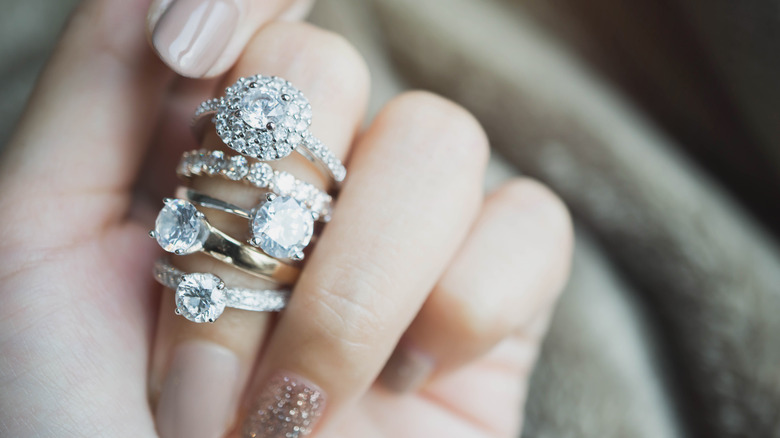 Aleona/Shutterstock
If this is your dream engagement ring, there are many things to consider because it really opens up the door for customization. According to Taylor & Hart, you must consider shape, color, and size when designing your Toi et Moi ring. The company notes that the shape should represent something unique about your partner. Next, you should choose two stones of the same size for visual symmetry. Finally — and this is the most customizable — you choose a color that is meaningful to you and your partner. The company recommends choosing your partner's favorite color, their birthstone, or one that tells a story of how you met or fell in love.
Additionally, this style of ring doesn't always have to be gifted as an engagement ring. It can be gifted as a symbol of love to celebrate an anniversary. They can also be gifted to new mothers or parents to represent the bond between parent and child, instantly becoming a family heirloom to be passed down to future generations. Whatever you choose, do so with love, and make memories that will last forever.