14 Common At-Home Waxing Mistakes You May Be Making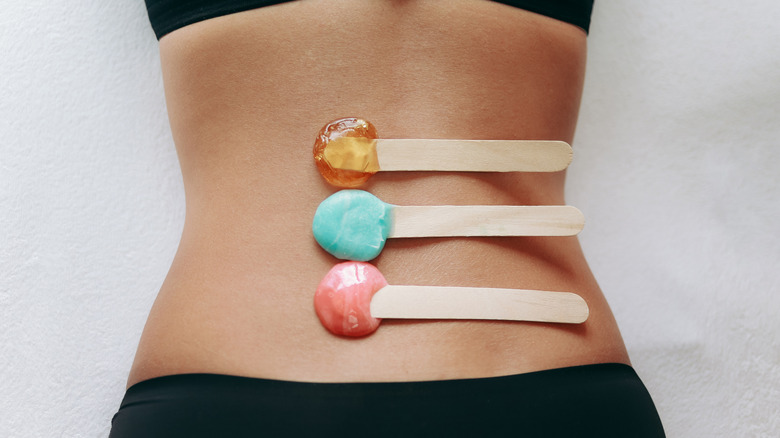 Marcovnica/Shutterstock
Waxing your legs without feeling much pain, having skin softer than cotton, and experiencing minimum regrowth: These are everyone's goals when they decide to wax at home. However, burns, ingrown hairs, and non-uniform hair removal can be inconvenient. Still, hair removal isn't actually that bad when done right. In fact, it doesn't take much to turn your home into a beauty institute and have effective hair removal sessions.
Advertisement
After all, more women are waxing their legs, underarms, and bikini line. Indeed, a market report published online by Transparency Market Research states that "the COVID-19 pandemic is a key factor propelling the demand for at-home grooming techniques." When beauty salons closed for long periods of time, more and more people started waxing at home and discovered that it's possible to achieve the same results as long as you follow simple yet important steps.
And waxing has a lot of benefits: It's less irritating for the skin and makes it smoother than silk, regrowth is slowed down, and the hair grows back finer and softer (via Sienna Professional). Who wouldn't want to practice their waxing skills at home to be able to master the science of waxing? After all, shouldn't it only include a few tools, a little bit of time, and potentially some aftercare? Not so fast. Here are 14 common mistakes you probably make every time you wax, without even noticing, that prevent you from becoming a waxing expert.
Advertisement
Using the wrong type of wax for your body part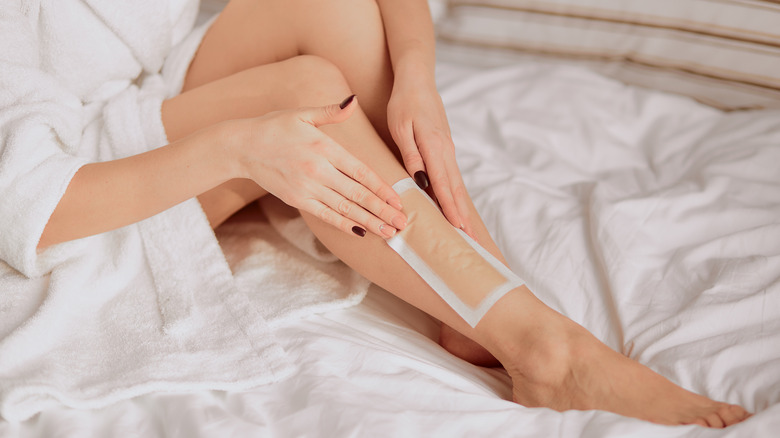 UfaBizPhoto/Shutterstock
When it comes to waxing your hair, there are many different options available for you to use to accomplish the job. Whether pre-made wax strips, hot wax, cold wax, hard wax, soft wax, sugar, or fruit wax, they are simply not created equal, and it can be hard to choose which one is right for you. Using a quality wax is a good start, but knowing what wax suits your routine best will save you time and achieve better results.
Advertisement
What matters is the condition of the skin and the area of the body targeted, which require different hair removal products. It's a fact that bikini waxing isn't done in the same way as leg waxing. For larger parts of the body — arms, legs, bikini — it is better to use soft wax, also known as strip waxing. The heat will open the pores and glue the hair into the wax to eliminate the tiniest ones (via LeSalon Beauty).
On the contrary, for smaller parts of the body — upper lips, eyebrows, armpits -– where the skin is thinner, it is preferred to use hard wax. Since the skin is more sensitive in these areas, hard wax will not harm it and will leave it smooth. It's also important to adapt the wax according to your skin type. If you have sensitive skin, sugar wax will be the best option. Finally, pre-made waxing strips are cold and typically designed for sensitive skin and long and thick hair.
Advertisement
Forgetting to do a patch test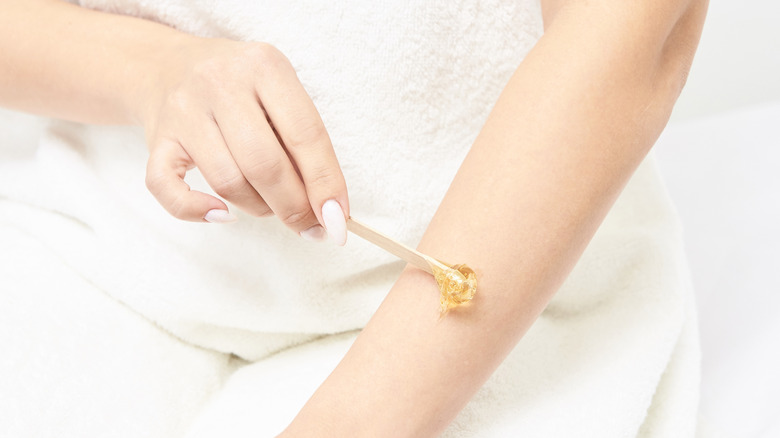 elenavolf/Shutterstock
Let's set the stage: You pick up a new brand of wax at the store that you've never tried before. Little do you know that you will have to give it a test for safety purposes. If it suits you and your skin, you can proceed to your waxing session. However, if the opposite is true, you want to know before you spread it across a larger section of your body where it can do more damage.
Advertisement
When waxing with a new product for the first time, doing a patch test is the safest way to determine if you're allergic to the product. Dermatologists recommend patch tests before trying any new skincare products to ensure you are using the wax safely and harmlessly. To do this, you simply need to apply a bit of wax on a small portion of your skin, such as the back of your hand, 48 hours before you want to do your full waxing session.
According to a study published in the Journal of the American Academy of Dermatology, "39.5% had a personal care product identified as a source of irritant contact dermatitis or a positive patch test reaction" (via ScienceDirect). So, it's better to be safe than sorry and do a test because all waxes are different, whether in their ingredients or their manufacturing processes. If, within that time, the test area becomes irritated, red, itchy, or swollen, it's imperative not to use the wax for your hair removal sessions.
Advertisement
Using a wax that is too cold or too hot
Da Antipina/Shutterstock
Finding the right temperature for your wax can be a real challenge. After all, you want to pull all of your hair out of the hair follicle, so does it really matter if you reach the perfect wax temperature? Ultimately, it matters, and it depends on the type of wax you're using.
Advertisement
When using cold wax strips, you don't have to worry about anything and can start your waxing session immediately. It's cold for a reason. However, if you use liquid waxes, you need to heat them up before applying them to your skin, and this is where it gets complicated. What is the ideal temperature? Forget the thermometer! To become an expert in wax heating, there is a simple way to determine if the wax has the perfect texture.
It's important to do a temperature test on your wrist — where the skin is thin and sensitive — to check whether it's too hot. The wax needs to be as liquid as honey; otherwise, the hair follicle won't be captured in the wax and be removed safely and properly. If the consistency is runny, the wax is overheated, and you need to cool it down to avoid any burns (via Nova Wax). Meanwhile, if you're using hot sugar wax, the consistency needs to look like tree sap — sticky but not too hard, so you can spread it correctly on the skin and remove it without breaking it.
Advertisement
Using the wrong amount of wax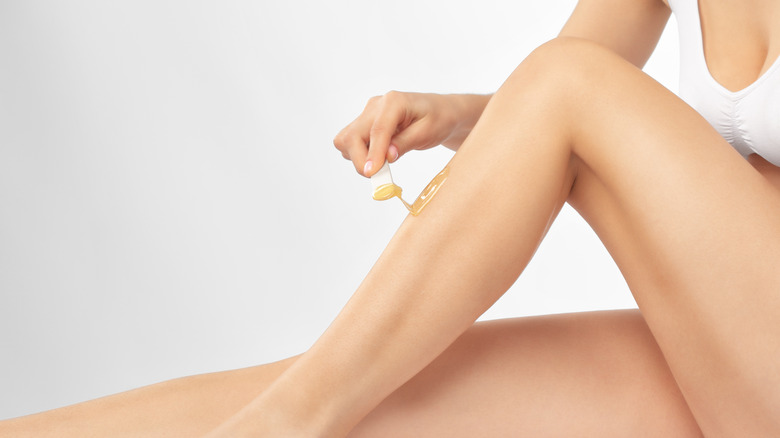 dimid_86/Shutterstock
When the wax's temperature is ideal, you then have to decide how much to apply to your body. Do you always take too much wax from the pot and apply it on a small surface without spreading it out evenly? Does that make the strip thick and leave even more residue on the skin? Applying too much or not enough is a mistake that can completely ruin your waxing session.
Advertisement
Applying a thin layer of wax is the key to achieving the best results. With the help of a wooden or metallic spatula held at a 90-degree angle, place a small amount of hot wax on your skin. Then, spread the product quickly and uniformly over the area that you desire to wax while following the direction of hair growth. The key here is to be precise, especially when handling something this hot. It's essentially like making caramel; you don't want to get reckless!
To remove hair from half-legs, create a strip about 1 inch wide and 3 inches long from the knee to the ankle. Be careful if the layer is too thin; the wax will break and not catch anything. Likewise, if the layer is too thick, the effectiveness of the wax will be reduced since it won't be able to go inside the hair follicle to remove it from the roots. If you happen to use a roll-on, you don't have to worry; the device applies the right amount of product at the right temperature.
Advertisement
Applying and pulling the wax in the wrong direction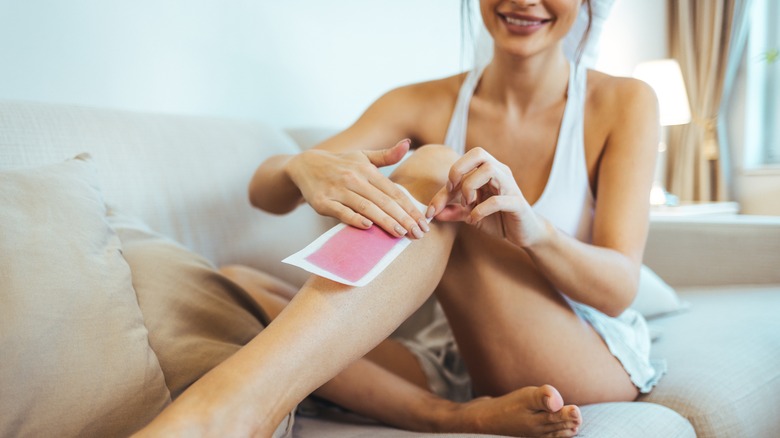 Dragana Gordic/Shutterstock
When waxing, every detail is important, whether it's how you apply the wax or how you pull the strip off once it's cooled and gripped onto your hairs. There are some rules to follow to turn this unpleasant moment into one that's actually satisfactory.
Advertisement
In order to capture every hair, the strip should be applied in the direction of your hair growth and pulled in the opposite direction. Gina Petak, a licensed esthetician, tells Self that pulling in the wrong direction can break the hair, ruining your waxing session.
When waxing your legs, always start at the ankle and work your way up to the knee. For the armpits, there is often more than one direction of growth. On the upper part, the wax should be applied upward. For the lower part, on the contrary, the wax should be applied downward. This is an error that can sometimes leave small spots of hair on the area and will make you have to go for a second round a couple of days later. Then, too, your hair growth cycle will be uneven.
Advertisement
Removing the wax too slowly and not using a firm hand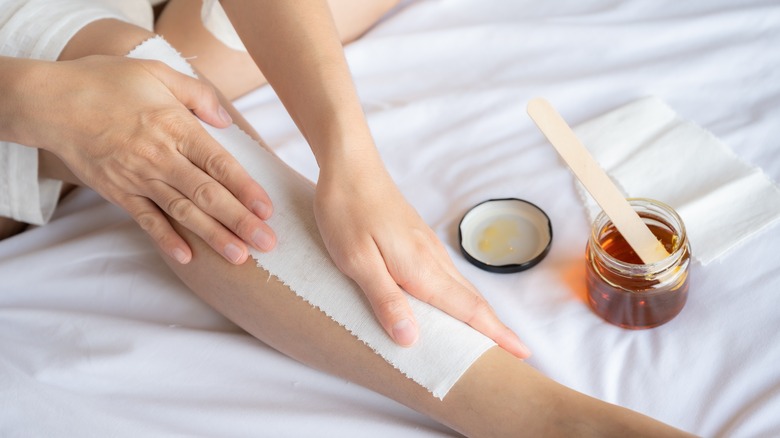 Boyloso/Shutterstock
When you wax your legs, you want to take all the hair out of the skin as quickly as possible and be ready for a night out with your friends. In fact, this is actually how wax strips are meant to be removed: quickly. The quick motion is key when waxing as it'll make sure you don't have wax residue on the skin, is less painful for you, and takes off each and every hair.
Advertisement
When the wax is ready to be pulled, use both of your hands to rip it off. One hand will pull the skin in the opposite direction of hair growth, and the other will pull the strip in one quick motion in that same direction (via the American Academy of Dermatology). That way, the hair will not be able to break and will be more easily uprooted. If you don't hold your skin, it can move along with the wax strip. This interrupts the tension that allows the wax to remove the hair.
Besides, wax easily gets into cracks and creases. If you apply the wax on wrinkled skin, some residue is going to stay and stick to your skin. The importance of pulling the skin is crucial for a successful hair removal session at home.
Advertisement
Not waiting long enough between hair removals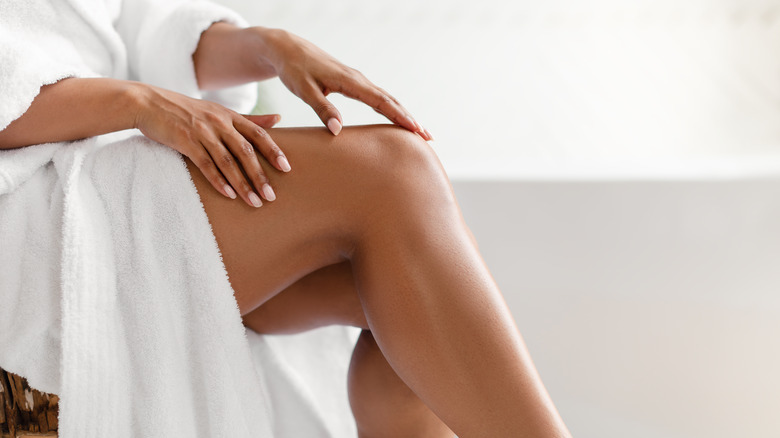 Prostock-studio/Shutterstock
You double-checked, but your calendar is full, and you don't have any spots left to plan an at-home waxing session. Still, your hair continues to grow. The next free time you have is now, so you think about waxing and ask yourself, "Is my hair too short?" This is quickly followed by even more questions: Will the wax be able to catch every hair? Will it be too long in a month? Does it really matter?
Advertisement
If you've asked yourself at least one of these questions, it means that you have probably made the mistake of not waiting long enough between waxing sessions in the past. It's normal to not know how long the hair needs to be in order to be waxed because it can be tricky. Indeed, if you shaved, you will need to wait for two to three weeks, whereas if you waxed, you can wait three to four weeks since the hair takes longer to appear. This is a huge difference that has a big impact on the success of your hair removal session.
If the hair isn't long enough, the wax won't have something to hold on to and get a good grip, which is why it needs to be 1/8-inch long (via Healthline). But be careful: If the hair is too long because you've waited a long time to re-wax, you will need to trim it so it meets the perfect length, which will elongate the time of your waxing session.
Advertisement
Waxing skin that isn't clean or dry enough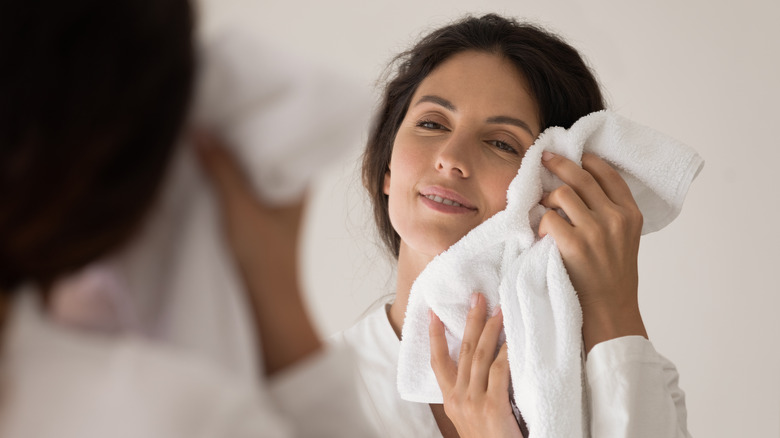 fizkes/Shutterstock
Now comes the time to remove your hair without hurting yourself. All you have to do is prepare your skin properly before waxing. Doing waxing prep is essential to minimize your discomfort and go from hairy to hair-free.
Advertisement
Skin that isn't clean before waxing will prevent the wax from sticking to the hair, which is why taking a shower is a necessity before each hair removal session. A hot shower will open your pores, making it easier to remove hair at the root, too. However, you must ensure that you're fully dry before applying the wax!
In fact, all of your hair not being removed simultaneously can result from you applying the product on skin that isn't fully clean or dry. All day, skin breathes and sweats; it's enveloped in humidity and sebum. Moist skin can decrease the effectiveness of the wax; hence it's necessary to use a clean towel or a powder to dry the area. Baby powder or talc powder will soak up the oil produced by the skin, and the hair follicles will finally be ready to get waxed (via Healthline).
Advertisement
Not exfoliating first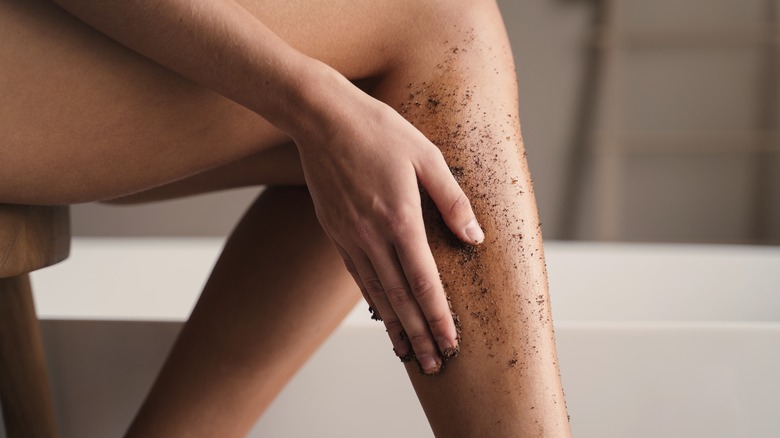 Damir Khabirov/Shutterstock
Exfoliating your skin at home is something you should try to regularly incorporate into your beauty routine to maintain bright, beautiful skin — but it's also essential to do before you undergo any sort of waxing. The experts at Beauty Image note that exfoliating before waxing is important because not only does it contribute to baby-soft skin and improve circulation and blood flow, but it can also minimize the risk of bumps, dry patches, pimples, and those pesky ingrown hairs.
Advertisement
If you do happen to have any ingrown hairs, exfoliating can help eliminate them. Whether you choose a store-bought body scrub, at-home ingredients, or dry brushing to remove those dead, dry skin cells from your body, proper exfoliation should be done at least 24 hours before your wax to protect your skin best.
Any sooner and you could risk irritation, developing a rash, or even worse, ripping your sensitive skin. After your wax, you'll want to wait an additional two to three days before you begin any exfoliating to allow your skin to heal and ensure you don't cause any irritation.
Failing to stay hydrated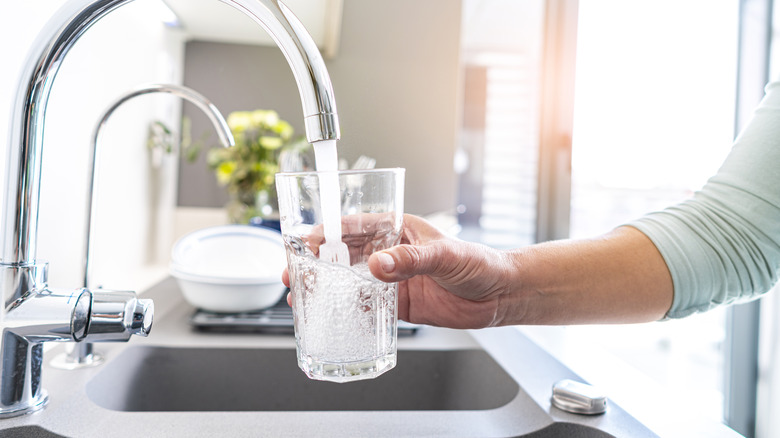 Fcafotodigital/Getty Images
We all know how important it is to drink lots of water. Not only does it help your body perform as it should, but it also makes your skin look amazing. If you need another reason to ensure you're drinking enough water, proper hydration can also make your waxing session less painful.
Advertisement
Not hydrating yourself properly can cause your skin to "tighten," which may result in a more painful waxing experience, the experts at waxup note. Hydrated skin that is plump and healthy will adhere better to the wax, giving you the results you want from an at-home wax with less pain and irritation. Do your best to drink lots of water on the days before your wax for optimal skin prep.
You will want to limit how much caffeine and alcohol you drink before you wax, as they can both lead to dehydration that can cause more irritation. That doesn't mean you have to ditch your morning coffee or evening glass of wine but try to limit it in the days before you wax and make sure you're drinking lots of water at the same time.
Advertisement
Wearing tight clothing after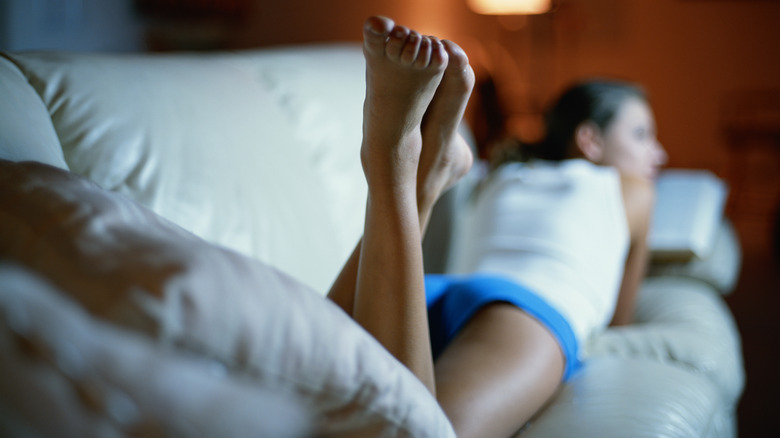 Hitoshi Nishimura/Getty Images
Not only do you need to prepare your skin for a wax, but you also need to prepare what you're going to wear after as well. Wearing tight clothing after waxing can cause almost as much irritation to your skin as using the wrong products or exfoliating too soon.
Advertisement
Tight clothing can cause friction which may result in redness, rashes, and irritation, according to Mint Skin Spa. You want to ensure your skin can breathe after waxing, so it's best to avoid tight clothing like leggings, tight jeans, underwear, socks, or close-fitted sleeves (depending on the waxed area).
"Avoid wearing tight clothes that occlude the waxed areas for the first 48 hours [after waxing], as they will encourage breakouts and ingrown hairs," La Suite Skincare founder Rhea Souhleris Grous explained to Byrdie. She also noted that, for the first 48 hours after your waxing sesh, you should avoid any strenuous activity or workouts that could cause "friction, irritation, sweat, and bacteria."
Advertisement
Not being prepared
Dimensions/Getty Images
So you've decided to try waxing at home, and you're eager to get started, but to ensure a successful waxing experience, you need to be prepared before jumping right in. And that doesn't mean just making sure you've prepped your skin properly, either.
Advertisement
As with any home beauty routine, having the right supplies surrounding you is an important part of the waxing process. You'll want to ensure you have towels handy and that you're ok with getting wax on should there be any accidental drips and for clean-up. Scissors and tweezers will come in handy to get any pesky hair or for trimming waxing strips.
Have that oil you'll use for any clean-ups within reach. Fully read the instructions on how to use the wax, especially if this is your first time using it, and make sure you have all the items you need where you can easily grab them to avoid having to reach for things after you've applied the wax. 
You're using retinoids when waxing your face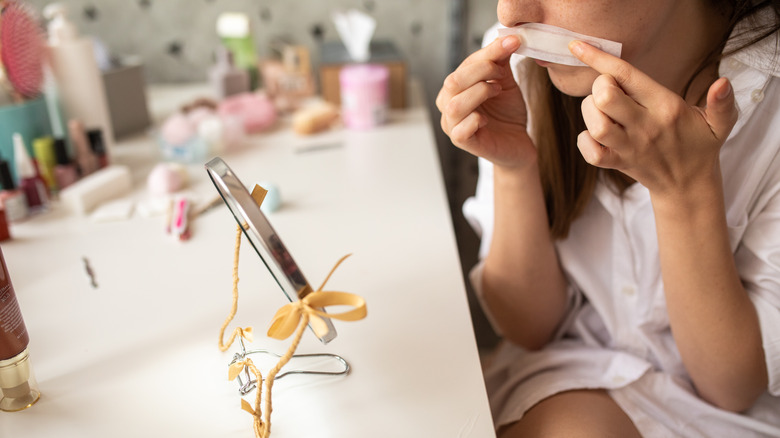 Cicy/Getty Images
Prescription retinoid products and over-the-counter retinol have become a must-have in many beauty routines. These are truly awesome products that can make a huge difference in your skin's appearance, but retinol can wreak havoc if used too soon before waxing. 
Advertisement
"People aren't aware that if you're using prescription-strength retinol for anti-aging or for acne, even if you're not putting it on your eyebrows, the product will migrate to the area and make the skin super-duper sensitive," dermatologist Francesca Fusco tells Refinery29. "And when you wax? Boom. Off comes the skin."
You don't have to stop using your favorite anti-aging or acne products forever, just for about a week before waxing. The waxing experts at Golden Peach Wax Bar recommend you stop using retinoids anywhere from seven to 10 days prior to waxing and other skincare products like lactic or glycolic acid for about 5 days before waxing to avoid any adverse reactions. This may seem like a lot, but failure to stop using these products before waxing can cause serious skin damage that could result in scarring. 
Advertisement
Forgetting aftercare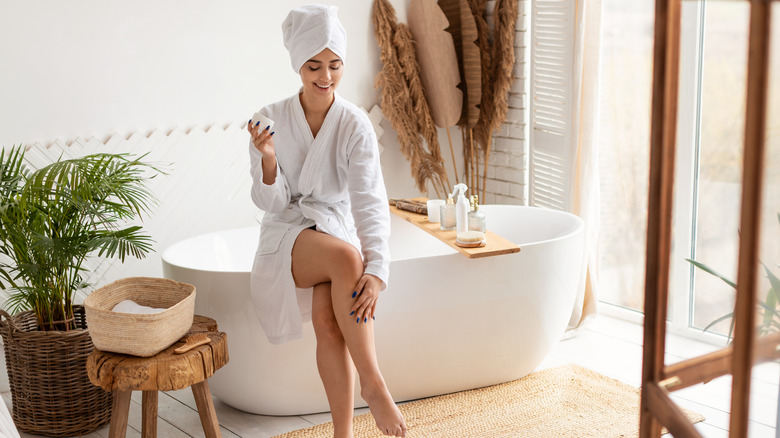 Prostock-studio/Shutterstock
Hold on: The waxing session isn't over yet! A proper aftercare routine is essential, as it will smooth out your skin and prepare it for the next waxing session. Now that you have perfectly-waxed skin, you need to make sure it stays that way. The first step is to clean the wax off of your skin if you have any left. To do so, you can use an oil — olive, massage, and mineral oils all work fine — as they will unstick the wax immediately and bring, at the same time, a touch of light to your skin.
Advertisement
The second step is to cover the body parts that have just been waxed when going out. Hair removal makes the skin more fragile, so it's best to avoid lazing around in the sun at the risk of further irritating your skin. In order to keep healthy skin, sun exposure has to be considerably reduced for at least 24 hours before and after your waxing session. So, mark your calendar and don't plan any beach trips around waxing day.
As mentioned, you want to stay away from exfoliating right away and avoid exercising. What you can do instead is cool the skin and moisturize it with fragrance-free lotion. Dr. Mona Gohara, a board-certified dermatologist, advises putting the lotion in the fridge to make sure it's cool on the skin (via Self). Similarly, it's best to avoid perfume after hair removal. Now, with these tips, your next waxing session is bound to be a success.
Advertisement