The Rosé Sorbet Recipe You're Going To Want To Make All Summer Long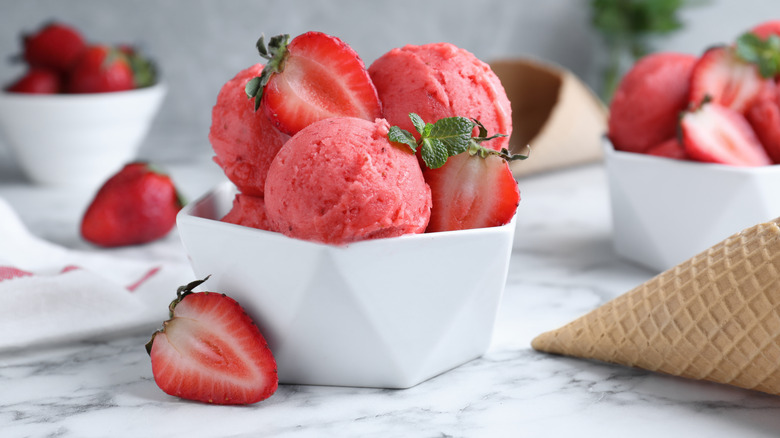 New Africa/Shutterstock
Looking for a delicious and refreshing treat to serve at your next summer hangout? If you're looking for a fun and refreshing way to indulge while dodging the summer heat, you'll want to try a delicious rosé sorbet recipe. Rosé sorbet is a delightful dessert prepared ahead of time before guests arrive, making it the perfect make-ahead treat. "The reason why rosé is enjoyed the world over as a dry wine is because it gets released just before the European summers and thus makes for light, refreshing and fruity wines to accompany summer menus such as salads, barbecues and grills," wine expert Sujata Patil tells Mid-Day.
Rosé wine pairs well with almost any flavor because it sits in the middle of the wine flavor profile, and this easy-to-make recipe requires minimal effort. This means that not only will your family and friends love it but so will you. So, if you're looking to dazzle at your next get-together, here's a quick look at how to prepare your own summertime rosé sorbet. 
Gather your ingredients and create the syrup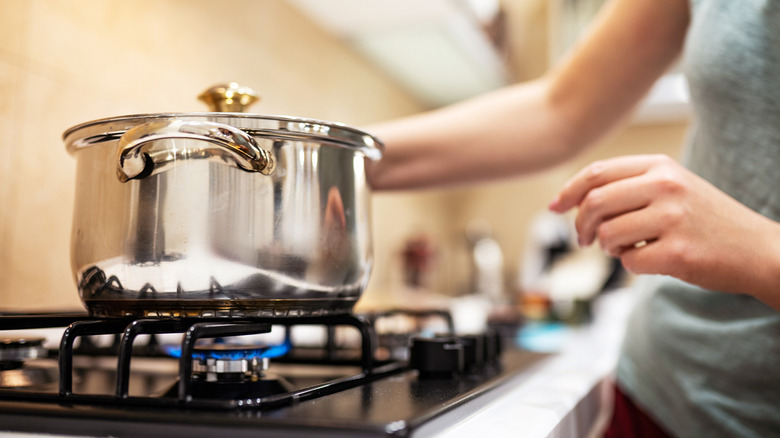 stavklem/Shutterstock
There are plenty of recipes online you can use to create the perfect sorbet, but we're keen on Delish's, which only requires a few ingredients: 1 cup of your favorite rosé or non-alcoholic alternative, like Stella Rosa Non-Alcoholic Rosé, 1 ¼ cups of sugar, 3 cups of your favorite frozen fruit, and lime juice to taste. The first step is to make your syrup, so you'll start by combining your rosé, sugar, and a dash of lime juice in a saucepan over medium heat before bringing everything to a boil. You'll want to whisk continually as the pan heats up until the sugar has completely dissolved. Finally, remove the pan from the heat and allow your rosé syrup to cool to room temperature. 
As noted by food blog Bread & Basil, you want to choose the best fruits possible when making sorbet. After all, the flavor will mostly come from the fruit, so poor fruit choices will result in poor sorbet. To do so, choose the ripest fruit you can, even leaning into over-ripe territory. Under-ripe fruit won't pack the punch you want. And if you're looking to replicate the creamy and delicious texture of ice cream with your boozy sorbet, it's best to choose fruits that are high in pectin, like blueberries, raspberries, and strawberries, or those that contain a lot of fiber, like mangoes, pears, and bananas. Both of these naturally occurring starches act as a thickening agent that will encourage ice crystals to form once your sorbet has been put in the freezer (via Serious Eats).
Prep, freeze, and serve your sorbet
According to Delish, making rosé sorbet is as simple as combining your rosé syrup and a few cups of fresh fruit and blending until no lumps remain. Of course, you can always adjust the flavor here with a quick taste test. In order to determine if the ratio of your syrup to rosé is correct, you'll want to perform what's known as the "egg test" to determine whether you need more syrup. Simply drop a just-cleaned and dried egg into the puree and push down to submerge completely; when the sugar content of your mixture is just right, the egg will float to the top (via MarthaStewart.com). 
Sorbet should be softened slightly before serving to achieve the perfect creamy and decadent texture, so if you find your sorbet is still too icy to serve, you can let it sit out on the counter at room temperature for a moment to loosen up. Once you're ready to serve up your sorbet, you'll want to grab it from the freezer and let it sit at room temperature for a minute, just to let make it more easily scoopable, before serving it.
And if you're feeling fancy, serve a few scoops of sorbet in a champagne flute and pour some additional rosé over top for a fruity summer float. This allows the sorbet to melt into the rosé without watering down your drink. It's the best of both worlds for when you're chilling poolside with your pals. If you want something similar for hot summer days, why not make the best frosé recipe from our sister site Mashed?