How H&M Keeps Its Foot Traffic Higher Than Its Fast-Fashion Competitor Forever 21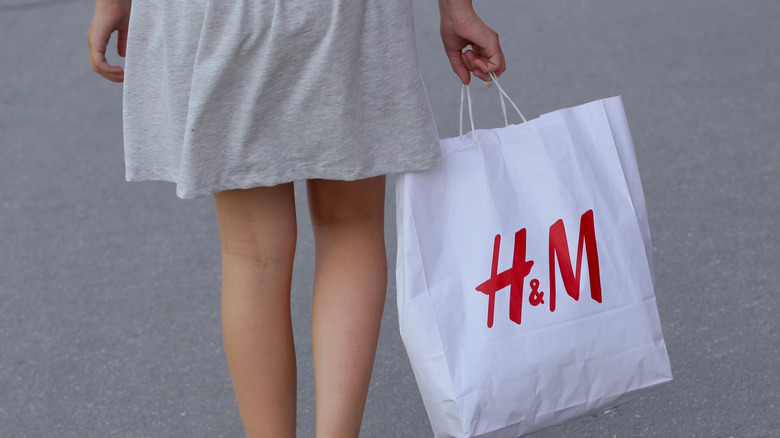 Tanya49/Shutterstock
Fast fashion has its ups and downs. It isn't always ethical and can be harmful to the environment, which isn't great. However, it's convenient for getting cute, trendy pieces at low prices, especially when inflation is making life more stressful for many across the world. Of course, some of the most prominent fast fashion retailers in the game include Forever 21 and H&M, with both companies selling stylish, affordable clothes for trendy individuals.
Advertisement
Although the two clothing brands seem to have similar business approaches, H&M has maintained higher foot traffic scores than Forever 21. According to data collected by SafeGraph, H&M has received more visits in the U.S. than Forever 21 for a long time. While there were some points when the numbers seemed neck-and-neck, there's no doubt that H&M is the overall winner. Even years ago, during early January 2019, H&M had 10,288 in-store visits in a single day while Forever 21 trailed behind with 8,311. And after both retailers suffered an understandable hit during early COVID-19 lockdowns, H&M rebounded well. For instance, on July 20, 2020, with 9,302 visits, nearly doubling Forever 21's 4,622 visits. So, what has H&M been doing right, leading to its impressive foot traffic reports?
Advertisement
H&M has a larger social media following
While H&M and Forever 21's foot traffic numbers seem closer during summer 2022, the former continues to best the latter. On July 11, 2022, H&M had 5,901 unqiue visits, while Forever 21 had 4,821. H&M's higher foot traffic scores are nothing new, and it looks like the retailer will continue to surpass Forever 21's numbers. We believe that H&M's greater in-person visitor count is, at least in part, a result of its also-greater social media following.
Advertisement
Looking at Instagram, Forever 21 has 14.3 million followers, while H&M has more than double Forever 21's following with a follower count of 38.4 million. But it's not just the amount of followers that's noticeably different: H&M seems to get significantly more engagement on posts. For instance, three of H&M's recent posts received over 4,000 likes and 24 comments, over 12,000 likes and 68 comments, and more than 15,000 likes and around 90 comments. On the other hand, three of Forever 21's recent posts received around 660 likes and three comments, about 2,200 likes and 13 comments, and around 2,200 likes and less than 10 comments. These numbers simply don't compare.
Thus, it would appear that Forever 21 may benefit from expanding its social media approach as H&M's success in foot traffic appears to go hand-in-hand with its Instagram follower count and engagement. Once these two forces become in tandem with one another, a brand is truly set up for success. After all, H&M has been utilizing its social media accounts to push sales for years, including showing its followers various clothing sets and environments and engaging with their opinions on them (via Retail Dive). Naturally, this pushes readers to visit its storefronts to see the items for themselves.
Advertisement