Why You Need To Add Copper Peptides To Your Skincare Routine ASAP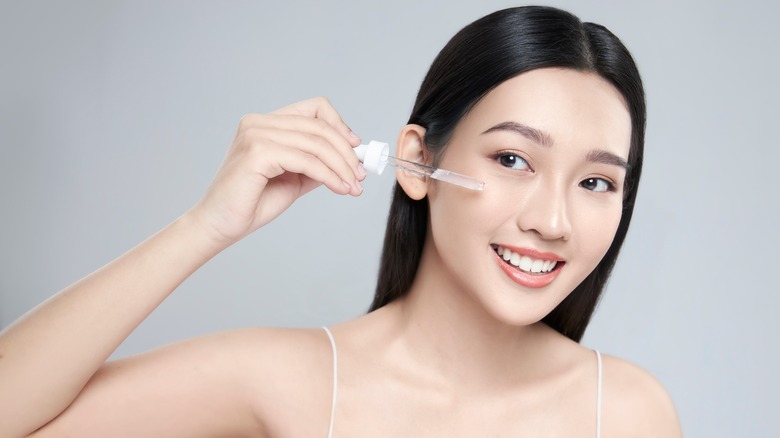 Minh Mi Goi/Shutterstock
We may receive a commission on purchases made from links.
Beauty aisles are overflowing with skincare products, and if your goal is to achieve younger-looking skin, it's easy to get overwhelmed and confused about which products are best. 
The power players of skincare — sunscreen, vitamin C, and retinol — will always reign supreme. Retinol, a vitamin A derivative, is a "gold-standard ingredient" that "alters the behavior of aged cells so they act in a more youthful manner," according to Amanda von dem Hagen, a licensed esthetician and regional education specialist for Skinbetter Science (via Today). Almost like magic, retinol refines your skin's texture and enhances its radiance by diminishing dark spots and other signs of aging. Make sure to use sunscreen religiously when using retinol as it can increase sun sensitivity.
Advertisement
We also continue to see new ingredients emerging, such as polyglutamic acid, which is reportedly more hydrating than hyaluronic acid, the holy grail of skin hydration (via HuffPost). And now we have a new underdog: copper peptides. Since coming onto the skincare scene, the metal has proven to be popular, garnering an average of 3,600 Google searches per month (via Ubersuggest). What are copper peptides' secret powers, and how do they help our skin? Are they just another skincare fad, or do they deserve a coveted spot in our bathroom vanity?
How copper peptides help your skin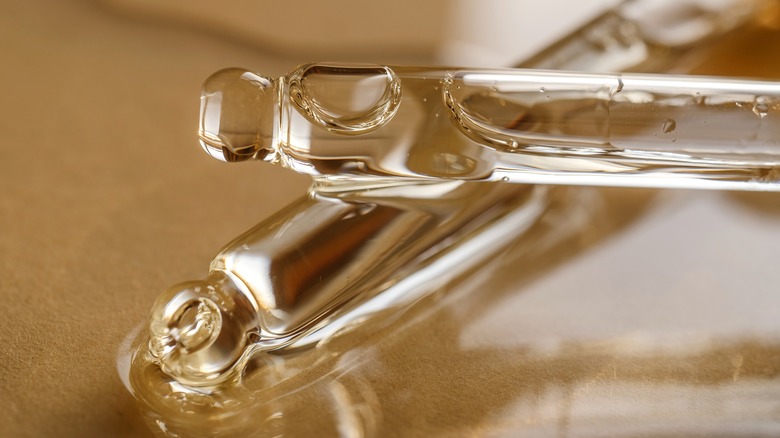 marevgenna/Shutterstock
Copper peptides are one of various types of peptides that, as Board-certified dermatologist Tiffany Libby told Who What Wear, "act as little messengers and instruct skin cells to perform various functions and effects on the skin, from building collagen and elastin to reducing inflammation and maintaining hydration." And while our bodies produce copper peptides naturally, we do lose them with age. Applying them topically in a serum or cream works to restore them by "signaling to your cells to produce more collagen and other complex molecules that help support skin's structure," Libby told Real Simple.
Advertisement
Copper peptides also have similar benefits to retinol. Nancy Pellegrino, nurse practitioner and cofounder of THE ROUTE, told Byrdie, "Copper peptides are well known in the skincare world with decades of data as a skin-restoring ingredient. They improve skin including firmness, smoothness, reduction of fine lines and wrinkles, by promoting collagen, elastin, glycosaminoglycan (think HAs) and improved antioxidant activity." And that comes without the same level of potential skin irritation as retinol, although sensitivity can still occur.
Another great thing about copper peptides is that they play well with other skincare ingredients. You can use them together with your favorite products, leaving them all to work their magic without reducing each other's effectiveness.
Advertisement
The best copper peptide serums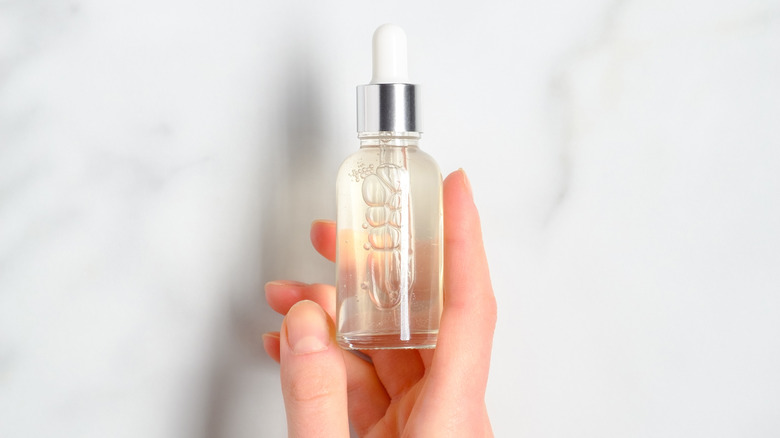 Savanevich Viktar/Shutterstock
Now that we know the benefits of copper peptides, you're probably ready to give them a try. Here are some of the best copper peptide products on the market.
We love Biossance Squalane + Copper Peptide Rapid Plumping Serum because the copper peptides help increase collagen and elastin production for younger-looking smoother skin. In addition, it has squalane, hyaluronic acid, and polyglutamic acid for extra doses of hydration. This beloved product has more than 33,000 likes on Sephora.com, so you know it's good.
Advertisement
Another excellent pick is Medik8 Copper PCA Peptide Serum because it helps diminish fine lines and wrinkles, protects against free radical damage, and tightens sagging skin. The patented PCA is 40 times more effective than Vitamin C in anti-aging benefits. It boasts an impressive 4.7 out of 5 stars on medik8.com with one reviewer saying, "Read that this was good to use in conjunction with micro-needling treatment — the results have been unbelievable — girlfriends have commented on the freshness of my complexion."
For a more affordable pick, dermatologist Dr. Ife Rodney, of Eternal Dermatology and Aesthetics, recommends The Ordinary Buffet + Copper Peptides 1% (via Who What Wear). Rodney said, "It contains a range of peptides, including the popular Matrixyl peptide to improve collagen production, reduce wrinkles, and produce firmer skin." This lightweight, cruelty-free serum works for all skin types.
Advertisement