Here's How To Reapply Your SPF Even If You're Wearing Makeup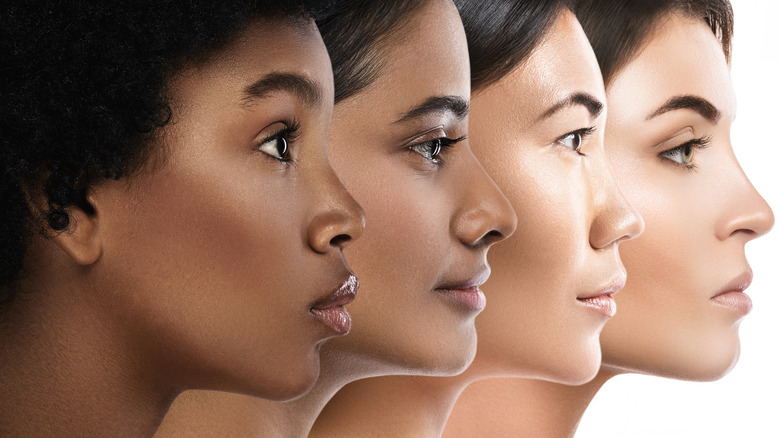 BLACKDAY/Shutterstock
Sunscreen is perhaps the most essential part of taking care of your skin. It helps protect against UV rays that could cause skin damage, dark spots, and fine lines, per Blue Lizard Sunscreen. It should be done after your skincare routine in the morning, but it is important to reapply sunscreen every two hours throughout the day. If you wear makeup, reapplication may seem tricky, though. You may be asking yourself, "How exactly does one reapply sunscreen without ruining their look?"
Advertisement
Sunscreen usually comes in the form of a lotion or cream but has evolved into a variety of options that include powders, sprays, or sticks similar to deodorant. These could very well be useful when reapplying sunscreen over makeup. "If you're applying as directed, which is a generous amount of product on the face, you should be getting the listed SPF protection," board-certified dermatologist, Dr. Nava Greenfield, M.D., tells Bustle. Therefore, under-applying sunscreens is one of the biggest faux pas to avoid in skincare. But how can you succeed without messing up your makeup?
Try tinted sunscreens and powders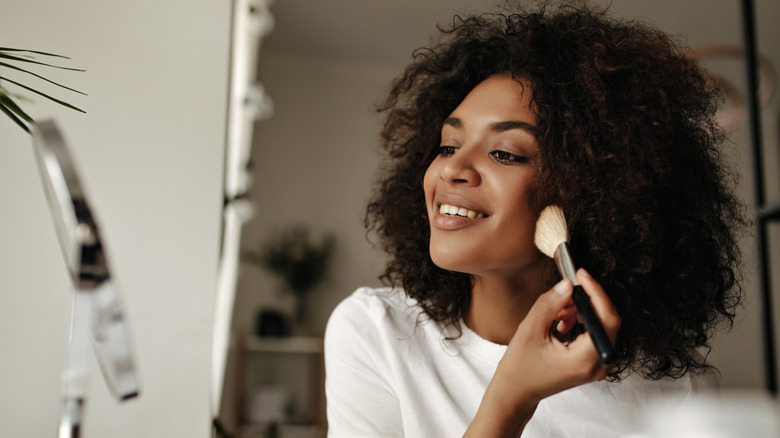 Look Studio/Shutterstock
Before putting on any makeup, it is important that you make sure you have a strong SPF base. This sunscreen foundation ensures you have a layer of sun protection under your makeup. Alternatively, sunscreens with tint may be a good replacement for your makeup foundation. Often, these can also come in the form of a moisturizer — making it a three-in-one product — but you should be conscious of actually putting on the correct amount needed, as the SPF gets a tad diluted. In this case, having them all in one makes reapplication more convenient. "When products are asked to multi-task, make sure you are using enough of the product in order to get the SPF on the label," Elizabeth Tanzi, founder and director of Capital Laser & Skin Care and associate clinical professor, tells Allure.
Advertisement
Sunscreen powders are another option that may make reapplying it over makeup easier. Being a powder, it is similar in texture to any other powdered makeup product, including setting or foundation powder. Some of them might even come in tinted forms, combining their SPF and makeup purposes into one. In fact, board-certified dermatologist Dr. Adarsh Vijay Mudgil, M.D., tells Bustle that "powders are perfect if you're wearing makeup. As long as they're SPF 30 and contain either titanium or zinc, they're great." Usually, these can be applied using a makeup brush, by brushing or blotting it on just like any other powdered makeup product. Often, some of these products will have a built-in brush for easy use.
Advertisement
Sunscreen sprays may be the best option for you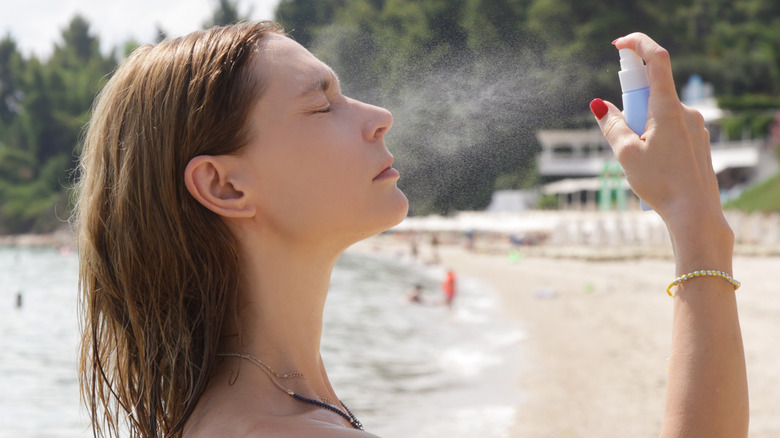 triocean/Shutterstock
For even more convenience — and less rubbing — a sunscreen spray or mist may be the way to go. It is pretty simple to spray sunscreen on your face, but you have to make sure you use enough and cover every part of your face evenly. Sometimes, they can double as a setting spray for your makeup, too. Considering that sunscreen sprays are usually made for the body, be careful about finding one with ingredients meant to go on your face. 
Advertisement
"Choose a spray sunscreen that is specifically made for the face to prevent clogging pores and acne breakouts," board-certified dermatologist Dr. Lindsey Zubritsky tells Marie Claire. Whether you are using a setting spray SPF or a sunscreen spray, Dr. Zubritsky says you need to apply enough to get its full sun protection benefits. She adds, "This can be hard to determine using a spray-on sunscreen, so a good rule of thumb is to apply the spray until the skin glistens."
Ultimately, if you have a sunscreen cream or lotion that you absolutely must stick to, don't worry. While it requires a little more careful application, blotting your sunscreen on is definitely possible. Using a dry sponge or beauty blender, make sure to evenly spread it throughout your face. No matter the method you choose, always be especially considerate of using the necessary amount for the ultimate sun protection throughout the day.
Advertisement