What Makes A Lip Oil Different Than Your Other Lip Products?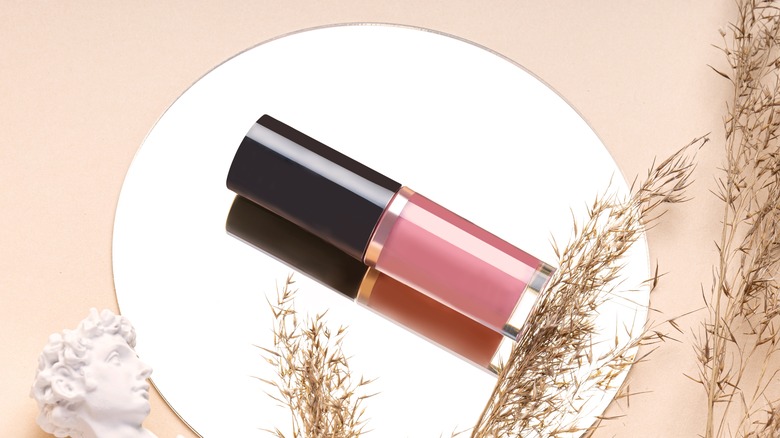 Riccio da favola/Shutterstock
When it comes to beauty products, the makeup industry is always innovative in providing creatives and makeup lovers alike with a variety of options from which to choose. For lips, you have lipsticks, lip balms, lip gloss, and, now, lip oil. Unlike a lip balm or lip gloss, a good lip oil is the ultimate hybrid of functionality, beauty, shine, and skincare in one.
Sometimes, when it comes to makeup, you may find yourself struggling to balance comfort with beauty. But beauty doesn't always have to hurt. Lip oils are an innovative new way to bring your lips several benefits. What's more, many lip oils are derived from jojoba, coconut, or rosehip oil, among many others, all of which are known for their hydrating properties. Lip oils also come in a lightweight texture, which helps with a smoother glide application. "Adding a lip oil to your routine leaves the lips hydrated, and with less dead cells on the surface of the lips," dermatologist Dr. Josh Zeichner tells FabFitFun. But how exactly are they different from other lip products?
Lip oil nourishes, while other lip products do not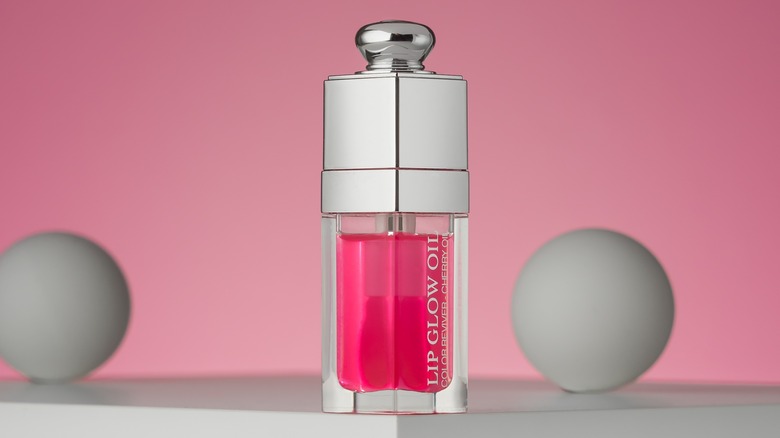 PKucera Photo/Shutterstock
Because your lips do not produce oil on their own, a lip oil may be the best way to provide your lips with longer-lasting moisture. This is in contrast with lip balms, for instance, which are produced with wax, which isn't hydrating. In fact, your lips will absorb the oil better and longer than they would with a wax balm. Additionally, a lip oil may provide shine similar to that of a lip gloss without the stickiness that a traditional gloss leaves behind (via Gisou). Lip gloss is usually a simple makeup product with no formulation to provide additional skin benefits while in use.
While they can be nourishing to your lips' health, lip oils can also be added to your makeup routine. Some lip oils are also made with a tint. This means you don't have to sacrifice the color of a lip gloss or even lipstick for the good of your lips. The great thing about lip oils is that you're able to enjoy a shimmering tint plus moisturizing health benefits for your lips. Many makeup fanatics have caught on to this trend, especially on social media. The TikTok favorite Dior Addict Lip Glow Oil has been enjoyed and recommended by many users online. Dior's product is a lip oil offered in nine different color options and is infused with cherry oil. However, your options remain almost unlimited with many brands now creating their own lip oils.
How to use a lip oil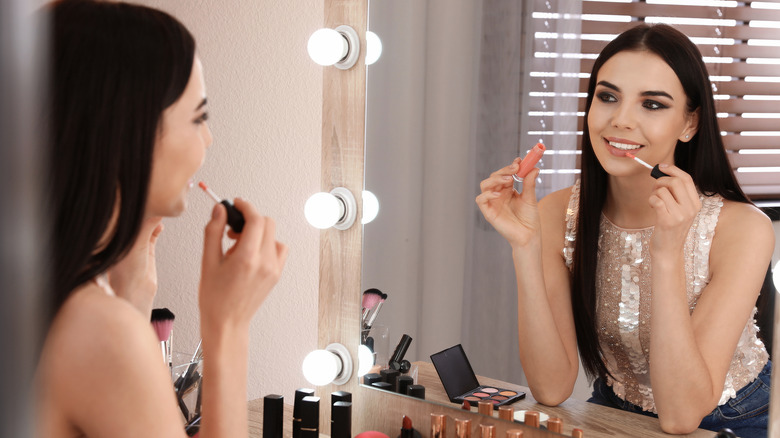 New Africa/Shutterstock
Using lip oil is as simple as using any other makeup or skincare product. For its full nourishing benefits, L'Oréal Paris recommends starting with a good exfoliating cleanse on the skin of your lips, just as you would for your other skincare routine. This helps remove any dead skin cells or impurities. Next comes the super easy glide. Simply use the applicator from your lip oil bottle to fully cover your lips with the oil, or style it how you desire.
If you still want to stick to using your favorite lipstick, you can also apply your lip oil over it to help lock in more hydration and enjoy your favorite products together. After all, makeup is all about mixing it up and trying new things. A lip oil is no different except for its added benefits. For even longer-lasting moisture, reapply your lip oil throughout the day.