What Is The Flossing Fashion Trend?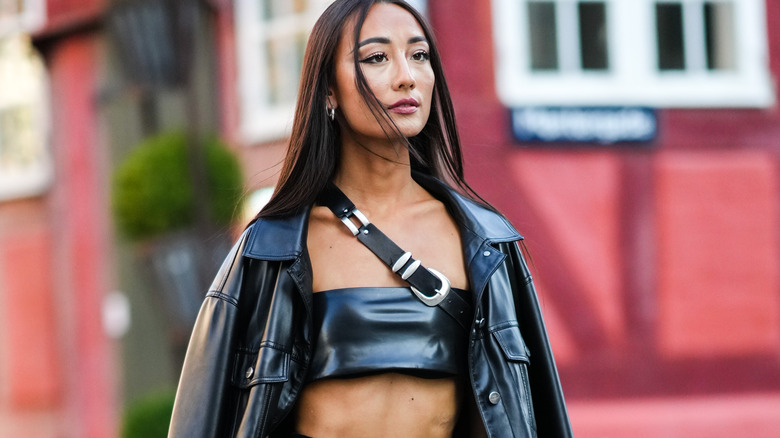 Edward Berthelot/Getty Images
Whether it's cute strappy sleeves or wrap-around straps on the waist, the latest fashion trend known as flossing is growing in popularity. This look is meant to be daring and sexy, but, rest assured, it has nothing to do with dental floss. Instead, the term flossing is inspired by the stringy effect of floss strands. When used in fashion, it carries endless styling opportunities. For instance, you may see it on a tie-front neckline or waist or on ankle straps you can tie upward. It is especially popular in combination with the cut-out trend (via Vogue).
Advertisement
It is a look that can be dated back to the '90s and early 2000s when celebrities such as Christina Aguilera sported the strappy look in corset-style, skin-revealing tops. Another form of this look, paired with low-rise jeans, entered the scene via exposed thong straps. Jordan Stolch, a personal styling advisor with MiKADO, tells InStyle that celebrities during the Y2K era wore this look to achieve a particular shock factor. Now, however, the shock has mostly faded into the abyss, and people wear this style because they want to — and because it's sexy. But has it evolved since the early aughts?
Flossing today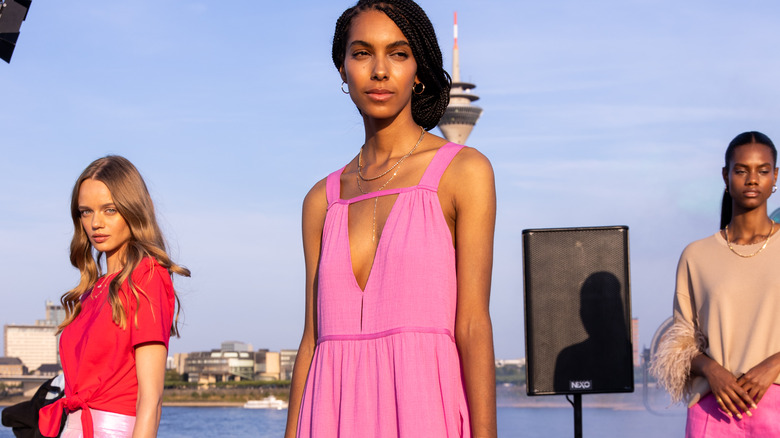 Joshua Sammer/Getty Images
As the flossing fashion trend circles back to the spotlight today, the look is now meant to be a subtle form of sexy with a touch of high fashion. In fact, everything from the back and the midriff to sleeves, dresses, and skirts can be touched up with a flossy, stringy element. "Crisscross, cording, and wrap-around embellishments help make baring some skin in the summer feel more elevated and intentional, rather than just simply exposed," Jordan Stolch tells InStyle.
Advertisement
Today, this look has made its appearance on the runways from designers like Jacquemus and Michael Kors in their S/S '21 collections, and it hasn't stopped growing since. You may have noticed it on your social media feeds more, as influencers and celebrities alike are donning this popular style more. It's a look that could be accredited to Emily Ratajkowski, whose Instagram sometimes sees her flaunting this style, for being one of the first to bring it to the forefront through her bikini brand, Inamorata, which showcases various styles of wraparound bikinis. Now, it's commonplace for many women.
Incorporate flossing into your style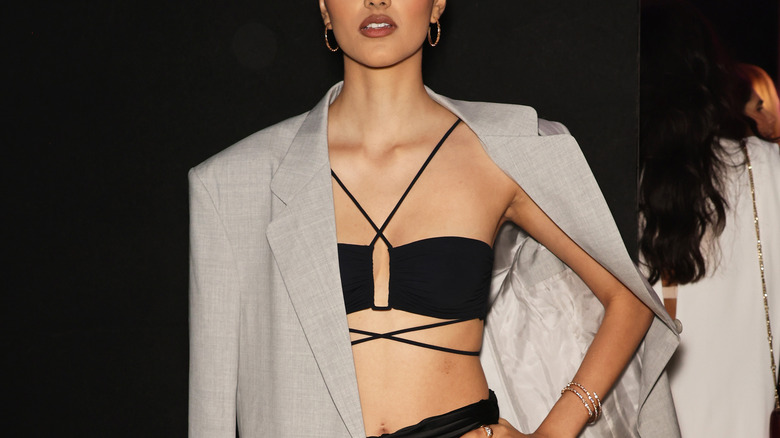 David M. Benett/Getty Images
These flossing, strappy strands are not limited to just one type of garment, either. It can be featured on anything from dresses to blazers and even shoes. Whether you want to go for a formal look or something a little more casual, the possibilities are endless with flossing. If you want to try the trend for yourself, don't worry about going all in at once, either. This style is extremely versatile with many ways you could implement it into your personal fashion expression. You may want to start with something small, like a strappy midriff top that would pair perfectly with some jeans. Or, maybe you want to try something a little more elegant, like a cutout maxi dress with neckline straps. Additionally, the dainty feel of some of these garments makes them a perfect fit for layering.
Advertisement
Shopping online or being inspired by your favorite designers and influencers may give you the best idea of what may be the best fit for you (via Vogue). "The beauty of dressing up [is] taking something, and making it work for you," designer Aissata Ibrahima tells The Zoe Report. "I love the idea of layering a slinky string detail top over a shirt, or with a polo-neck in the colder season with some baggy jeans and boots — trainers if you want to do an everyday effortless vibe." Now, go forth and create your own destiny by utilizing the flossing fashion trend.