How To Wear The Colored Mascara Trend Based On Your Eye Color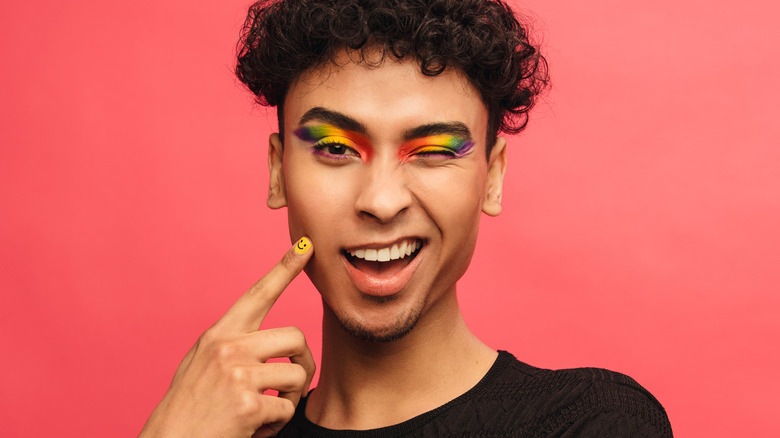 Jacob Lund/Shutterstock
There's a reason that the idea of the little black dress has dominated wardrobes as a go-to staple for basically decades. Simple but elegant, chic, and versatile, the LBD is an everyday piece that can be dressed up or down. When it comes to makeup, there's a clear equivalent: classic black mascara.
Advertisement
Even on a "no makeup" day, black mascara is the one thing many of us will not leave the house without. It helps open up your eyes, add a little curl, and pump up your lashes for maximum volume. You can wear it with any outfit, from super casual to black tie formal, and any makeup look, from over-the-top glam to au naturel. Black mascara is so universal that it never even occurs to many of us to try anything else. But a fun and nostalgic makeup trend is bucking that norm with the rise of colored mascaras.
As with so many up-and-coming fads, colored mascara is making a big splash on TikTok. If you're feeling demure, you can use softly colored lashes as subtle accents to complement the natural tint of your irises while enhancing contrast with the whites of your eyes (via Grazia). Or, if you're feeling bold, you can give some serious Y2K vibes with chunky, in-your-face statement lashes. But whichever way you want to masc' up, you may be wondering: how can you incorporate colored mascara into your look, and what color is best for your gorgeous eyes?
Advertisement
How to incorporate colored mascara
As we hinted earlier, there are two schools of thought when it comes to colored mascara — subtle vs. demure. Fortunately, this means many different ways to use your colored products, and lots of room to experiment in between.
Advertisement
For a sleek or natural look, Lancôme national makeup artist Alex Sanchez recommends keeping the rest of your makeup look minimal so the colored mascara will really pop. As Sanchez tells Makeup.com, "Skip eyeshadow and pair an electric colored mascara with a tight-lined matching liner for a bold statement. Just be sure to prime the lashes first to maximize the wear and color payoff of the mascara." To keep things extra simple and let your mascara be a clear focal point, you may even want to skip wearing mascara on your lower lashes.
However, if you want to take a walk on the wild side, try pairing your vivid mascaras with a contrasting eye shadow or winged liner in another colorful shade. For this artsy approach, you can play fast and loose with good mascara technique. Want it bolder? Keep adding layers. Let your lashes clump together. Allow the finished look to be quirky and fearless!
Advertisement
The best colored mascara for each eye color
Looking for the perfect shade of mascara to set off your unique eyes? Start by considering these top picks to accent each eye color.
The most widespread eye color is brown, running the gamut from tawny to deep and doe-eyed. Because brown eyes can be so velvety and magnetic, set off their natural warmth with plum purple or burgundy mascara. This will add an edge of interest while boosting the inherent richness of your eye color (via AdviseMyStyle).
Advertisement
With blue eyes, you have a lot of exciting options. For a light, whimsical look, bring out brightness and clarity with contrasting hues like pink and brown, per YouTuber Angela Bright. Or for something more alluring, add contrast and definition with a dark purple. Similarly, gray eyes look stylish and captivating when partnered with icy cool tones, such as pale blues or chilly violets (via Piperberry). You can also use more saturated blues or purples if you want to lend your lashes more presence in the look.
Hazel eyes, which are the second rarest color, actually include a combination of shades — typically, a mixture of brown, green, and amber hues (via MyVision.org). Compliment these heady earth tones with colored mascara in chestnut brown or gold.
Advertisement
And what about the rarest shade of all, green? Only 2% of people in the world have green eyes (via Healthline). So you want to make sure your mascara compliments these beauties, without distracting from their unusual color. Ramp up the forest hues with a deep green or rich brown mascara to make your emerald irises glitter.