TikTok Hack Reveals How To Know If Jeans Will Fit Without A Dressing Room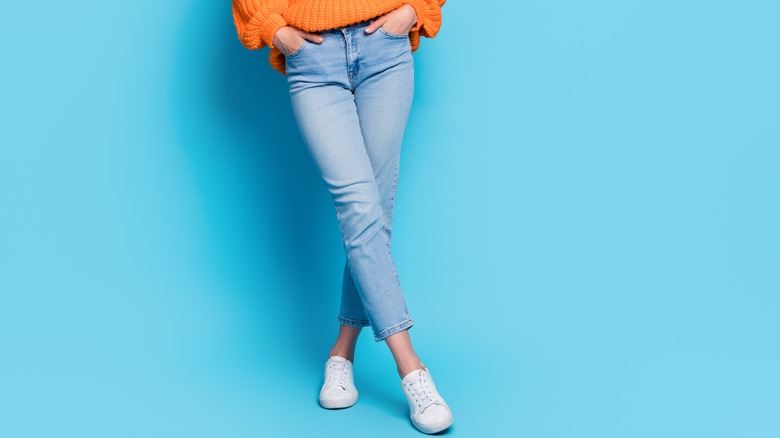 Roman Samborskyi/Shutterstock
We love jeans here at Glam. Between high-waisted jeans that will flatter any body type, the pinch waist jeans trend, and boyfriend jeans that work for any occasion, you can never go wrong with those versatile denim bottoms. We also enjoy following the best tips on how to distress your own jeans at home for that edgy grunge look and the smart DIY way to lighten your jeans for when we want to transform our dark or medium-wash denim.
But as much as we enjoy wearing jeans, we don't always enjoy shopping for them. Having to bring all that denim into the dressing room, take off the bottoms we're already wearing, and then try on countless pairs of jeans to determine which would be the best fit is time-consuming and can get frustrating. Plus, not all clothing stores have dressing rooms, and it's never fun to try to guess if jeans will fit, bring them home, and try them on, only to have to make another trip back to the store to return the jeans because they didn't fit. And it's even worse to be stuck with jeans that don't fit because the store doesn't allow returns or exchanges. Luckily, TikTok has been obsessed with a hack that can help you save time when shopping for jeans, and we're impressed.
Wrap your jeans around your neck to find out if they'll fit
We understand that this may sound surprising, but many TikTokers are showing their followers how wrapping your jeans around your neck will determine whether or not jeans will fit. For instance, a TikTok by @emma.rogue explained the steps to this hack: you should put the waist of the jeans around your neck and see if the two ends of the waist touch. Then, check to see if there's a surplus of denim between the two ends and your neck. If there is, the jeans are too large. On the other hand, if the two edges can't touch or you feel like you have to force them to come together, the jeans are too tight. The goal is for the two ends of the waist to come together easily, making for a comfortable fit.
Furthermore, another TikTok by @kristinakacheeva expressed excitement for this hack. The TikToker tried the hack for herself and wrote, "These fit perfectly," as she showed the jeans fitting well on her body to prove it. One person commented, "This is true wth," and another viewer who was already familiar with the trick wrote, "I [have] done this for years," so it would seem that this hack is helpful. But is it for everyone?
Some people say this only works on slim bodies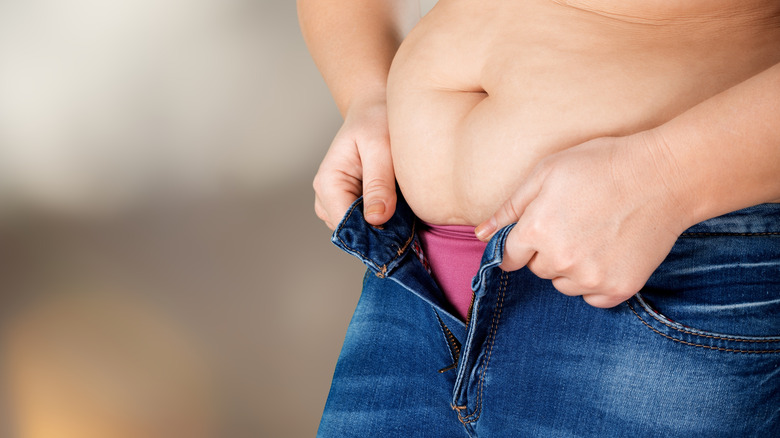 Billion Photos/Shutterstock
While many people have been enjoying this trick, others have pointed out that it isn't so accurate for larger or curvier body types. One person commented on TikTok, saying, "It doesn't work for everyone!" Meanwhile, someone else commented on a different TikTok, "This works if you're skinny ... I would wrap an xxs jeans around my neck but I'm large at best," so it seems this trick is most helpful for people who wear smaller sizes.
Moreover, one TikToker who described herself as having an "apron belly" made a video explaining that the hack doesn't work for her body type, so the trick isn't accurate for everyone. Someone even commented on the video in agreement, saying, "Nope cuz I got them thunder thighs that say no ma'am — not today!"
Therefore, while helpful to some petite shoppers, this hack might not be accurate for everyone. Would you still try it?