Here's What We Know About Fermented Skincare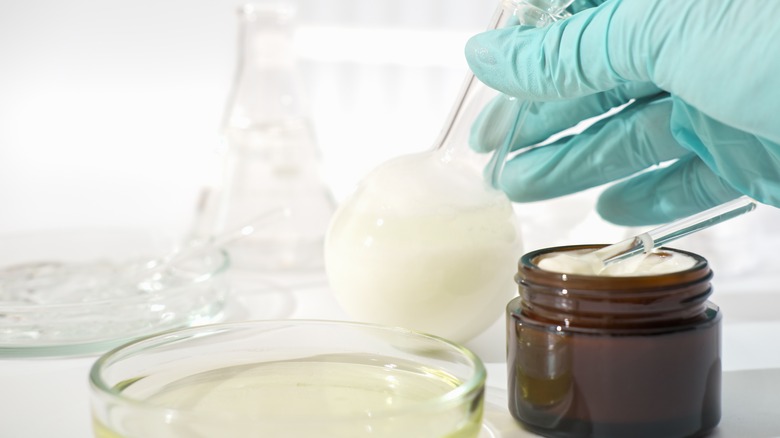 Y.P.photo/Shutterstock
We may receive a commission on purchases made from links.
Believe it or not, the natural process that produces some of the world's most popular food and drinks, from yogurt to kimchi to beer and kombucha, is quickly becoming a staple in skincare. While fermentation was historically used to preserve foods, it's now taken on a reputation for promoting health and wellness. As food activist Sandor Ellix Katz writes in "Wild Fermentation," "Fermented vegetables are probiotic, improve digestion, and have been credited with wildly varied benefits." Even if you don't personally enjoy the taste of fermented foods, there's still a way to get in on the health benefits of fermentation.
Fermented skincare isn't exactly new. In fact, National Geographic cites Cleopatra as having bathed in sour milk, making her one of the first proponents of lactic acid use. Lucky for you, fermented skincare products have advanced considerably since then. Like many trends, fermented skincare rose to prominence in K-beauty products before making its way to Western consumers. What's more, the benefits of using fermented ingredients in skincare are similar to those of their nutritional counterparts. Advocates of fermented skincare formulas tout their ability to increase the potency and absorption of ingredients.
Fermented skincare basics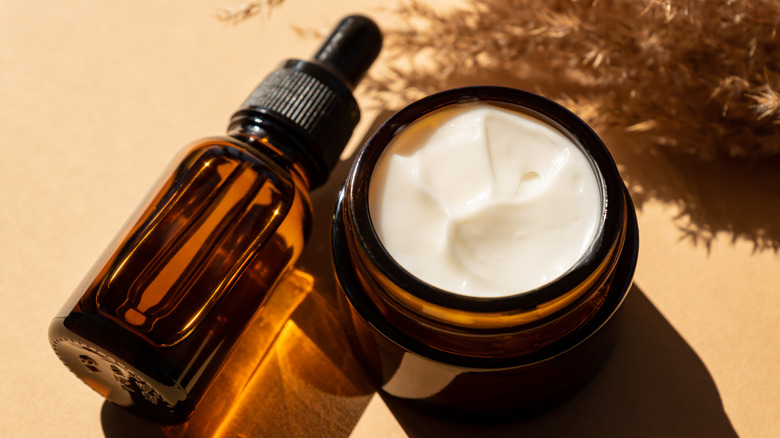 Irina Kvyatkovskaya/Shutterstock
Now that you understand the principles behind fermented skincare, let's take a closer look at how it differs from regular skincare products. While K-beauty is generally associated with the buzz around fermented skincare, you might be surprised to learn that brands like Clinique have been experimenting with the transformative process for decades. Clinique's vice president of global microbiology and fermentation, Steven Schnittger, raved about the effects of fermented aloe vera to Glamour, saying, "We've also been fermenting a lot of different ingredients over the past 30 years...Fermented aloe vera is more bioavailable and penetrates the skin more easily."
Similar to food fermentation, skincare fermentation enzymes break molecules into small enough particles for your skin to absorb. "The natural process of fermentation creates a higher concentration of beneficial ingredients like probiotics, vitamins, and antioxidants, and allows these key natural ingredients to be more potent." Dr. Caroline Chang explained to Real Simple.
Some of the most recognizable products in the skincare industry rely on fermented ingredients in their formulas. One such product, SK-II Facial Treatment Essence, uses a fermented yeast extract known as Pitera as its star ingredient. SK-II is a well-known brand within skincare fanatic circles and counts Cate Blanchett as a loyal devotee. As Amazon reviewer MrsLiminez stated, "[It's] as if I'm going around all day like I just washed and toned my face. I've always had huge pores on my nose and rough spots on my jawline – now these are immensely improved."
Who can benefit from fermented skincare?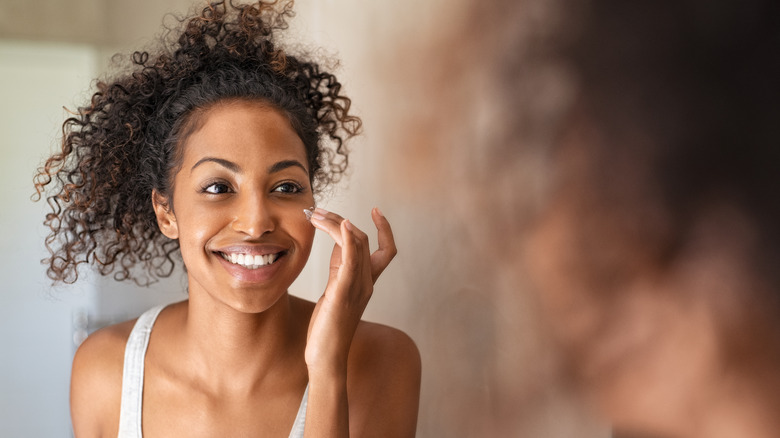 Rido/Shutterstock
The potential uses for fermented ingredients in skincare are limitless, and the praise awarded to fermented skincare products shows no signs of slowing down anytime soon. But are there skin types or conditions that have more to gain from fermentation than others? "People with sensitive skin, acne, rosacea, and hyperpigmentation can especially benefit from fermented ingredients," Dr. Dendy Engelman revealed to the Editorialist. This makes sense, considering the healthy probiotics and therapeutic ingredients that comprise many fermented formulas.
If you're curious about trying fermented skincare, you have plenty of options to explore, with products boasting ingredients like natto (fermented soy) to kombucha tea ferment. No matter which you choose, you really can't go wrong. As dermatologist Dr. Diane Madfes told The Klog, "One of the greatest benefits of fermented ingredients is that they help protect our skin from environmental aggressors by balancing our microbiome." With benefits like that, why not give one of these products a try?