What Exactly Is A Mini Facelift?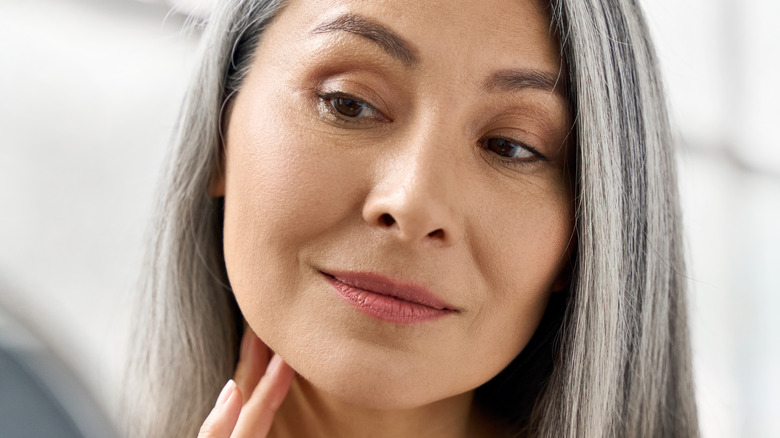 Ground Picture/Shutterstock
Some of us would like to look a little younger, but we can't control our biology. It's an unsettling fact: as you grow older, your skin's collagen production slows by roughly 1% each year, as evidenced by studies from the Plastic and Aesthetic Research Journal. Although aging gracefully is fine for much of the population, some of us stir collagen creamer into our coffee, wear SPF indoors, and view Botox appointments as medical necessities. If you identify with the latter group, you may have contemplated more intensive anti-aging treatments, such as cosmetic procedures.
Advertisement
The mini facelift is a popular solution for those interested in their first procedure, as it offers similar advantages to what you'd expect from a facelift with less expense and recovery time. If you're at a point where you'd like to see more noticeable results than injectables and fillers can offer but aren't ready for a complete facelift, the mini facelift may be right for you.
How mini facelifts work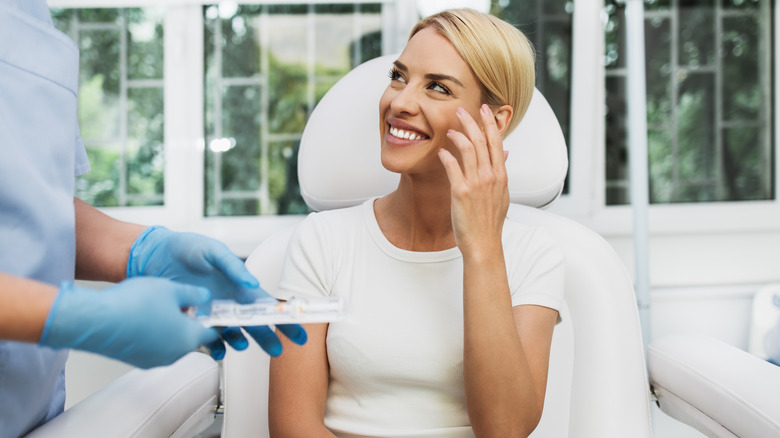 DuxX/Shutterstock
While a mini facelift might sound like a quick alternative to the traditional facelift, it's still considered an invasive intervention that requires anesthesia. A distinctive characteristic of the mini facelift is that it only impacts the lower half of the face. A lower facelift can be helpful if you're concerned about the appearance of nasolabial folds or jowls. Still, it may not be enough for those who experience additional problem areas. Your 40s are considered the ideal age to receive a mini facelift; however, dedicated anti-aging enthusiasts have begun to seek them at increasingly younger ages (via the American Society for Plastic Surgeons).
Advertisement
When performing a mini facelift, a surgeon creates small incisions around the ears to tighten the skin on your lower face. The Center for Cosmetic Surgery reports that scarring is relatively minimal compared to a full facelift, as the telltale sign of a scar near the ears isn't typical with a mini lift. In fact, after undergoing a mini facelift, Reddit user ladycel1989 stated, "I'm absolutely thrilled with my result. [It's] genuinely the best thing I've ever done for my appearance." What's more, the mini facelift is a positively viewed procedure, with a 92% patient satisfaction rating on RealSelf.
Risks and results after a facelift
True Touch Lifestyle/Shutterstock
According to Westlake Dermatology, recovery after a mini facelift is relatively straightforward and takes only three to five days, whereas full facelift recovery periods can range from four to five weeks. Complications can include short-term swelling, scarring, and, in very rare cases, nerve damage. Other factors affecting surgical outcomes include past or potential weight fluctuations, which can negatively impact skin quality and facelift results (via the Mayo Clinic).
Advertisement
To minimize risks during surgery and recovery, smokers should quit at least two weeks before receiving any type of facelift. Plastic surgeon Dr. Jeffrey Rosenthal explained to The New York Times, "I take great pride in my work; I want it to look great for you as well as for myself. If [patients] smoke even one cigarette, I run the risk of it not healing."
You might be a good candidate for a mini facelift if your main concerns include nasolabial folds, jowls, or sagging cheek skin. Mini facelifts will give more dramatic results than injectables in terms of rejuvenating skin but are limited to the lower portion of the face. You can expect the effects of a mini facelift to last for up to 10 years, depending on lifestyle and environmental factors (via Aedit).
Advertisement