Setting Powder Vs. Setting Spray: Which Is Best For You?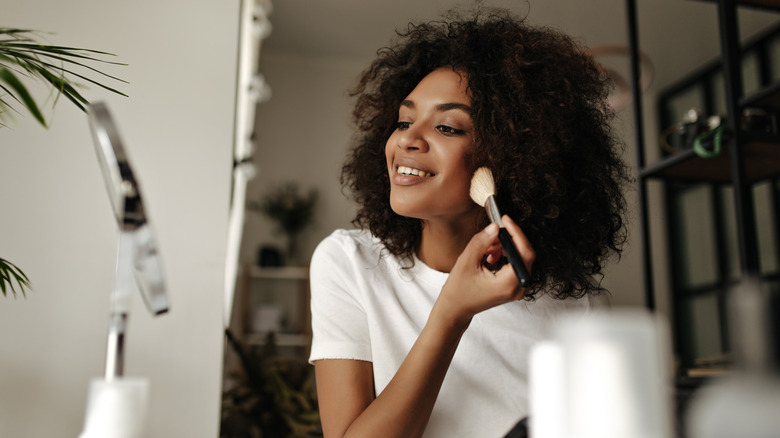 Look Studio/Shutterstock
When you get your makeup just right, ensuring it stays put all day or all night is essential. There's nothing worse than spending all that time on a flawless look only for it to melt off in a few hours.
But with so many products on the market to set your face, it's hard to know what to use. Do you reach for a powder or a spray? Is there a difference between the two? And is one better than the other for your specific skin type? 
The goal of setting products is to ensure that your makeup lasts until you are ready to take it off. Skin type is definitely one major factor to consider during your search for the right product. But according to Huda Beauty, choosing between a setting powder or spray is ultimately about first determining the look you are trying to go for and then selecting the setting product that will go best with the routine to achieve it.
When to use a setting powder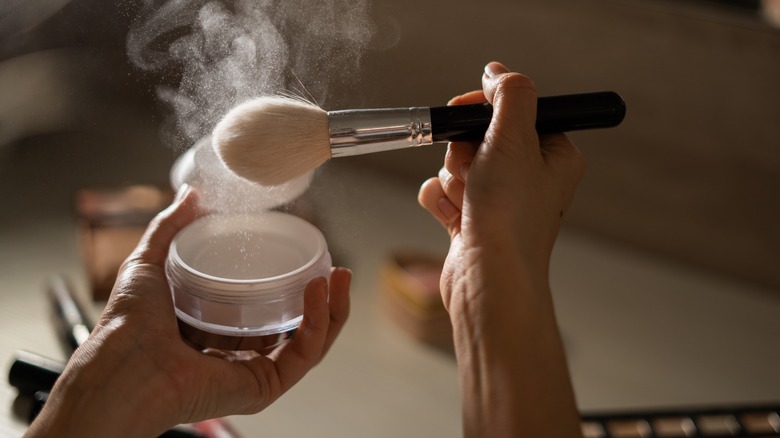 Lysenko Andrii/Shutterstock
According to Ipsy, setting powder is the perfect way to keep your makeup in place if you have oily or combination skin. You can choose from translucent or tinted powders, or pressed or loose powders. They all offer the same benefit of giving your face a soft and mattified finish by helping to control oil, especially in the T-zone area, and preventing your makeup from running. And because powders are so smooth, they won't settle into the creases of fine lines.
Makeup expert Gabriel Almodovar recommends applying setting powder at the end of your makeup routine. He tells Makeup.com that an additional benefit of setting powder is that it can also help you blend the products you are using underneath it. According to Almodovar, powders that are applied over creams and liquid serums diffuse the extra product into your skin, blurring them for an airbrushed finish.
When to use a setting spray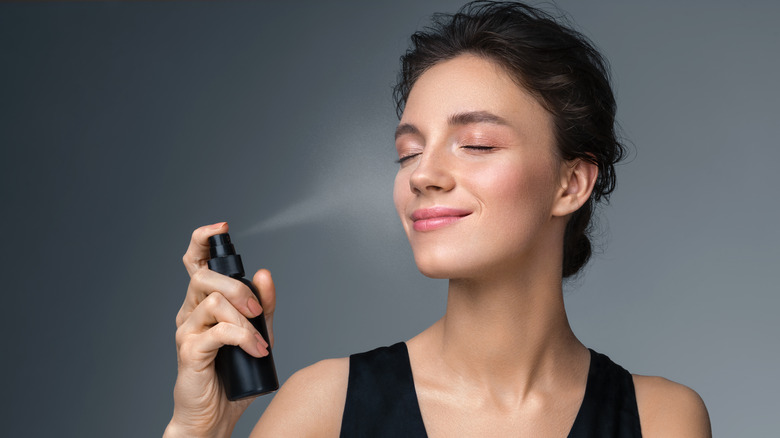 RomarioIen/Shutterstock
Setting sprays are great if you want to keep your makeup in place and create a dewy look (via Gabriel Cosmetics). Although anyone can use them, they are ideal for those with dry skin. They add a layer of moisture, which also makes them a great option to use during the wintertime when skin is naturally drier.
According to Maybelline, you should spray these mists around 6 to 8 inches from the face, first in an 'X' shape across your face and then follow it up with a 'T' shape. This will ensure every part of your face is covered. And hands off until it is dry so you don't cause any smears.
If you're not looking for a dewy look, or you have oilier skin but still want to try a spray, they do come in mattifying formulas as well (via Maybelline). According to Huda Beauty, you can also combine your setting spray with your setting powder to achieve the best look for you.