Here's Why A Tea Rinse For Your Hair May Be A Good Idea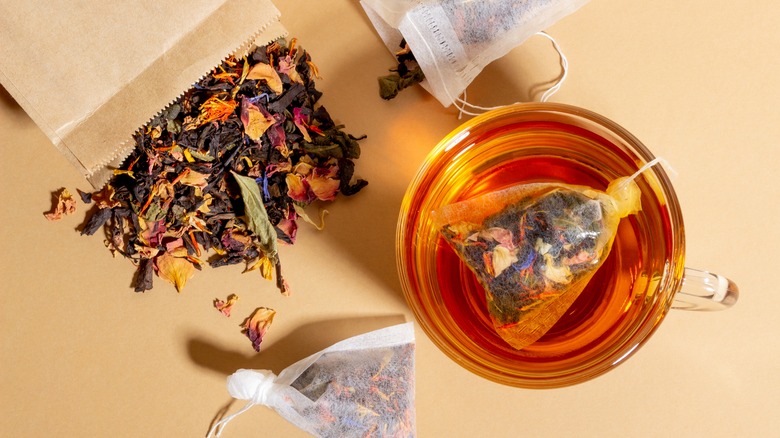 NatliaK/Shutterstock
The health benefits of tea are popular and well-known, whether you prefer a grassy cup of matcha or a digestion-altering herbal detox tea. Touted for everything from better energy levels to cancer-fighting properties, tea is a great all-rounder to add to your daily routine. And now, this beloved beverage is making inroads into the beauty industry.
You may have seen handy tips like saving and refrigerating your already-brewed tea bags for use as natural eye compresses. But did you know that tea is also good for your hair? That's right: if you have some extra tea bags lying around, you can put them to good use by turning them into a hair rinse. "A tea rinse is an easy at-home treatment that anyone can do to help with their hair and scalp health, as well as appearance," trichologist and hairstylist Gretchen Friese tells Byrdie. So, if you're looking for a convenient and low-cost way to breathe new life into your tresses, this may be just the trick for you.
Benefits of a tea rinse for your hair and scalp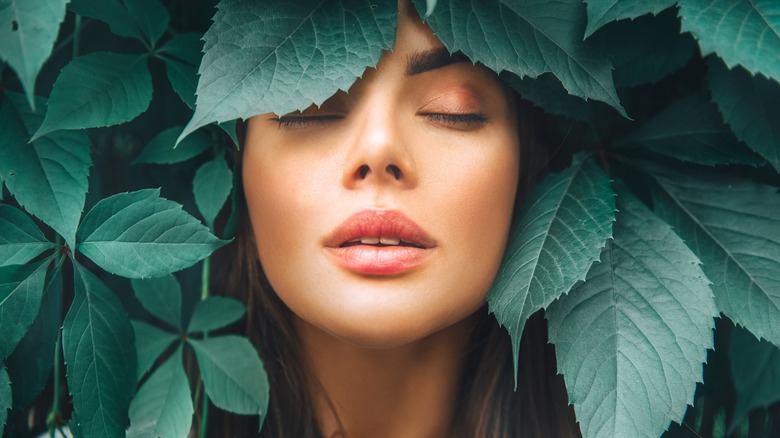 Subbotina Anna/Shutterstock
One of the best things about tea rinses is that you can utilize practically any kind of tea and still enjoy various benefits. "Black tea and green tea are most commonly used for tea rinses because of their high caffeine content, which can help with hair growth and may prevent shedding," says Friese. "They also help enhance color and add shine to the hair."
Green tea is packed with antioxidants, which is why health gurus everywhere like to recommend it over your morning cup of coffee. Turns out, these antioxidants are also great for your hair and scalp, helping strengthen and repair your follicles. Meanwhile, the anti-inflammatory and anti-bacterial properties of green tea help soothe irritation and curb dandruff. Even its caffeine content stimulates hair growth (via Mane Addicts). Finally, green tea is full of B vitamins that can support the natural health and hydration of your hair, so it's left looking luscious and shiny.
You can also use black tea for a tea rinse. Because of its naturally rich hue, black tea rinses are a natural alternative to pump up dark hair color and disguise grays (via Healthline). While the effect is temporary, it's an easy and inexpensive method to enjoy a salon-free touch-up for a special occasion. And with a higher caffeine content than green teas, black tea may be a stimulating way to encourage hair growth.
If you have lighter hair, you can also use other variations of tea to give your color a boost. Use chamomile to brighten blonde locks or hibiscus and rooibos teas to deliver warmth and depth to red shades (via Prose).
How to do a tea rinse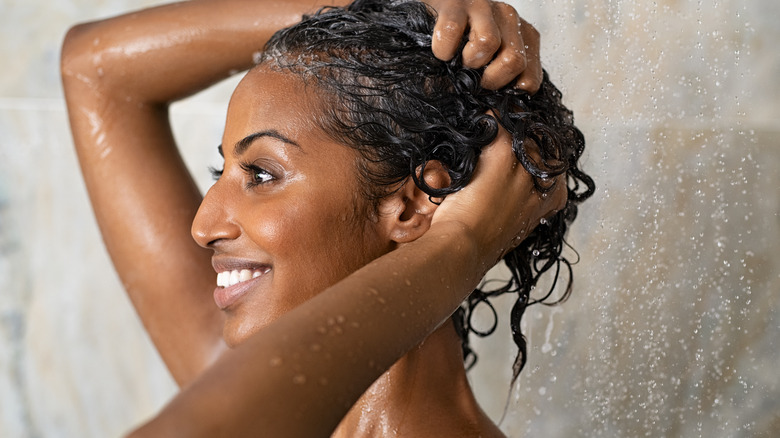 Rido/Shutterstock
Ready to try out the magic of a tea rinse for your uniquely gorgeous hair? Doing a tea rinse is simple and straightforward. First, select three to five tea bags of your preferred variety and place them in two cups of boiling water (via Holland & Barrett). (You can also mix and match teas, here, if you want to get creative!) Let the tea steep for an hour or so, until fully brewed and the water is totally cooled. If you happen to have a clean spray bottle, pour the rinse inside for easier application later.
Next, give your hair a thorough wash with your regular shampoo, clearing the scalp as much as possible so your tea rinse has an easier time penetrating. If you have a scalp massager, now is the time to use it! Once you're so fresh and so clean, towel or air dry until your hair is damp, but not wet. Then apply or spray your tea rinse across your scalp, moving your hair aside in sections to get at the roots.
Cover your hair with a shower cap or old towel — something you would comfortably use with hair dye, in case the tea stains. Leave the tea rinse in for 30 minutes to an hour, then rinse out with cool water. Don't apply any more shampoo, though you can condition the hair if you'd like (via Holland & Barrett). And, voilà! Tea rinse accomplished. Your only remaining task is to enjoy the results!