Here's How To Incorporate Protein Powder Into Your Diet The Healthy Way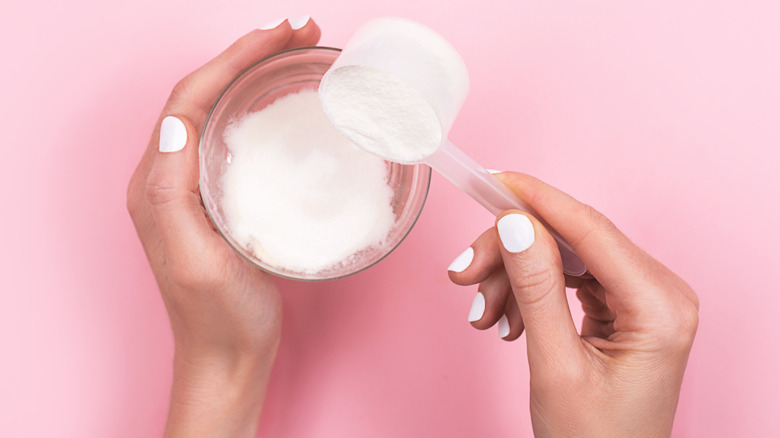 YuliaLisitsa/Shutterstock
We may receive a commission on purchases made from links.
Sometimes the idea of whipping up a good meal sounds more like work than pleasure. Luckily, there are plenty of ways to make sure you're getting all your macronutrients without the hassle of cooking. Protein powder has been loved by gym rats and health nuts for ages, and for good reason. Studies show that protein has beneficial effects on body composition, including a decrease in fat mass and an improvement in body weight in those dealing with obesity (via research published in the Journal of the American College of Nutrition). It's also crucial for muscle development, with research showing it can increase the size and strength of muscles in combination with weight lifting and strength training (via McMaster's University's Department of Kinesiology).
Advertisement
Increasing your protein can also be great for building a curvier figure. To pump your glute gains, it's recommended to take around .5 to .8 grams of protein for every pound you weigh, in addition to glute strength training (via the American College of Sports Medicine). Reaching these protein goals can seem daunting, but incorporating a protein powder into your diet will make it fun and easy.
Protein powder is a supplement, not a substitute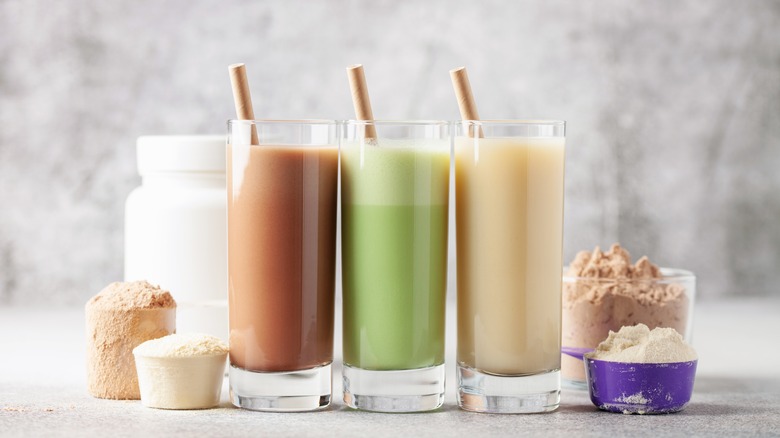 NatalyaBond/Shutterstock
Making your protein shakes a meal replacement may be tempting once you get on a protein kick. Clean-up is minimal, and with no cook time, blending feels like a breeze. Remember, though, that protein is just one of your macronutrients. Unlike steaks and ground turkey, which provide a variety of other nutrients, protein powder is not able to fully substitute your meat proteins, though some protein powders have added nutrients (via Harvard Health Publishing). So, make sure you're making diverse, nutrient-rich shakes that include a variety of fruits and vegetables and healthy fats, like nut butter, that your body will love.
Advertisement
It's equally important to pay attention to what other ingredients are in your protein powder. The flavor options for these powders are explosive, with flavors like birthday cake, pumpkin pie, and chai latte hitting shelves. Just be careful and ensure that it isn't loaded with sugar and other additives that combat the very results you're working toward (via Healthy Eating). Luckily, protein shakes are becoming increasingly diverse, with brands implementing exciting supplements like collagen and probiotics into their blends. Amazing Grass also has a protein powder with seven servings of vegetables available in flavors like Chocolate Peanut Butter and Rich Chocolate.
Experiment beyond shakes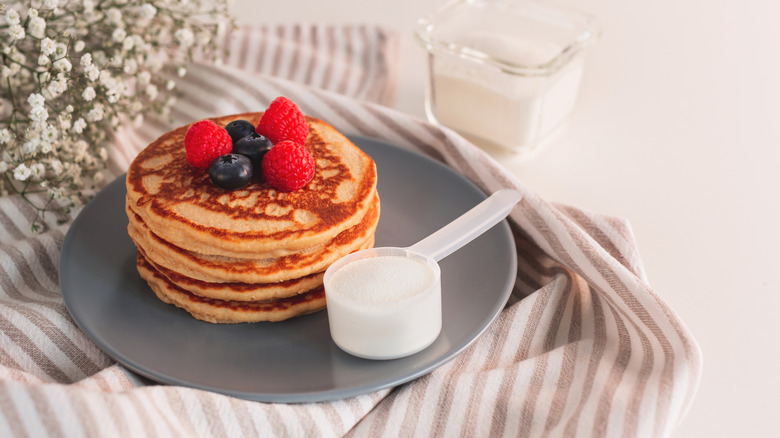 YuliaLisitsa/Shutterstock
If you do get tired of taking out and cleaning your blender, try experimenting with your protein powder. A spoonful of vanilla powder is a great creamer alternative and tastes great in a cup of coffee. A scoop of peanut butter powder mixed with your favorite nut butter and greek yogurt feels like a guilty snack but is actually a healthy sweet fix. On TikTok, protein pancakes are taking over foodie feeds, with its hashtag boasting over 115 million views. The craze has even translated into protein waffles, with TikTokkers turning their protein powder and greek yogurts into waffle batter to be topped with berries and cream.
Advertisement
The protein world has evolved exponentially since its 1980s bodybuilder whey shake days. Today, Black-owned and vegan-friendly health supplement company The Ambrosia Collective is making waves due to its mouthwatering out-of-this-world flavors. Its Planta protein line includes mind-boggling flavors like Peanut Butter & Jelly, Campfire S'more and Sprinkle Cupcake. Using plant-based ingredients like monk fruit and brown rice, the brand is somehow able to create incredibly nutrient-rich protein powder with only 1 gram of sugar! Clearly, between protein waffles and PB&J protein powder, the nutrition world has begun unlocking new levels of healthy living, and we are only at the beginning.
Advertisement