The Risqué Fashion Trend That Is Sure To Turn Heads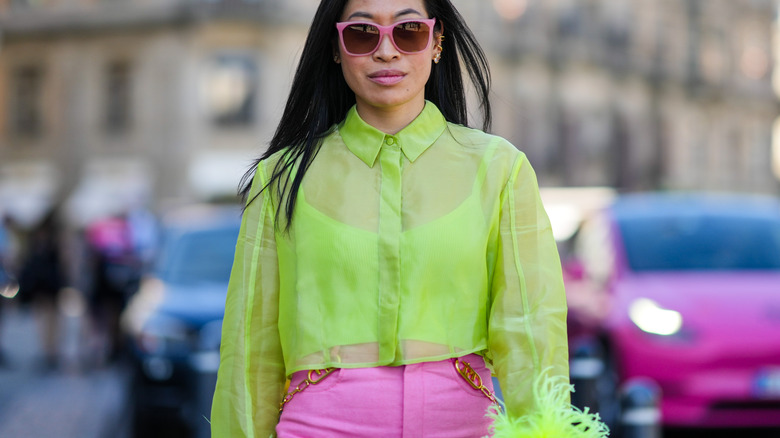 Edward Berthelot/Getty Images
When it comes to style there are choices that are risky and those that are risqué — stepping outside of the box makes everything more fun. Even greater is when fashion is versatile, and this latest trend is exactly that. The sheer look is officially back and we're seeing it in everything from tops and dresses to pants and skirts. 
A lot of today's trends can be tied to the fashion industry's tendency to time travel to the past. What is simply referred to as Y2K today has introduced garments and styles that were highly popular back in the '90s leading into the 2000s. Back then, Jean Paul Gaultier was known for the popularization of mesh tops, specifically those with creative prints with faces or other unique designs. Now, this sheer look is yet again making its way back in a variety of colors and styles, and there might just be something for everyone.
What is sheer style?
Mesh or sheer fabric is either partially or completely see-through, and this is what makes it intriguing. It provides versatility when it comes to layering, types of garments, and print designs. And depending on the particular print or design, this material can be worn casually or elegantly. You can find a variety of garments that have a netted look, crocheted, a stretchy woven feel, or even something a little bit fancier like chiffon or silk organza. Offering endless opportunities for styling, it's the versatility of the fabric that allows just about anyone to try it out for themselves or incorporate it into their personal style (via Fashionista).
Following the footsteps of Y2K, this trend appears in bright colors, patterns, and designs with its comeback. Dries Van Noten takes on the look with a bright mint-tone button-up top. Ganni offers a variety, such as a neck-to-toe long-sleeve maxi dress made of mesh material with a marble style print in pastel purple and white (via L'Officiel).
It provides a variety of options
Edward Berthelot/Getty Images
The beauty of a sheer outfit or individual garment is its ability to transform. Even though this style of clothing may add an extra breeze, it can be used for both warm and cold climates. If you want to show off some beautiful undergarments, wearing a plain mesh or sheer top, dress, or bottoms will work perfectly as a standalone garment. A top could be paired with a cute pair of jeans, and mesh pants could pair well with something like a crop or tank top and even a sweater. Many influencers and celebrities are rocking the look with bright colors and designs inspired by the '90s. Influencer Emma Chamberlain, for example, paired her colorful long-sleeve mesh top with a puffer vest, beanie, and knit ribbed pants for a winter look. While her top was see-through for her undergarments, it paired well with the rest of the ensemble.
This style can also learn more toward the elegant side. According to Vogue, glitter or crystalized mesh was a popular look in the spring and summer 2022 runway shows. Fashion brand AMI was one of the first shows to display its silver halter neck maxi dress. The dress featured a netted, metal-like texture. The model donned the look without a bra, paired with fitted flared trousers. The brand 16Arlington featured a black mesh gown with feathers, bedazzles, and embroidery for a long, flowy decorous look.
Whether you want to dress it up or down, a sheer look can likely offer what you want. While it may be a daring choice, you don't always have to bare it all either. It's a look that can quickly adapt to any style you want.