Here's How To Find The Right Nutritionist For You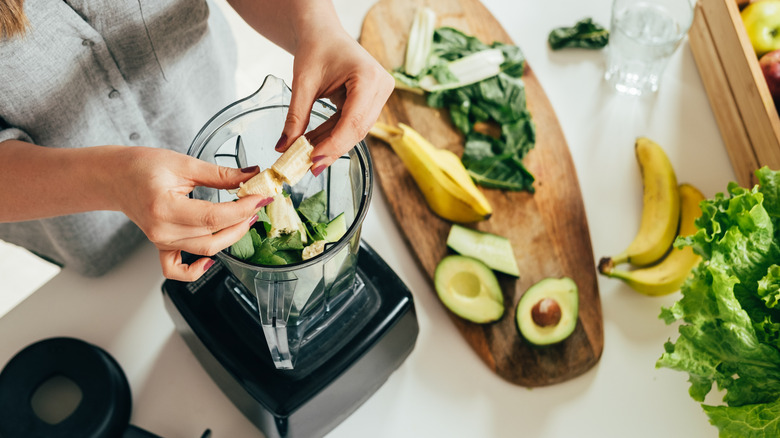 Tijana Simic/Shutterstock
As much as we may want to eat right and live healthier lives, it's not always easy. While some people would love to have salads for every meal and possess the ability to run eight miles every day, others would rather eat pizza, follow it up with a pint of Ben & Jerry's, and consider walking five minutes to get their morning coffee a workout. And that's fine! It takes all kinds of people to make the world interesting. 
But at some point, you may want to clean up your health act, and that's where a nutritionist can help. However, trying to find a qualified one, and not just someone who calls themselves one, can be challenging. "When you hear the word 'nutritionist,' you assume that person is qualified to give solid healthy eating advice. But that's not always so," Jim White, R.D., owner of Jim White Fitness & Nutrition Studios and spokesperson for the Academy of Nutrition and Dietetics tells Women's Health. "Pretty much anyone can call themselves a nutritionist or nutrition coach. You can get some certifications in a matter of hours or even minutes online."
Qualified nutritionists are certified by the Academy of Nutrition and Dietetics Accreditation Council for Education in Nutrition and Dietetics (ACEND). And if you want someone legit, White suggests sticking with someone who has their RD or RDN.
Decide what you want to achieve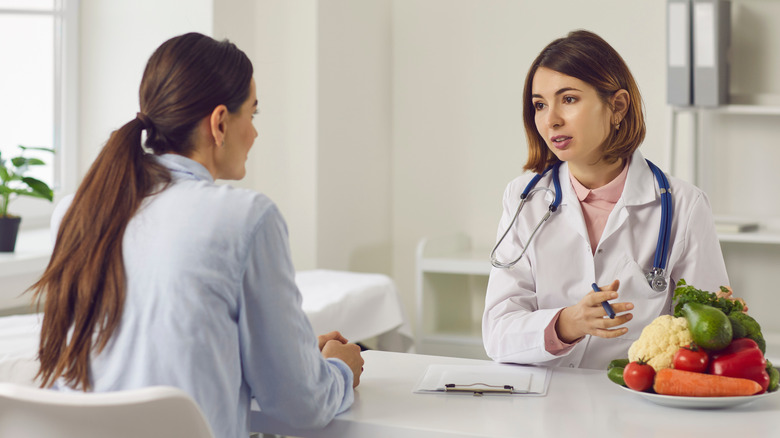 Studio Romantic/Shutterstock
Once you've decided that, yes, a trained nutritionist is probably the best route, the next thing to think about is what you want to get out of the experience (via U.S. News Health). Are you looking to lose weight? Eat a bit healthier? Change your whole lifestyle? Remember to also think about how realistic your goals are, and understand what a nutritionist can and can't do for you.
With realistic expectations in place, it's time to set up an initial appointment. Similar to searching for the right therapist, searching for the right nutritionist is about finding someone that has a personality that matches yours and is on the same page as you when it comes to your goals (via Health Central). "Be sure to look for someone who asks tons of questions and really takes the time to get to know you," registered dietician Kim Yawitz tells Men's Health. "I've had my clients tell me our sessions feel like therapy."
When you make the decision to work with a nutritionist, there's a level of intimacy there and you want to make sure you feel that the person you're working with gives you the space to be vulnerable. It's not easy to change eating habits, especially if you're planning to pull a 180 and throw all your old ways out the window.
Figure out time commitment and cost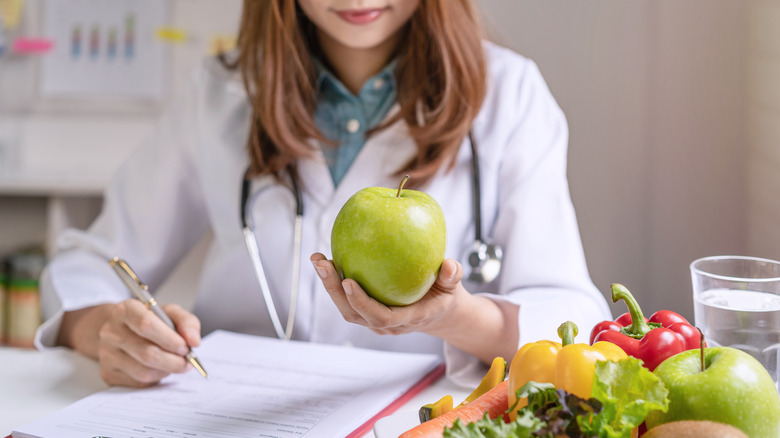 kitzcorner/Shutterstock
When thinking about how to manage your journey with your nutritionist, it's important to decide the commitment you're willing and able to make. Whether you are just looking for a couple of sessions to learn a few new eating habits or want something more long-term, there are nutritionists to fit your needs. "We are the nutrition experts," Jessica Kiel, President-elect of the Maryland Dietetic Association, tells Insider. "We can offer not just meal planning advice but we can really educate consumers fully in terms of how diet can impact their life, both positively and negatively."
Cost is another major factor to consider. Especially if your insurance doesn't cover nutritionist visits or the one you want to work with doesn't accept your insurance. "Costs vary by location, experience, and specialty," registered dietitian Alex Caspero tells Women's Health. "However, expect to pay $150 to $225 or more for an initial appointment and $75 to $125 for follow-up visits."
Sure, eating healthier is good advice for everyone, but never let someone make you feel like you're obligated to eat or look a certain way. A nutritionist can definitely be an asset and teach you basic knowledge of how different foods affect your body and brain, but it never should feel like an obligation. When it comes to finding the right nutritionist, it's about you deciding you're ready to make a change — and that decision is yours alone.