What You Should Really Wear When You Go Wedding Dress Shopping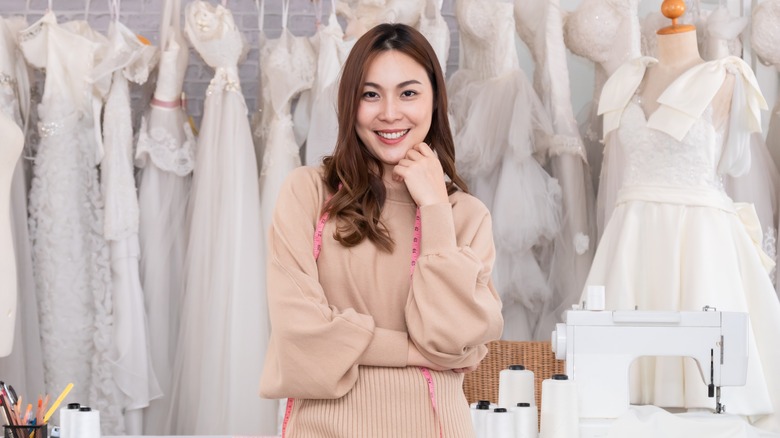 Simplylove/Shutterstock
By a certain age, many children are known to have developed a preference: they respond better to instructions cast in either the proactive tense ("do this") or the negative tense ("don't do this"). If you believe this tendency sticks around into adulthood, you're in luck, particularly if you plan to go shopping for a wedding dress.
Advertisement
Like many people, you've probably had little to no time to think about what you're going to wear on the day of the outing. Understandably, your focus is on what type of dress you hope to find for your wedding day. So, consider yourself steps ahead of the dozens of tasks on your to-do list. By taking the time to learn what to wear ("do this") and what to avoid ("don't do this") on your shopping excursion, you should save yourself untold wasted hours. You'll see how.
In the meantime, try a small experiment on for size. Moonlight recommends that you do this: wear "a minimal" amount of makeup on your shopping day. Most wedding dresses are made in pale colors — white, ivory, and champagne — and so can be easily stained by makeup. Meanwhile, The Knot recommends that you don't do this: shop on a Saturday when bridal stores tend to be their busiest. To avoid crowds and long waits, shop on a weekday morning or afternoon instead. When you're ready, lace up your tennis shoes. You'll need them.
Advertisement
Be sure to do these things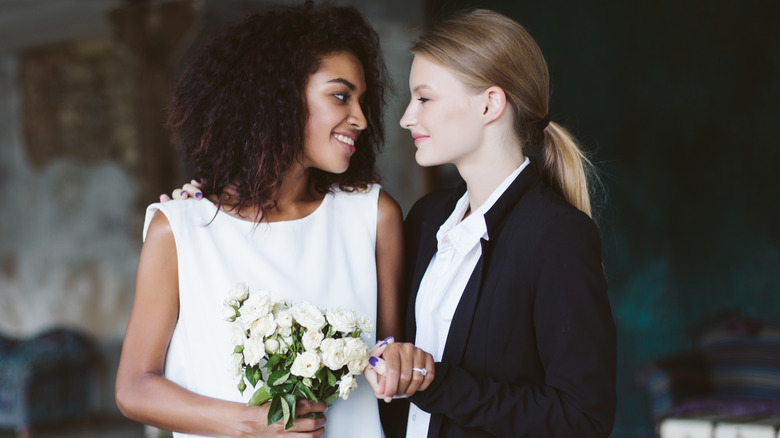 garetsworkshop/Shutterstock
Before you reach for footwear, reach for a comfortable outfit or something you can change into and out of with ease (via Loverly).
Even if you remain at one bridal store all day, it will be easier for you to move around — in and out of the dressing room to look at shoes, jewelry, and bridesmaid dresses — in your own clothes rather than in the store's wedding dress. Think in terms of pants or shorts with an elastic waistband and a simple, stretchy top. Less is more when it comes to underwear, too. But the reason is for more than your own comfort. Wearing nude panties free of seams as well as designs and embellishments will give you a much better idea of how a dress "sits" on you (via The Knot).
Advertisement
For the same reason, bring a ponytail holder or hair clip. Many wedding dresses feature lace, cut-outs, and exposed back bodices. But you may not be able to see them if your hair covers them up. (Plus, putting your hair up will keep you cool as you invariably heat up the longer you shop.) Wearing tennis shoes at the store makes sense, too. But if you have an idea how tall you wish to stand on your wedding day, bring shoes with similar heels. If you're unsure, bring shoes of various heights. Do anything that better enables you to foresee how you'll look on your wedding day.
Don't do these things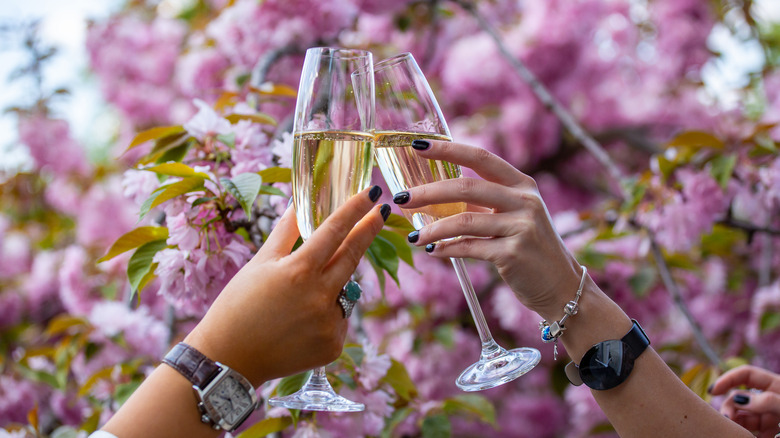 Serghei Tabirta/Shutterstock
If you were wondering what you should wear along with your nude panties, your wait is over. The answer is "nothing." Don't wear a bra at all, The Knot says. Even strapless bras can get in the way of seeing how a wedding gown looks. Besides, many dresses are made with sewn-in cups, so if you're worried about support, you'll have it. Still, there are exceptions to the no-bra rule: if you have D cups or larger, you may feel more comfortable with a bra. And if you wear it but don't need it, you can remove it while at the bridal shop.
Advertisement
Otherwise, don't bother wearing jewelry, besides your engagement ring (via Normans Bridal). This said, if you're building your wedding day look around, say, an antique necklace or family heirloom, of course, you should bring it with you. Just don't put it on until after a dress has been zipped, hooked, and buttoned on your body. You don't want to risk snagging the fabric, an accident for which the bridal store may expect you to pay.
Most future brides don't find their dream dress on their first shopping trip (via Moonlight). Since the process can take time, it makes sense to enjoy it while it lasts and make each outing an adventure. You can even bring a bottle of champagne. By then, you may be able to toast the inclusion of your own "dos" and "don'ts" of wedding dress shopping.
Advertisement