How To Rock Feral Girl Summer's Hottest Makeup Look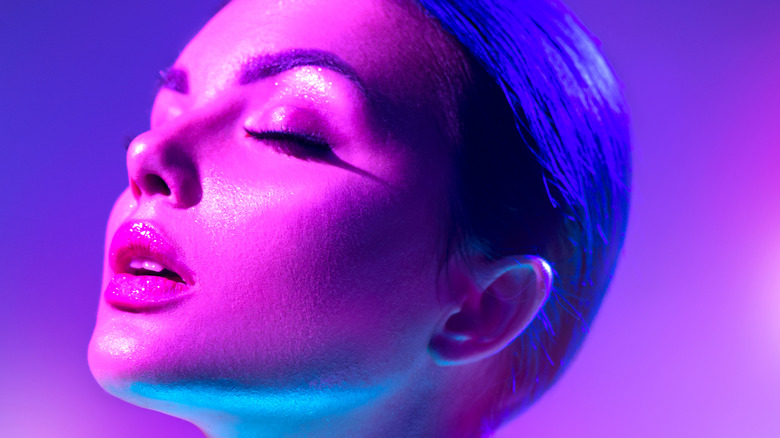 Subbotina Anna/Shutterstock
Everyone on social media has probably heard of the "feral girl summer" trend. Some people are probably thinking: How could "feral" and "trend" ever be in the same sentence? After all, according to Merriam-Webster, the definition of feral is "of, relating to, or suggestive of a wild beast." However, feral girl summer isn't so literal — no, girls haven't been walking around dressed like animals or monsters.
You'll find many videos when you search feral girl summer on TikTok, as the social media platform embraces the concept. For instance, one video centered around a party scene featured the words, "Here's your reminder it's a feral girl summer. Do not take this lightly. Dance on every elevated surface you can. Don't go home until the sun is rising. Scam men. Break their hearts. Be selfish, tan, and your worst self." This feral girl trend is dominating social media to the point where it's even inspired many makeup looks and has made it cool to be a "party person" again.
Unlike the more strait-laced "that girl" aesthetic, which is about being healthy, getting up early, and following a routine (via TikTok), the feral girl aesthetic encourages people to be carefree by not caring what people think, staying out late, enjoying hookup culture, and flaunting their most authentic selves — and this new makeup trend goes hand-in-hand with that wild lifestyle.
Marinated makeup screams feral girl summer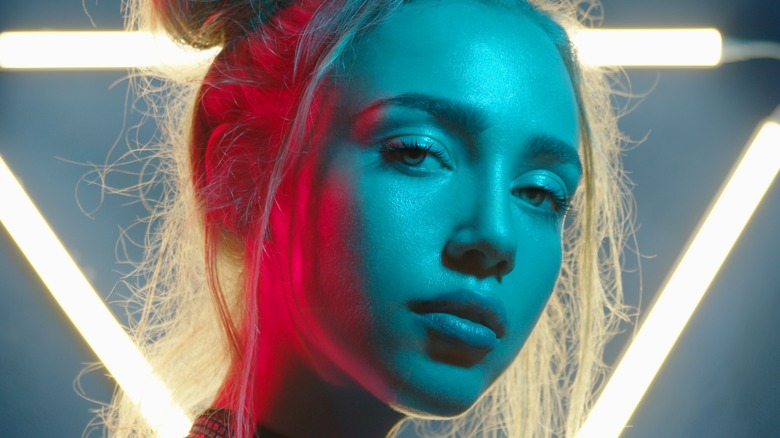 popcorner/Shutterstock
We already know that feral girl summer is taking over TikTok, but did you know that "marinated makeup" has been all over the platform, too? One video expressed devotion to this trend, writing, "u gotta let your make up marinate for it to lewk good & flawless!!!" One person commented, asking the question we were thinking at first too: "What is marinated makeup?" The creator of the video responded, "Basically your make up after hours mixed with body heat + pawis." In other words, now you don't have to worry about touching up your makeup after a long day or night of running around, partying, or anything else that makes you sweat!
Another TikTok focused on marinated concealer particularly; believe it or not, the combination of oil from skin and concealer makes for beautiful, glassy skin. Furthermore, "dewy, glazed, dolphin skin isn't going anywhere," Ehlie Luna, a makeup artist, told Oprah Daily, so marinating makeup will be trendy for more than just the summer season. Smudgy, imperfect eyeliner will also be trendy, going along with the marinated theme; "This will help to get that less than precise, lived-in makeup look," Naseesha Khan, co-founder of CTZN Cosmetics and makeup artist, told Oprah Daily. We're beyond happy that no longer having to check our eyeliner every 10 minutes isn't just acceptable now but somehow trendy.
Some iconic celebrities and TV characters have already been rocking this look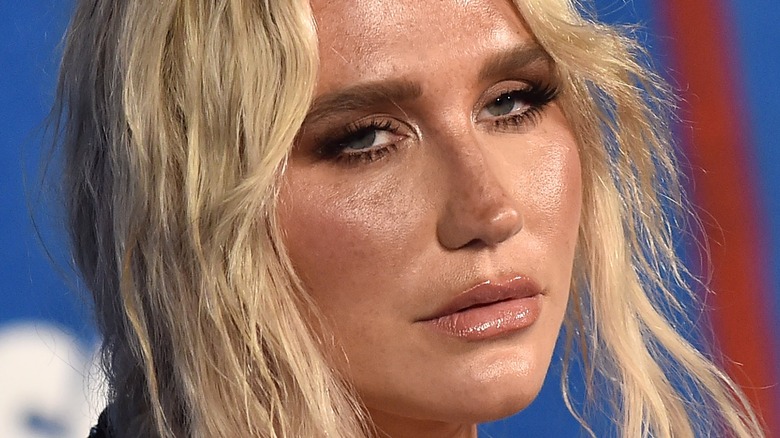 DFree/Shutterstock
While marinated makeup seems like a relatively new trend thanks to feral girl summer, some of our favorite fun-loving famous people and TV characters have been flaunting the lived-in makeup look for years — and they've been rocking it before anyone would've ever guessed that the feral girl trend would even exist. For example, the former party girl with a heart, Serena van der Woodsen from "Gossip Girl" was known for her ultra-sexy yet somewhat undone style. The stylish "it girl" consistently flaunted smudgy eye makeup, shiny lips and skin, and chic-yet-messy blond tresses, per YouTube. Unlike van der Woodsen's on-again, off-again best friend Blair Waldorf, who nails the "that girl" aesthetic with her preppy, colorful outfits (via YouTube), we imagine the blond party girl icon letting her makeup marinate during a night out.
Moreover, pop star Ke$ha was about a decade ahead of the feral girl summer aesthetic, flaunting dauntless, lived-in makeup looks in many of her party-themed music videos such as "Your Love Is My Drug" and "Die Young." Another musician who rocks the lived-in makeup look is Yungblud, but with a more punk twist. The edgy musician often flaunts messy hairstyles and dark, smudgy makeup as he encourages listeners to be themselves despite what people think.
So, are you ready to channel some of the most iconic party-loving celebrities and TV characters by marinating your makeup to rock the feral girl aesthetic all year round?