Here's Why You Should Give Purple Blush A Try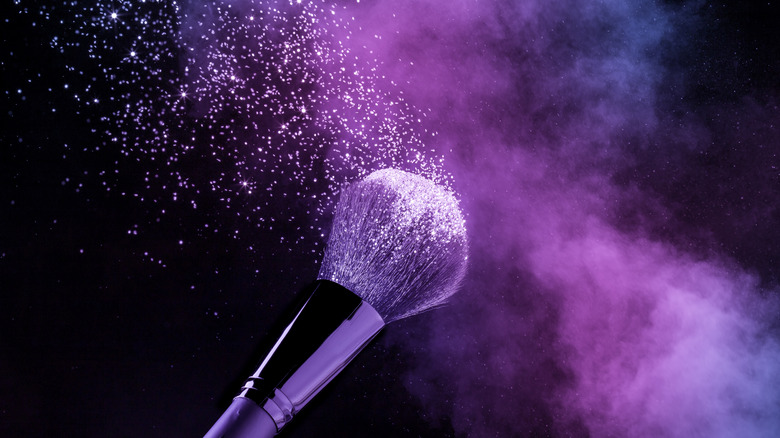 popout/Shutterstock
You may be open-minded. You may love to experiment. And you may even view your makeup table as your own personal lab — a place where you mix colors and products specifically for yourself. No matter where you are on the makeup continuum, you still have your limits. And purple blush may be pushing it. Bring on the shades of salmon, rose, and bubblegum. But purple?
As it turns out, purple blush is being called many things, and wild isn't one of them. It's being lauded as a universal go-to for people with virtually any skin tone. As you might guess, Rihanna has become an unofficial ambassador for purple blush, and not only because she has proven that she can make practically any makeup trend look like it was invented for her. Fenty Beauty even sells purple blush!
The rocker is nothing if not a rebel with a cause, so all this can mean only one thing: if you're not using purple blush, you owe it to yourself to give it a try.
Purple neutralizes warm colors
You may have been using blush for so long that you've forgotten what it's designed to do. You simply know that you feel better when wearing it. Purple blush deserves to be a member of the conventional peach, coral, and pink club. It, too, can add volume to a long, thin face; it can slim a round face; and it can sculpt, or give the face the illusion of a somewhat different shape (via Town & Country).
And don't let the basics of the color wheel fail you now. As a cool color, purple most suits its companions on the opposite side, meaning yellows and oranges . These warm colors can be neutralized by purple (via Ugly Duckling Color). Understanding this fact should do much to pacify any of your fears, especially if you think purple blush will resemble a bruise-like splotch on your face. In fact, a good purple blush will do nothing of the sort because it will immediately go to work on correcting orange (via Project Vanity).
Still, there are as many shades of purple as there are peach, coral, and pink. This means you should choose purple blush carefully. Not all shades of purple will cool down orange. Some shades of purple look pink or red, which means they will show up on the skin looking pink. Here again, the color wheel can be your friend: simply choose a shade of purple with blue undertones.
Experiment with purpose
By now, you must know that using purple blush, and wearing it well, will probably require experimentation. There's probably nothing unexpected here. But before you go to the store, it should help to narrow down your choices, based on your skin tone. For example, if you have a fair or light complexion, reach for a soft lilac blush with a hint of pink, as makeup artists Joseph Carrillo and Nydia Figueroa tell Allure. Your skin tone will seize the advantage of purple blush better than people with other skin tones; your skin will appear brighter because of the contrast.
Violets and mauves are best suited to people with medium skin tones (via Project Vanity). Put another way, medium purples look best on people with medium skin tones. Keep going in the same direction if you have a dark skin tone. Choose a shade of purple that hews to plum or berry, or the darker purple hues.
Gaining confidence in applying purple blush may take a few sessions. Start out by applying a small amount of powder blush and continue building on it until you get the color to your liking. If you're determined to go purple light, choose a cream purple blush, which is easier to apply. Then, you can also diffuse the color. Like many purple blush converts, you may end up wishing you had tried this "radical" color sooner. But at least you got there. And like Rihanna, that makes you a rebel with a cause.