The One Important Place You May Be Forgetting To Wear Sunscreen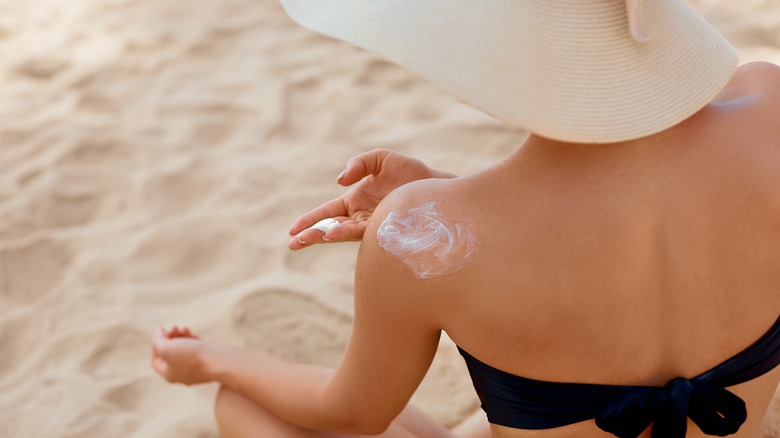 verona studio/Shutterstock
We may receive a commission on purchases made from links.
Sunscreen is one of the best products to use to maintain younger-looking skin as it helps prevent premature signs of aging. It can also be life-saving, as regular use of sunscreen protects you from harmful rays that cause skin cancer. "Did you know the sun is responsible for up to 90% of aging skin?" Aesthetics surgeon Dr. Paul Nassif told Glamour Magazine. "UVA rays reach the deeper layers of the skin, damaging collagen and elastin, and causing sun spots, pigmentation, and premature aging."
Plenty of people are pretty diligent about using sunscreen, especially during outdoor summer activities, but they can also run on autopilot and apply it only to their faces, forgetting other exposed parts of their skin. "Common places people miss are going to be the ears, your eyelids, your lips, your scalp, the top of your feet or places near the edges of clothing, such as straps," dermatologist Jennifer Lucas told Cleveland Clinic. 
Sunscreen is pretty non-negotiable when it comes to maintaining healthy skin. And there's another important part of your skin that you should never skip applying it to. Here's why experts recommend always applying sunscreen to your tattoos.
Why tattoos need protection from the sun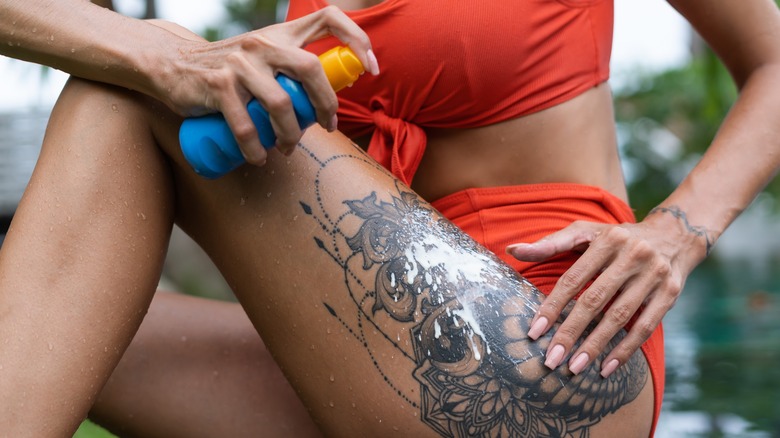 KK_face/Shutterstock
A new tattoo means there is a compromised area where the skin barrier is disrupted, so you must be extra diligent in protecting it. When you get fresh ink, your tattoo artist will tell you how to take care of it so it can heal properly without any infections. Expect them to mention the need to protect your tattoo from the sun. Dermatologist Robert Finney told Refiney29, "Direct sun exposure on traumatized skin can increase the risk of improper healing, odd pigmentation, and fading or uneven ink."
And sun exposure can not only hamper the healing process, but it can affect your tattoo's final look. According to dermatologist Macrene Alexiades, the ink used for tattoos can also fade differently from the sun depending on its color (via The Zoe Report). "White pastel ink is regarded to fade the fastest, but black and gray ink can also fade over time if not adequately protected."
The best protection from the sun is sunscreen, but when you apply it matters. Mike Rubendall, tattoo artist and founder of Kings Avenue Tattoo, told Refinery 29 that only once your tattoo is healed and no longer peeling should you apply sunscreen regularly if you want the tattoo colors to stay looking vibrant.
The best sunscreens for tattoos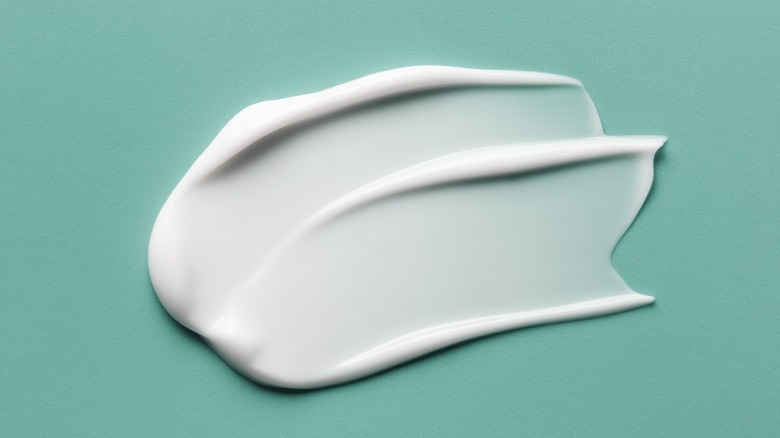 Kat Ka/Shutterstock
Mad Rabbit DEFEND SPF 30 Tattoo Sunscreen is a mineral sunscreen that will protect your tattoo from both UVA and UVB rays and nourish your skin. It has an impressive 4.5 out of 5 stars on Amazon, with one reviewer saying, "Spent a lot of time researching different lotions and sunscreens that were recommended specifically for tattoos. After using several products, especially sunscreens, I absolutely love this product I think it goes on easy doesn't have that sunscreen smell, and will protect your tattoos."
Of course, getting a tattoo can leave the skin tender, and if it is already sensitive, it can end up even more so. Another great sunscreen pick for those prone to irritation is Blue Lizard Sensitive Mineral Sunscreen. Easy on the skin, the mineral sunscreen has over 11,000 reviews on Amazon. One reviewer said, "This is the absolute best sunscreen I have ever used! I was raised on the beach so I know my sunscreen. I also have a lot of tattoos so I know my sunscreen. This stuff is amazing!!!"
Sun exposure is never good for a new or fully healed tattoo, but it's easy to keep your tattoo looking its best with quality suncare tips and products.