Is Cold Laser Therapy Worth The Hype?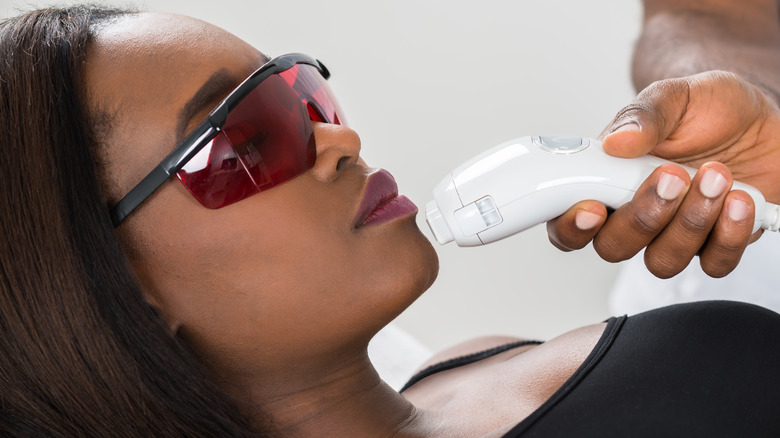 Andrey_Popov/Shutterstock
Laser therapy has developed a glowing reputation in the field of skincare for its ability to heal scarring, hyperpigmentation, and the signs of aging skin. Clinicians began researching the therapeutic effects of lasers in the early 1960s when innovative dermatologists like Dr. Leon Goldman explored their use for treating ailments such as melanoma. "The future [in laser therapy] is extraordinary development in medicine [and] surgery," explained Dr. Goldman in an interview from the University of Cincinnati's archives.
Over the years, extraordinary developments in laser research led to the invention of cold laser therapy, one of the most promising tools in skin rejuvenation today. According to a study published by the Annals of Biomedical Engineering, cold laser therapy, also referenced as low-level light therapy, is believed to promote new cell growth and encourage collagen formation. Cold laser therapy differs from traditional laser techniques by using lower power densities during treatments. Whereas heat-generating lasers are often used for surgical procedures like ablation or cutting, professionals favor cold lasers for their restorative effects on conditions like wrinkles and acne. Now, as cold laser therapy becomes more widely accessible to consumers, you may wonder if the new skincare approach deserves its praise. Let's find out.
Why cold laser therapy is considered beneficial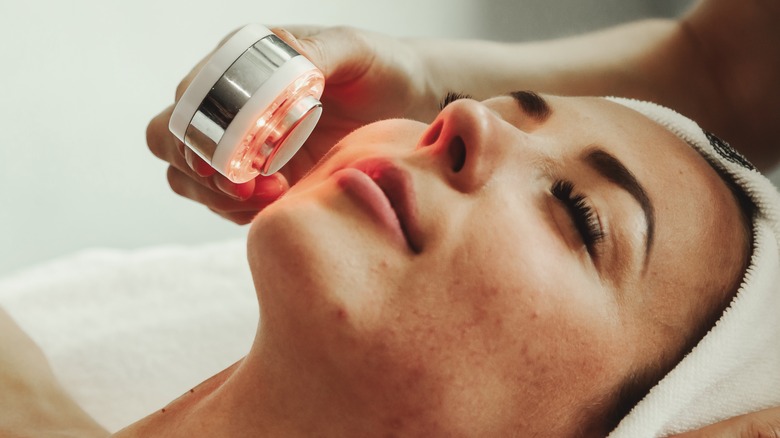 Alex Vog/Shutterstock
Cold laser therapy is an invaluable tool for treating skin ailments like acne, photoaging, and discoloration. A 2016 study published in The Journal of Physical Therapy Science suggested that cold laser therapy was beneficial in treating hyperpigmentation and supporting even skin tone. Experts cite the treatment's minimal invasiveness and low risk of side effects as one of its most favorable advantages compared to similar technologies. This benefit allows skincare fanatics to utilize cold laser therapy in their own homes, thanks to the introduction of the FDA-approved LYMA laser system. "[Low-level light therapy] heats up cells by a minuscule 100th of a degree: the exact temperature to trigger a genetic switch to switch off the cells associated with aging and switch on the ones associated with renewal," LYMA's founder, Lucy Goff, told Forbes.
Although the LYMA is pricey, with devices starting at $2,695, it has overwhelmingly positive feedback from consumers who have taken the plunge. "I've been using my LYMA laser since the beginning of June 2021. It works. I have experienced my skin being as bouncy as it was 20 years ago — I'm 58," says Redditor elizabethgrayton. Cold laser therapy isn't just part of the latest wave in skincare developments; it's also been explored as a tool for pain management. In fact, a study published in MOJ Orthopedics & Rheumatology concluded that the treatment showed potential as an intervention for those struggling with pain symptoms. It's even received attention as a suitable therapy for hair loss, as evidenced by research in Lasers in Surgery and Medicine.
How to make cold laser therapy work for you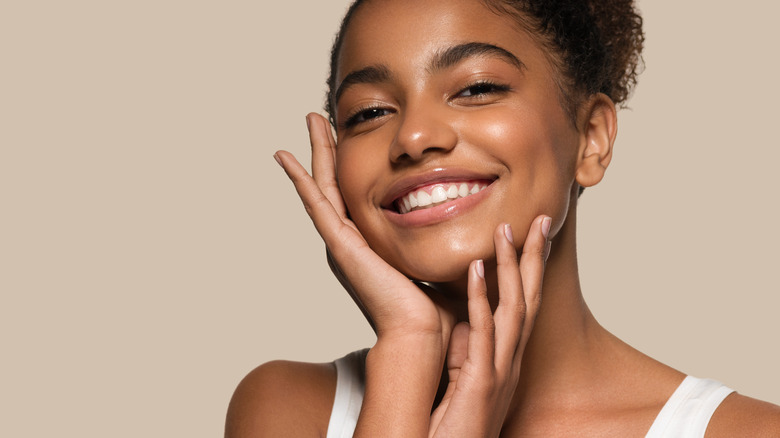 Irina Bg/Shutterstock
The good news is that cold laser therapy is considered safe for various skin tones and conditions, even extending to sufferers of painful afflictions like burns or rosacea. A study conducted by Practical Pain Management revealed that low-level light laser therapy proved useful in treating second-degree burns, contributing to faster wound healing. There isn't enough research to determine whether cold laser therapy is safe for pregnant people, but evidence supplied in The Journal of Lasers in Medical Sciences suggests against its use.
You can integrate cold laser technology into your routine using an at-home treatment, like the LYMA system, or you may choose to seek out a professional who specializes in laser therapy. If you're looking for a laser specialist, you'll want to search for someone experienced in cold or low-level light laser techniques. Some clinics may also refer to the procedure as photobiomodulation. In either circumstance, it's best to consult with a skincare professional, like your dermatologist, to determine whether you'll benefit from the treatment's effects or if your current skincare routine is perfectly adequate for your needs.