Your DIY Guide To Turning Eyeshadow Into Eyeliner In A Pinch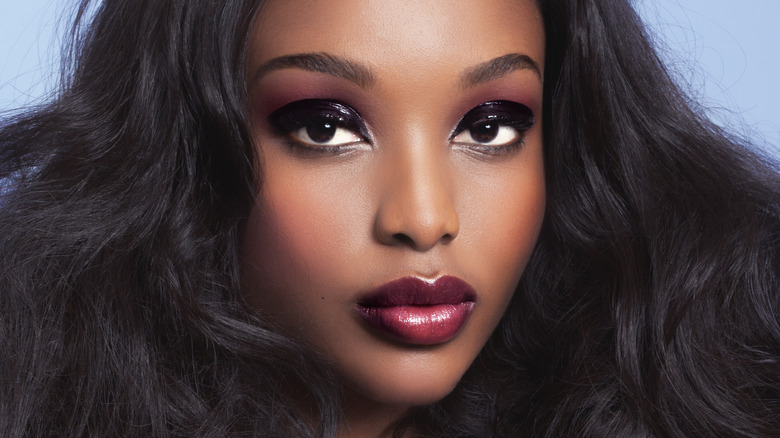 iconogenic/Shutterstock
It seems to happen when you need to touch up your eyeliner the most. You want to look your best for a date, an interview, or an important work event — something in which all eyes will be on your eyes. All you need is a few slicks of eyeliner to touch up your look, but your eyeliner is exactly where you left it: at home. You do, however, have your favorite eyeshadow.
So, if you're wondering if your eyeshadow can function as your eyeliner, it's your lucky day; it certainly can be a substitute. And it may work even better if you have just a little time to make the swap with finesse (via L'Oréal Paris). You really don't think the pros haven't done this before, do you? It doesn't take a pro, however, to see the similarities between eyeliner and eyeshadow. Eyeliner defines the eyes, including above the lashes, below the lashes, or both. Meanwhile, eyeshadow adds depth and color to the eyelid (via MasterClass). If the color of the shadow you have with you can step in for the liner you don't, no one should be the wiser.
Choose your on-the-run method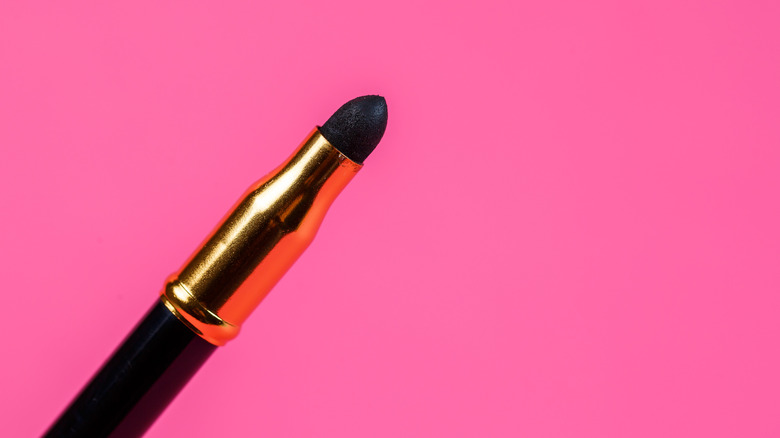 Dmitry Tkachuk/Shutterstock
Pencil or cream eyeshadows can work like eyeliner without causing you to bat an eye. They're obvious stand-ins. But to solidify the powdery fragments of a powder shadow, you'll need some moisture to create a noticeable line. You can run your favorite angled eyeliner brush under a dripping faucet and get it wet — more than damp but not dripping wet, either. Then, dip the brush into the shadow until you've created a consistency close to paste (via L'Oréal Paris). Now, you have staying power, much like a liquid or crayon eyeliner.
This is when a little experimentation comes into play, too. You won't know how well the shadow will perform as a liner, so you may have to build up the color with several strokes until you successfully duplicate the look of a liner, per beauty YouTuber Melissa Van Dijk. If you don't have the benefit of a working sink, improvise the moisture that will enable you to create a paste-like liner from the shadow. So, look around. Some bottled water would be an ideal choice; so would a tube of eye drops. In a pinch, you could wet the angled brush with your saliva, though you'll find yourself tasting eyeshadow after a few swipes. If worse comes to worst, simply dip your brush into the shadow and apply it directly to your eyes. It's even better if the shadow happens to be a creamy formulation. In this case, you can blend and smudge it, too.
Professionals are in on the secret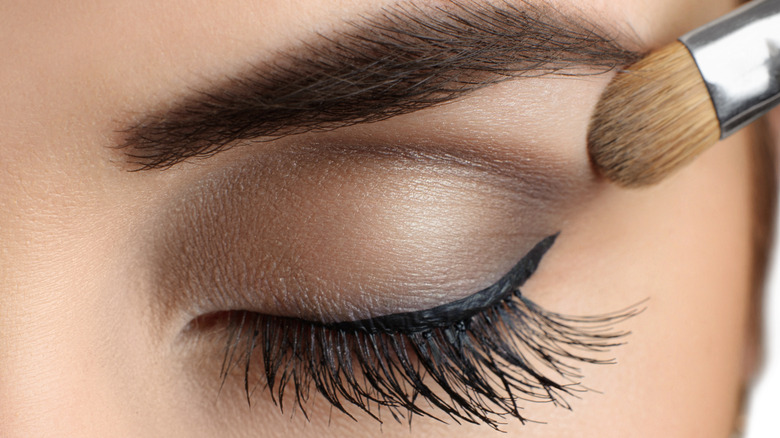 vitals/Shutterstock
You may be surprised to learn that professional makeup artists know a few things about turning eyeshadow into eyeliner. And they may follow some of the same application steps, though they usually have time to pick the right color eyeshadow beforehand. Unsurprisingly, they may pick a black, brown, dark purple, or even forest green eyeshadow (via Meraki Lane). But they still use an angled eyeliner brush, and they dampen it before they begin.
A few additional steps appear to give the eyeshadow the handicaps it needs to compete with traditional eyeliner. For one, the pros may use eye primer so that the shadow goes on smoothly and resists smudging (via MasterClass). After applying the shadow, they are careful to give it time to dry. It helps to remember that the brush is wet, and they don't want the color to swim into the crease. Once the shadow dries, the pros like setting it with a puff of translucent powder. A puff is usually all you'll need so the powder protects the color without overwhelming it. A makeup setting spray is a viable alternative. Like powder, it should keep touch-ups to a minimum. But in your newly competent, resourceful hands, you may never give a second thought to touch-ups again.