​​The Intriguing History Of The Wedding Veil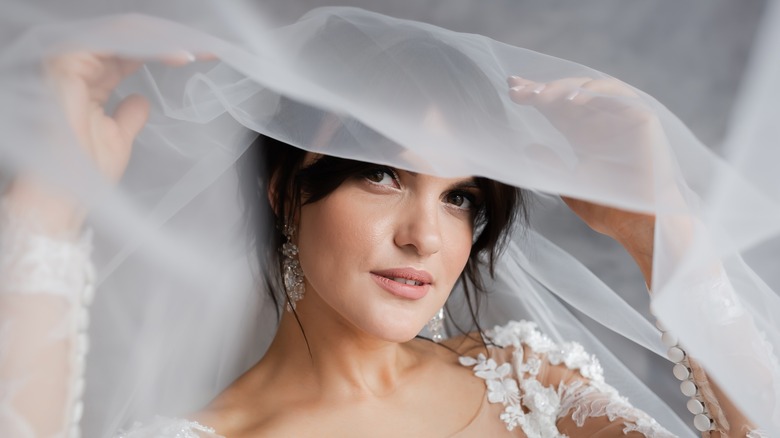 Denys Demianchuk/Shutterstock
When you envision a classic wedding ceremony, there may be certain imagery that leaps to mind, from a fancy, multi-tiered cake to a stretch limo painted with the words "Just married!" And naturally, one of the most iconic symbols of a wedding is the bride. A lot goes into a full bridal look than just a beautiful white dress. For starters, there's the tradition of something old, something new, something borrowed, and something blue. Then there's the careful selection of jewelry, shoes, and maybe even a garter to throw into the crowd. And of course, you can't overlook the crowning touch: a wedding veil.
Advertisement
The pairing of a white gown and veil has become the de facto standard for blushing brides. The dress isn't too much of a mystery, as it's commonly held that dressing in white is meant to represent purity and innocence (via The Ohio State University). But the addition of a veil is a bit more mysterious. So why do brides cover their faces with veils on their wedding day?
Why do brides traditionally wear veils?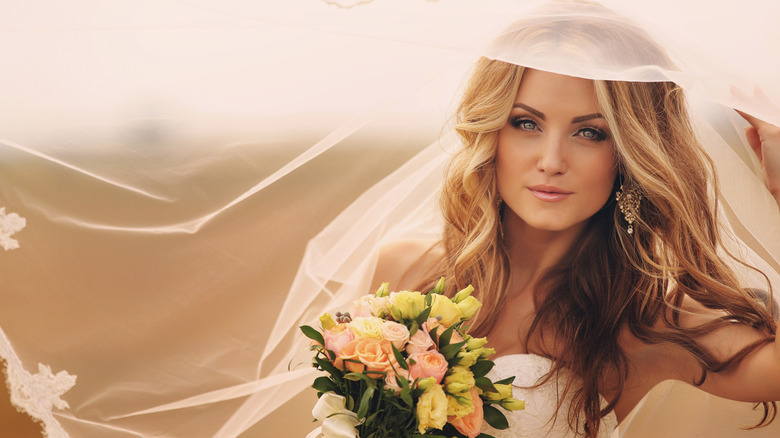 Andrii Medvediuk/Shutterstock
While we can't pinpoint the exact beginning of the veil tradition, fashion historians have traced its origins at least as far back as Roman times. The Romans believed that brides were tempting targets for evil spirits, making them vulnerable on their wedding day. So to protect these brides-to-be, veils were worn to disguise them from any dangerous supernatural beings (via Ancient Origins).
Advertisement
But while the Romans seem to be the first culture with documented use of bridal veils, they are far from the only one. Wedding veils pop up across the globe, such as the lucky red ones worn by brides in China (via Cultural Awareness International). They were also popular for arranged marriages — essentially used to hide the bride's face from her groom until the deed was done (via Richmond Times-Dispatch).
But how did we get from these traditions to the current idea of a white veil? The classic pairing of a white dress and bridal veil was cemented as a popular tradition thanks to the high-profile wedding of England's Queen Victoria in 1840. The queen's lacy white gown and veil were very different from the usual attire at a royal wedding, which typically involved rich-looking dresses of silver and gold. Her iconic, virginal look became the standard for brides, including the delicate veil she had commissioned to boost the British lace-making industry (via Fashion History Timeline). Suddenly, white dresses topped with veils became de rigueur for any fashion-forward bride.
Advertisement
Do modern brides need a wedding veil?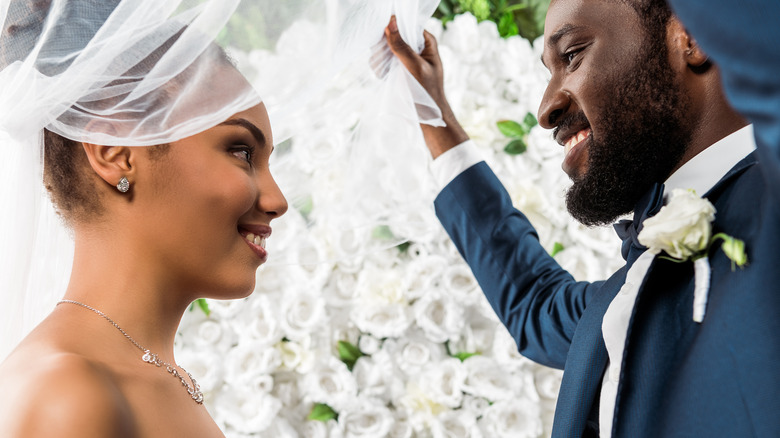 LightField Studios/Shutterstock
If you're wondering whether wedding veils are still a required accessory for modern brides, the answer is a resounding no. In fact, it could be argued that nothing is required for modern brides anymore. As we already pointed out, even white wedding dresses — the ultimate wedding standard — only became fully mainstream in the 1800s, and modern brides are starting to rebel. According to a study by Brides, 17% of brides in 2018 chose dresses in non-traditional colors compared to only 8% in 2017.
Advertisement
So when it comes to your wedding ensemble, feel free to get creative. Instead of following some cookie-cutter formula for your wedding, your special day should be about the people you love and the things you find meaningful. Wear whatever makes you feel beautiful and confident. Did you fall head over heels for a Barbie pink gown? Get it. Would you rather wear chunky Doc Martens than white heels? Do it. And when it comes to a veil? If you like a classic bridal look, go for it. But if not, don't feel pressured or obligated to get one just because it's traditional.
Of course, if you aren't sure either way, it can't hurt to explore your options. As bridal stylist Julie Sabatino points out to MarthaStewart.com, it's not often in life that you get an excuse to rock a veil — so it may be worth at least trying a few on to see if you like the dramatic flair.
Advertisement