How To Gua Sha Your Lips For A Plumper Look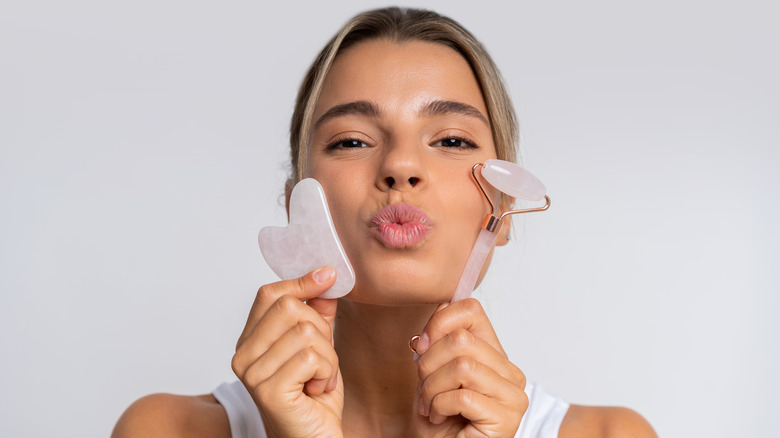 Svitlana Sokolova/Shutterstock
We may receive a commission on purchases made from links.
Let's face it, plump lips reign supreme, and it's hard to ignore all of the fillers and injections saturating social media at the moment. With Kylie Lip Kits selling out across the country, girls everywhere are pining for fuller, juicier kissers. If too much scrolling has you considering dishing out a couple hundred dollars to an aesthetician, why not look at all of your options first? Non-invasive solutions will not only give your wallet a break but also provide a more natural look.
Gua sha, an ancient Chinese healing massage method, has been proven to have incredible beauty benefits that go beyond simple relaxing self-care. The process of strategically stroking the smoothed carved stone against the skin has the ability to clear lymphatic drainage, improve blood flow, and even lift or plump the skin (via Healthline). Using the correct techniques and the right tools, gua sha massage can train your body to heal and gradually reshape itself with naturally enhanced results. Here's how to get the fuller, more luscious lips you've always wanted.
Choose a gua sha with jagged edges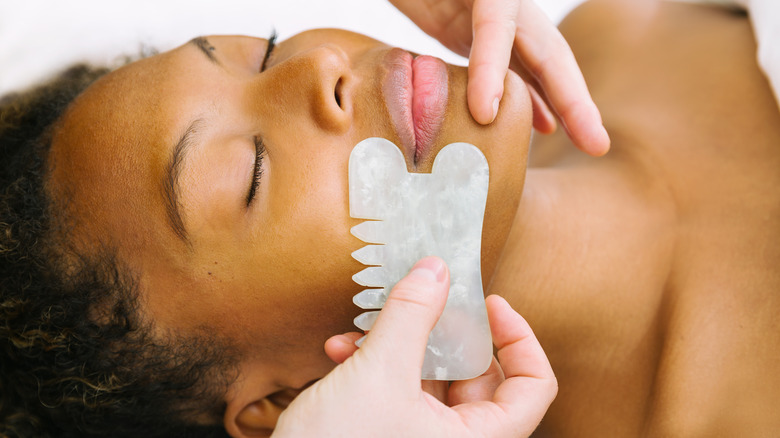 Elena Graham/Shutterstock
There are several gua sha tools on the market, all of which look really stunning, ranging in different gemstones and shapes. However, when focusing on the lip area, it's most important that your gua sha have a comb-like or jagged edge. According to gua sha experts Wilding, the enhanced friction will encourage more blood circulation to the area. If you have fine lines or wrinkles around your lips, the jagged edge will also work to smooth those out, killing two birds with one stone (via The Chalkboard Mag). You'll want the other end of the gua sha to be a U-shape that you can hold firmly to sculpt the mouth area.
Gua sha tools are also available in authentic Chinese bian stone, a sacred healing gemstone generated when a meteorite hit China during the Cretaceous period (via Earth Skin). The gorgeous black stone is said to improve circulation, purify blood vessels, rid the body of poison and excess fat, and carry oxygen to organs more effectively.
How to perform a gua sha massage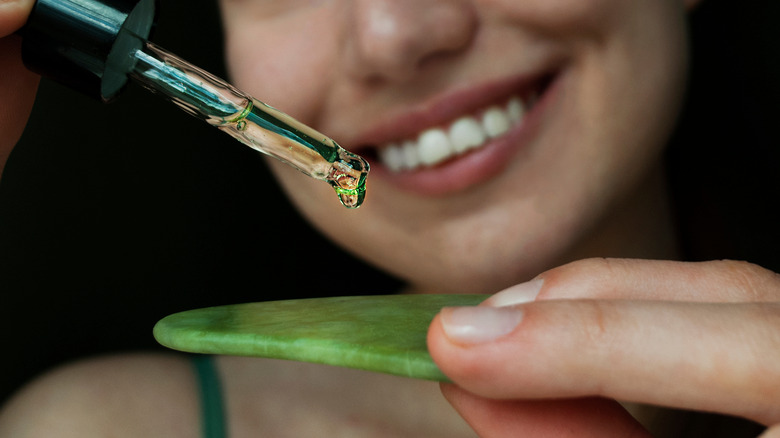 Lina Ptashka/Shutterstock
You've got the right tool, but before you start lifting and massaging, you'll want to ensure your skin is slick with a few drops of your favorite serum, to help the gua sha glide easier. To achieve added plumpness, opt for using a collaging plumping serum like Somaluxe's Lip Collagen which is made from organic plant stem cells and averages 4.2 out of 5 stars on Amazon.
According to Wilding, performing a gua sha lip massage requires a few simple steps: Start at the center of the lips with the U-shape side and pull outward and upward. Repeat three to five times. This gentle massaging will encourage increased blood flow in that area. Then, using the jagged edge, create a bit of friction by moving the tool back and forth across the outside lines of the lips. Be gentle; the idea is to get the blood flowing and to start conditioning the area to reshape slowly.
Be patient on your gua sha journey. You're playing the game of natural enhancement, not instant gratification, and pronounced results can take weeks or longer to show. Use the time you're waiting to enjoy this new addition to your self-care routine.