Why American Eagle Has Managed To Beat Other Popular Mid-Aughts Retailers With In-Store Traffic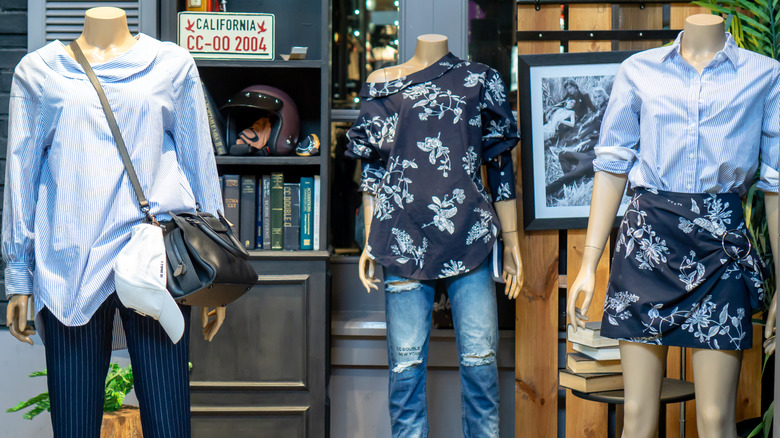 v74/Shutterstock
Given the rise in popularity of e-commerce over the past decade, it's no surprise that more people are purchasing goods on the Internet instead of hitting brick-and-mortar stores. It's likely then safe to say that the rise of online shopping is at least one of the culprits behind the decline in foot traffic at many retail stores. Following the first two years of the COVID-19 pandemic, fast-fashion retailers that rely more on in-store sales, per McKinsey, continue to face more challenges in pushing online revenues. Although in-store traffic loss seems like a hard pill that many retailers nowadays must swallow, American Eagle, a teen-focused clothing and accessories retailer, doesn't seem to be adversely affected by it.
In a 2019 Piper Jaffray survey polling 8,600 teens across the U.S., American Eagle was voted teens' second favorite clothing brand, landing behind Nike (via Insider). Boasting fashionable, quality designs with comfort and affordability in mind, American Eagle is a power player in the fashion industry, but so are popular mid-aughts retailers like Abercrombie and Hollister. Nonetheless, per recent statistics by SafeGraph, Abercrombie and Hollister have been lagging behind American Eagle by an incredibly wide margin in terms of in-store traffic. Here's how American Eagle became one of the few mall brands to recover from the pandemic's economic downturn and ultimately outperform its competitors.
Comfy attires are reigning the roost
According to SafeGraph data, American Eagle's in-store traffic outpaced Abercrombie and Hollister even before the pandemic. In fact, from 2019 through early 2022, Abercrombie and Hollister had approximately 50% less foot traffic than American Eagle. During the initial phase of the pandemic, all three brands' in-store traffic dipped all the way to zero unique visits. In 2022, retail foot traffic began to pick up. Just when Abercrombie and Hollister managed to pull their foot traffic to pre-pandemic levels, American Eagle's foot traffic soared. When American Eagle's traffic topped off at 30,000 visitors in July, it was six times that of Abercrombie and Hollister. But how is this possible?
American Eagle's commitment to affordable, on-trend casualwear is a pivotal factor in its impressive foot traffic. According to The NPD Group, cozy and casual attire did pretty well during the pandemic, which isn't a surprise because we were all stuck at home. Total apparel sales plunged about 19% in 2020, but sales of sweatpants increased 17% and sleepwear by 6%. Furthermore, American Eagle's attitude towards comfort and individualism resonates with Gen Z, its target clientele, who accounts for 40% of the worldwide consumer population. A McKinsey survey further reveals that Gen Z is the generation that searches for authenticity over labels. Boasting good-looking, feel-good apparel combined with a personalized in-store experience, American Eagle has just what Gen Z customers need. Furthermore, the brand's enthusiasm to solicit customer feedback and sizeable market research efforts help it in obtaining a strong understanding of its target customers' preferences and better interacting with them.
American Eagle is riding on Aerie's coattails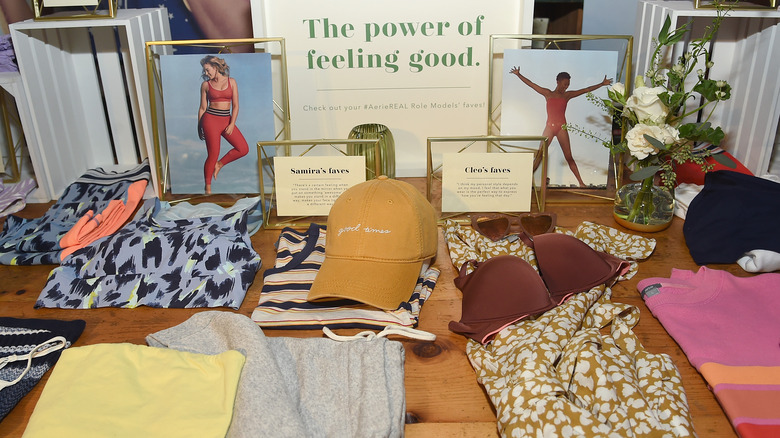 Jamie Mccarthy/Getty Images
Although American Eagle is a well-performing lifestyle brand in and of itself, it wouldn't have achieved that much success in foot traffic had it not been for some leverage from Aerie, its undergarments sub-brand. Prioritizing comfort and inclusivity with taglines like "Don't change you. Change your bra!," Aerie enjoys cult-like popularity among customers that advocate body positivity. At any American Eagle store, you'll find an attached Aerie boutique selling undergarments in various shapes and sizes. Instead of showcasing size-zero models in ultra-thin undergarments like many traditional underwear brands, Aerie goes with relatable-looking models with physical "imperfections" like any of us. Because of its focus on female empowerment, Aerie is a hit among a new generation of customers and is considered one of Victoria's Secret's biggest competitors. 
According to a report by AEO-Inc, Aerie's sales more than doubled and profits more than five-folded in the first quarter of 2022 versus the first quarter of 2019. Compared to 2021, Aerie's revenues rose 8%, reaching $322 million, while American Eagle's fell by 6% to $686 million. Due to an increase in traffic, consolidated store revenue increased 2%. Aerie now constitutes about 30% of American Eagle's total sales and is expected to double its sales to $2 billion by 2023. American Eagle is doing well by itself, but standing on Aerie's shoulders helps it draw more in-store customers.