Are Luxury Beauty Brands Really Worth The Extra Money?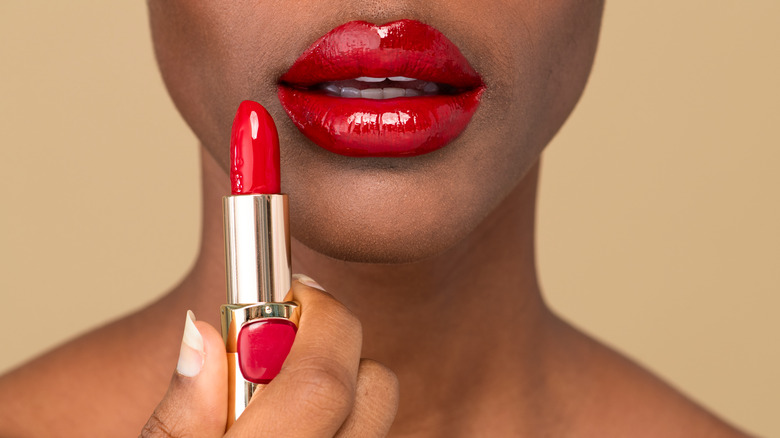 Rawpixel.com/Shutterstock
Despite most of us having spent our time since the COVID-19 pandemic began with our faces at least partially obscured behind masks, the beauty industry, including luxury beauty brands, is booming. Common Thread reports that thanks in part to online retailers making beauty products more accessible than ever, the beauty industry has grown over the last two years and is projected to continue to see growth over the coming years.
Beauty influencers and celebrities alike have helped make the beauty industry a huge part of the conversation on social media and sharing apps like TikTok, Instagram, and Snapchat, introducing their fans and followers to the world of luxury beauty products they may not have been aware of. So, while the number of makeup products that consumers are using as a whole has decreased, Kantar reports that people are just being more selective about the beauty items they are purchasing. This means that more and more people are choosing to indulge in a few luxury brands instead of a larger quantity of less expensive items. People are viewing their beauty purchases as more of an indulgence and less of a necessity, but are all luxury beauty items worth the hype?
The blurred lines between the luxurious and the everyday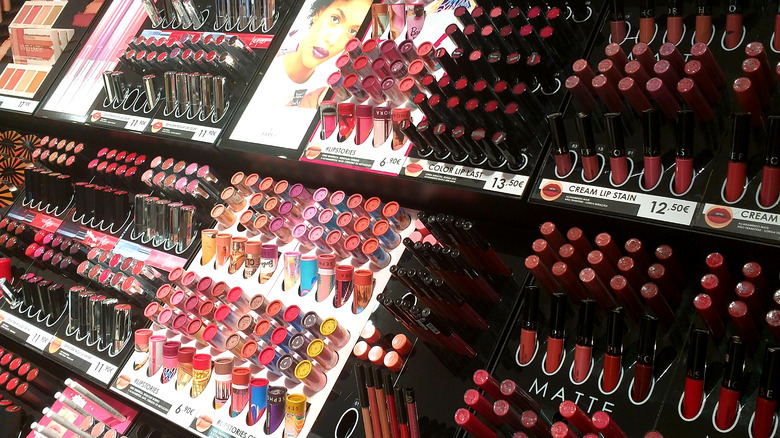 The Daily Photoo/Shutterstock
Luxury beauty brands are easily identifiable mostly by their hefty price tags, high-end packaging, and quality ingredients, not to mention their name brand recognition. Brands like Chanel, Dior, Gucci, and La Mer are highly coveted in part because they look and feel simply luxurious. What's more, they also because they're well-known designer brands. People get excited about buying a product from a luxury brand and often enjoy displaying these items, so when they're paying premium pricing for these products, they also want to make sure they look pretty.
With the massive amount of celebrities creating their own beauty brands, including Scarlett Johansson, Jennifer Lopez, Selena Gomez, Lady Gaga, Rihanna, and Victoria Beckham, just to name a few, many have tried to capitalize on the luxury beauty brand appeal. Kylie Jenner's Kylie Cosmetics and Kim Kardashian's SKKN both carry luxury brand prices and heavily invest in their product packaging and clean beauty practices, but many people wouldn't label them as luxury brands. Brands like Trinny London, while not considered luxury, definitely have loyal fan bases who will pay more for their products. Ultimately, consumers have more choices now than ever when it comes to luxury and value prices beauty products, but they're also more selective in where they choose to spend their hard-earned dollars. 
Which beauty brands are the most luxurious?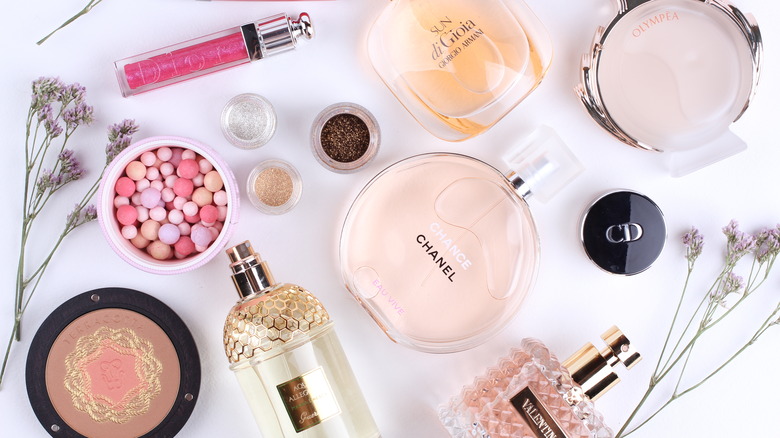 Kolomiec/Shutterstock
When it comes to luxury brands, some simply stand out above the rest. Nars, Lancôme, Dior Beauty, Laura Mercier, and Charlotte Tilbury are the top five most influential brands, according to a 2019 report completed by Forbes (via Vogue France). Luxury brand powerhouses like Chanel, YSL Beauty, and Pat McGrath help to round out the top 10.
One thing most of these luxury beauty brands have in common is that most of them have at least one product that is their holy grail, one particular product that they are known for. Nars, although now well known for its Orgasm collection of products, was launched initially as a line of just 12 lipsticks, which are still considered some of the best in the industry (via Business of Fashion). Furthermore, Dior is well known for its perfumes and scents, while Pillow Talk has helped make Charlotte Tilbury a household name. In addition to creating some incredibly luxurious lipsticks, Chanel No 5 is still the most famous and iconic perfume in the world. When people choose to purchase a luxury beauty brand product, they're often choosing what to buy based on the product's reputation alone. 
For some people, owning one signature product from a luxury beauty brand is as important as owning multiple products from a value brand. Thankfully, with increased availability through online retailers, it's easy to do both. 
The age of the influencer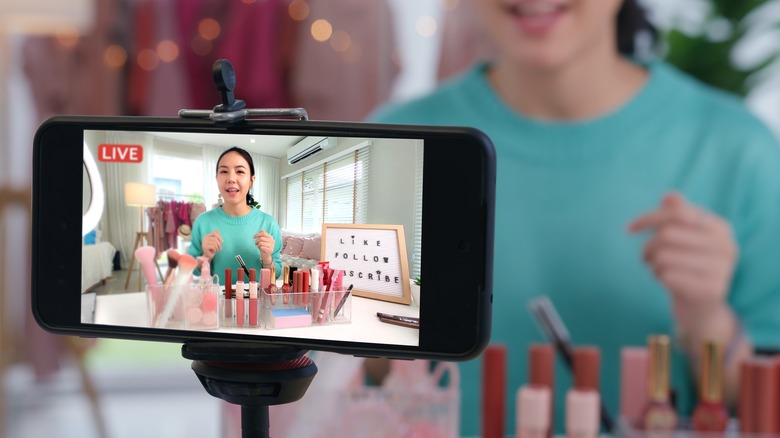 Chaay_Tee/Shutterstock
Before the age of the beauty influencer, luxury beauty products may have seemed out of reach for the typical consumer. These products were generally only available in select department stores or online, helping to create an air of exclusivity. Many people were intimidated by the luxury beauty brands they would only see in those department stores. Thanks to TikTok, Instagram, Snapchat, and other social sharing sites, however, we are seeing a rise in the popularity of the everyday beauty influencer. These people are introducing their followers to luxury beauty brands in a way consumers have never seen before. While James Charles, Jaclyn Hill, Bretman Rock, and Nikkie de Jager are still some of the most famous beauty influencers in the industry, many of them now have their own beauty lines to promote (via Global Cosmetic Industry). Meanwhile, newer influencers like Mikayla Nogueira, Glamzilla, and Mari Maria have emerged as more relatable experts on beauty products.
These influencers have amassed huge followings on Tik Tok thanks to their honest opinions on both luxury and drugstore brand cosmetics and beauty products. They often can be seen doing real-time applications of new product releases or current must-haves and sharing their candid thoughts on the products as well as their price points. This has helped consumers feel like luxury beauty brands are just as accessible as value-priced brands and helps them navigate the product lines to know which items they may want to splurge on. 
The cost of doing luxury business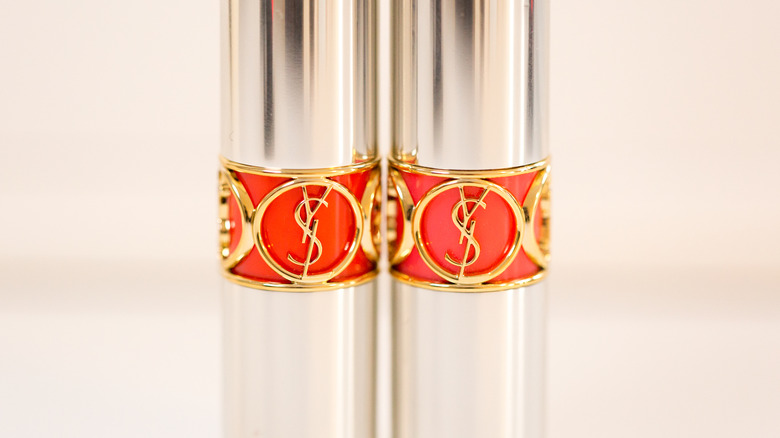 Helen89/Shutterstock
Although more expensive and intricate packaging definitely drives up the price of those luxury brands, one of the main reasons that luxury beauty brands cost so much is because of the high quality of their ingredients and the research that goes into creating the products. In fact, cosmetic formulator Stephen Alain Ko explained to Well + Good that using and sourcing better ingredients, as well as creating proprietary formulations, can drastically increase the cost of any product. Although the result may be a product a consumer may think is similar to one found in a drugstore, the luxury brand may be more pigmented, use purer ingredients, and/or simply last longer.
Of course, brand recognition and reputation also help justify the higher price point. We all know that luxury brands can charge more because of the brand name, but typically the ingredients used in these luxury brands are of higher quality than those used in a value brand, which is why your Chanel lipstick is more pigmented and will last longer than a drugstore dupe.
How and why luxury beauty brands are becoming more mainstream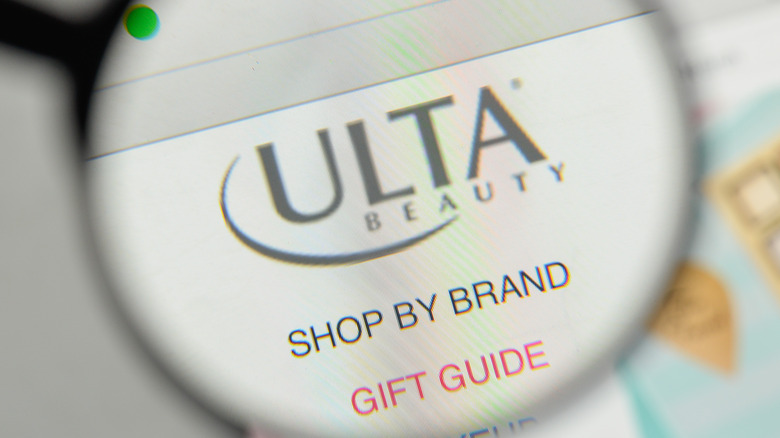 Casimiro PT/Shutterstock
Luxury beauty brands were once marketed to an exclusive clientele, available only in select shops or department stores and coveted from afar by the typical consumer. As the market becomes saturated with beauty products and celebrity beauty lines, luxury brands have shifted how they market their products and who they market them to (via Beauty Independent).
Between brand collaborations, exclusive partnerships with various online and brick-and-mortar retailers, and the utilization of influencer marketing, luxury brands are becoming more mainstream. Luxury products are seen as a viable alternative to drugstore products by many consumers who want to invest in their skincare and cosmetics collections, even if it's just for one or two products. Brands are also marketing their products to more than just women now, acknowledging that everyone enjoys luxury beauty products regardless of gender identity.
Even though many of these luxury brands are now easier to purchase, some still retain their feeling of exclusivity by limiting quantities. For example, Chanel offered a number of different holiday gift packs last year that came with their own small branded makeup bag, something that was widely touted on social media as a holiday must-have. The price points for these gift packs were reasonable, but the number available was limited, with the product selling out almost as soon as it was made available. This creates exclusivity, which almost always boosts sales and recognition. With more talk about high-end products, more people want them.
You don't need to break the bank to get quality products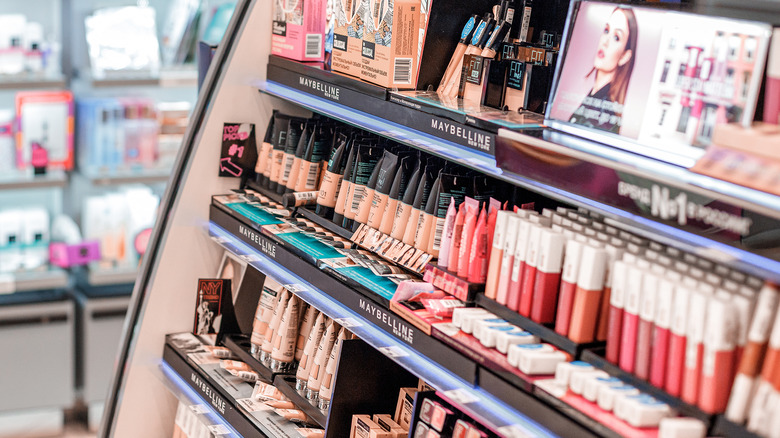 frantic00/Shutterstock
Despite the fact you may be getting a more pigmented lipstick, a better coverage foundation or a serum containing pure ingredients with a luxury beauty brand, that doesn't mean that you can't get a safe, effective and easier on the pocketbook products from a drugstore brand. In fact, because there is so much competition in the beauty space consumers have so many great options to choose from. 
Influencers and social media users are showcasing their favorite luxury beauty items online, introducing consumers to products they may not have known even existed, but they're also sharing their favorite, less expensive 'dupes' of those products. Effectively these influencers are doing the product testing and comparison shopping for you so when it's time to decide where you want to save and where you want to splurge, a lot of the homework is done for you. Social media is full of "Tik Tok made me buy it" videos showing people sharing their experience using different value beauty products.
So while a value brand lipstick may not last as long as a luxury brand, it comes at a much lower price point which can be important for those who enjoy trying new products often or who simply can't afford the high price tag of luxury items.
Influencers can help us see when to splurge and when to save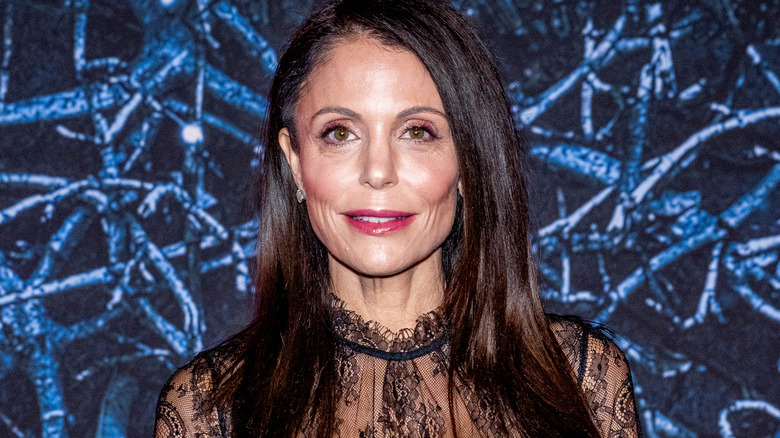 Roy Rochlin/Getty Images
Beauty influencers have dramatically changed the way that people shop for beauty products in recent years. For example, reality star, entrepreneur, and philanthropist Bethenny Frankel is just one of the many new unexpected mini-influencers in the beauty space, often recommending drugstore products that she loves to her millions of followers. While Frankel may seem an unlikely beauty influencer, she has become a trusted source thanks to her willingness to not sugar coat her reviews or cater to certain brands. On her Instagram, she recently reviewed products in Kim Kardashian's SKKN by Kim line, first criticizing the suggestion that people need to purchase," she explained. She then criticized the product packaging calling one item "bulbous," comparing another to a Rubik's cube and stating that it was "impractical at best."
Influencers are a great resource when looking at different beauty products, but there has been a lack of trust in the past because they aren't always transparent if a product review is being sponsored or not. With Frankel, people trust her reviews because she isn't sponsored and is buying products with her own money. She's also not afraid of offending anyone with her honesty. One look at the comments section on her Instagram or TikTok clearly shows that her followers are thrilled with her bluntness and realness. Ultimately, Frankel showcases her favorite luxury brands and products and also shares lower-priced options that she loves, like a Neutrogena foundation that she tried after swearing by the Armani and Dior options for years (via Instagram).
The allure of the luxury brand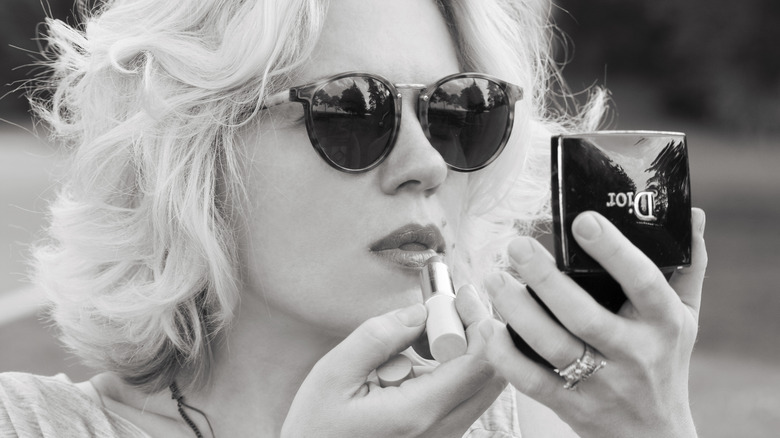 OKcamera/Shutterstock
You may wonder why anyone would spend the extra money for similar results if they can find value brands that are similar to luxury brands. It's safe to say that the expensive packaging and presentation of luxury beauty products are part of the allure, as is the satisfaction that one gets when buying a luxury brand (via DesignRush). Most of us feel a bit luxe and exclusive when pulling a Chanel lipstick out of our bag or when applying our Crème de la Mer lotion at night. Luxury brands have more money to put into the packaging and marketing of their products, capitalizing on how those brands make consumers feel. 
Many shoppers will choose to splurge, for instance, on a Dior eyeshadow palette or Tom Ford mascara over a less expensive option simply because of the appeal of the packaging and the feeling one gets by owning a luxury product. There's a definite "treat yourself" philosophy behind indulging in luxury beauty brand products when compared to opting for value-priced options. Beauty products are also a way to own a designer product without investing heavily in bigger-ticket items. You may not be able to afford a Chanel handbag or Gucci shoes, so a lipstick or fragrance may be a more reasonable alternative. 
If beauty products seem too good to be true, they just might be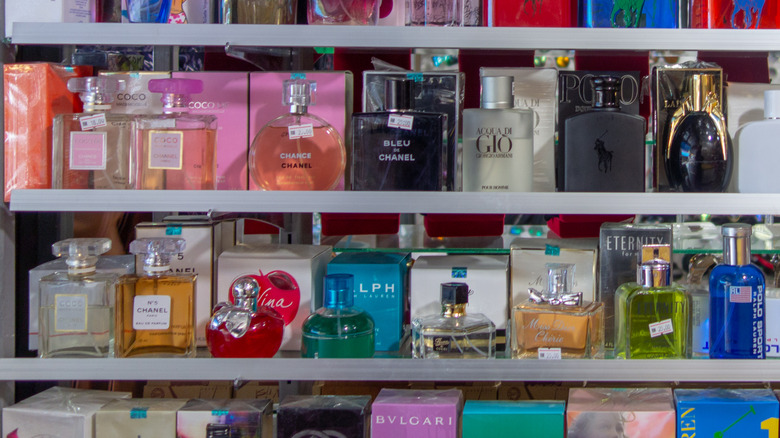 ahmad.faizal/Shutterstock
Unfortunately, the beauty industry, like so many others, is no stranger to counterfeit products. As the old adage goes, if it seems too good to be true, it probably is. It can be tempting to click "buy now" online when finding what looks to be an amazing deal on a luxury brand product, but buyers need to beware when finding these luxury products online for a discounted price because they could not only be paying for a counterfeit product but also could be purchasing one that is harmful for their health.
One report from Money.com notes that the cosmetics industry loses over $5 billion to counterfeit products and fraudulent sales each year. The outlet also notes that scammers tend to target luxury brands the most, capitalizing on the consumer's desire to get a luxury product at a discounted price or a product that is sold out online or in-store. Some cosmetics brands will list authorized retailers on their websites, but if you're unsure if the amazing deal you discovered is legitimate, you can always reach out to the brand to confirm if you're buying from a trusted source. "Better safe than sorry" is another adage we particularly like to follow.
Is clean beauty better than luxury beauty?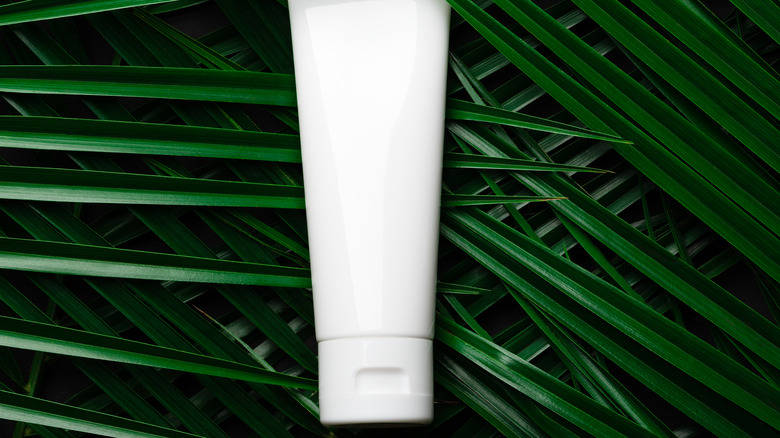 Alice Tsygankova/Shutterstock
Clean beauty products, companies, and practices are becoming more popular as consumers become increasingly aware of not only the products they use but also the sustainable measures companies are taking to create those products. Not surprisingly, the COVID-19 pandemic has helped make consumers more aware of the products they're using. "With more time spent indoors over this past year, consumers have been wearing less makeup and focusing more heavily on their skincare, which has led to an increased consumer awareness of cosmetic ingredients across generations," Edited retail analyst Heather Ibberson told Forbes. "The declaration of a climate emergency has increased consumer awareness and grown demand for ethical and environmentally-friendly products. Infiltration of these products alongside wellness and self-care trends has increased the demand for clean beauty."
Websites like Credo help consumers find new and existing brands that offer clean beauty products, listing how they define "clean" and giving detailed information about each brand they endorse so consumers can make their own educated choices. The good news for fans of luxury brands is that many are beginning to employ clean beauty practices in creating their products and packaging. Chanel recently launched its No.1 de Chanel Collection, which uses cleaner ingredients and features recyclable and refillable packaging, while Dior and Charlotte Tilbury each have refillable packaging on some of their products, too.
So, are these luxury brands really worth it?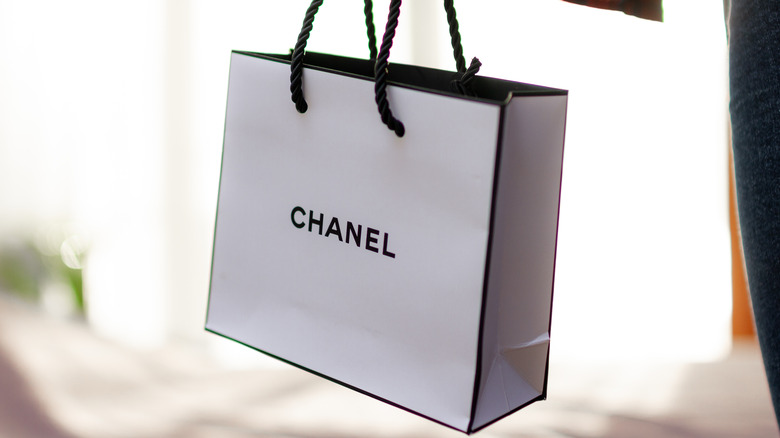 goffkein.pro/Shutterstock
Ultimately, the answer to whether luxury beauty products are worth it or not depends on how you define "worth." For many people, luxury brands are worth the heftier price tag because they tend to contain higher quality ingredients and last longer. Choosing a product made of cleaner ingredients that are sustainably sourced may be a priority for some consumers and that typically means a higher price tag on a product.
However, if luxury beauty brands aren't in your budget, that doesn't mean that you can't get quality products for a lesser cost. There are plenty of good-quality, value-priced beauty products for every budget available through a variety of online and brick-and-mortar stores. If you're eager to add a luxury beauty brand product to your beauty arsenal without breaking the bank, start with one beauty item to splurge on while choosing drugstore dupes for others. You can then decide if the product was worth the extra cost and start saving for what you'll purchase next. Just remember general shopping protocol, including watching out for counterfeit products, especially on Amazon. As noted by Money.com, compare prices with Amazon products and the products from stores' own websites. If the price is too different, it may be fraudulent. Make sure to read product reviews before purchasing, too.