What You Need To Know About Fashion Week 2022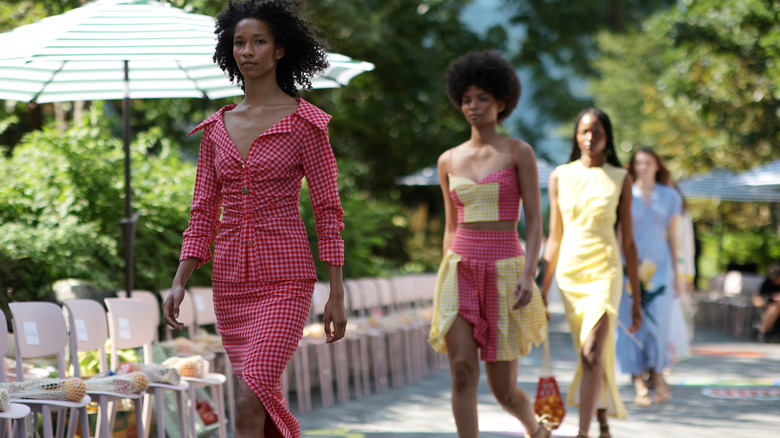 Dimitrios Kambouris/Getty Images
Over the next week, we will see celebrities, street style stars, and buyers from all major stores flock to New York City to see the latest and greatest in fashion. Fashion week 2022 kicks off in NYC on September 9, where high-end designers and household names alike will showcase their designs for Spring/Summer 2023. By the time the bi-annual event ends on September 14, 109 brands will have presented their collections (via CFDA).
Unless you're a buyer, have celeb status, or work for the media, the odds of getting tickets to an industry show are slim. Luckily, shows are live streamed on Runway360, brought to you by the Council of Fashion Designers of America. There are a few public tickets for big-name shows, but they have a hefty price range, with packages ranging from $500 to $50,000 dollars (via NYFW). However, Eventbrite has low-cost or free tickets for lesser-known designers available. We recommend watching online and saving your bucks for some ready-to-wear pieces in the spring. Shows are being hosted throughout the entire city, but the main headquarters for this fashion week is Spring Studios at 50 Varick Street. Here's what you should know.
The brands to watch during fashion week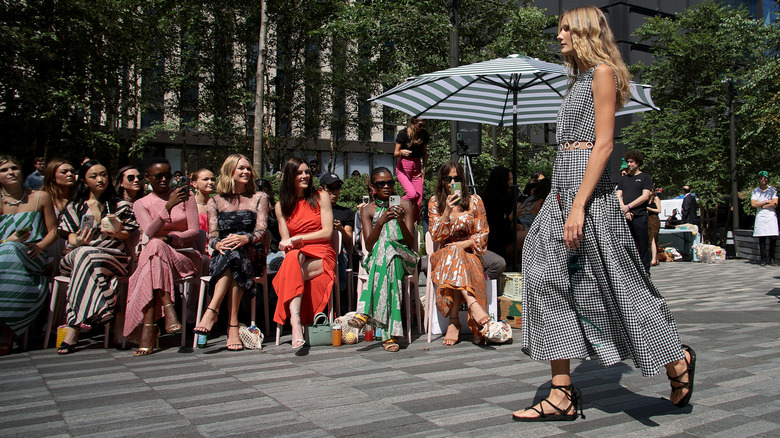 Dimitrios Kambouris/Getty Images
With so many designers returning to the runway for the first time in over two years, fashion week 2022 is sure to be one for the books. PUMA, AREA, and Tommy Hilfiger are just three of the many brands that are making their runway return after a hiatus. Tommy Hilfiger is breaking more ceilings as it will be live streaming its runway show on September 11 in Roblox. This move comes as many brands attempt to break into the metaverse. In fact, back in June, Tommy Hilfiger expanded its partnership with Roblox, making it one of the only fashion brands to take a deep dive into the ever-expanding metaverse (via PVH). Another brand already making waves on social media is Fendi, as the brand is planning a special tribute for its classic baguette bag on its 25th anniversary (via Instagram). Created by Silvia Venturini Fendi and Karl Lagerfield in 1997, this bag will truly never go out of style.
What's more, fashion seems to be getting more inclusive by the year, so we are excited to watch the Runway of Dreams Foundation present adaptive designs from major brands such as Tommy Hilfiger, Zappos, Target, and more. We are also expecting some other major brands to put inclusivity at the forefront of their shows. Finally, we expect some powerful statements to be made by brands. Fashion is an art form that already makes a statement naturally, and with major political shifts happening worldwide, we expect designers to bring activism into their work. Brands such as DVF, Dior, and Christian Sirano have done it before, so we expect these brands and more to make a political statement once more.
What is the purpose of fashion week?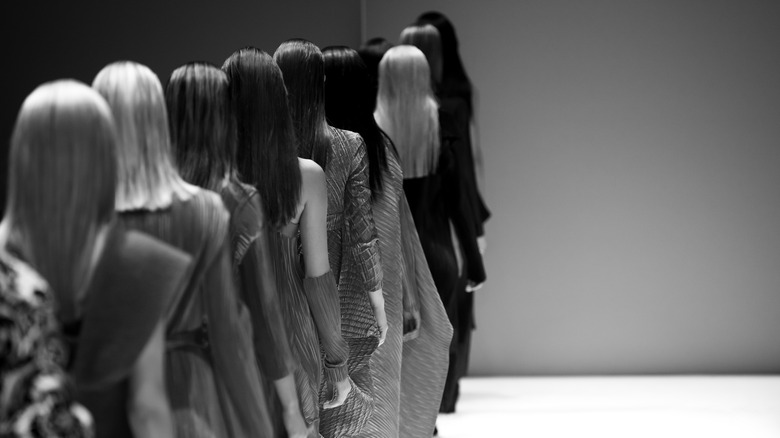 CatwalkPhotos/Shutterstock
Fashion week is ultimately a time for designers and brands to show off the creations they have spent months on. Whether this is to buyers or the press, they are ready to dazzle. Fashion week was originally even called "press week" when it started back in 1943 (via Fashion Week Online). At this time, fashion shows mainly took place in Paris, but Americans couldn't travel there due to the then-ongoing World War II. This led to fashion shows taking place abroad instead.
Fashion week takes place twice a year, once in February for fall/winter fashion and again in September for spring/summer pieces. Having all of the fashion shows in the same city within a similar time frame ensures more spectators, buyers, and media can make it to the shows. Which designers get to show their pieces at NYFW is often more complicated, as it is often based on who has the most money to invest. Some heritage brands such as Burberry, Valentino, and Hermes are always a given. These brands have been around for long periods of time and are largely based on customer loyalty. Fashion week has now become a New York staple event, bringing events, art, and culture to the city every season.