Here's Why Queen Elizabeth Always Wore Monochromatic Outfits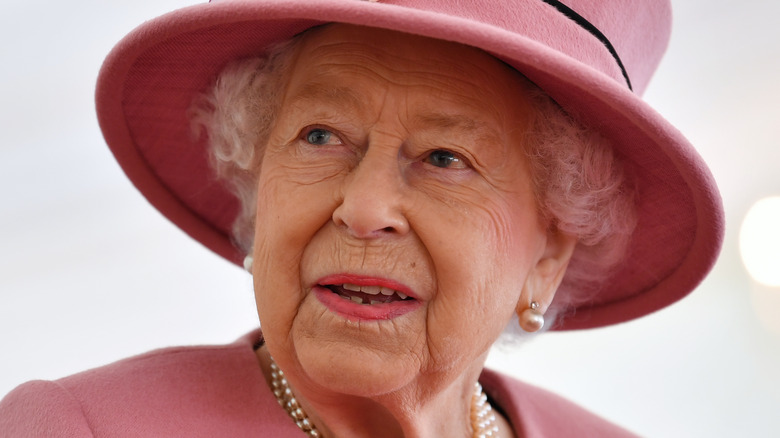 Wpa Pool/Getty Images
Throughout her entire life in the public eye, Queen Elizabeth II was known for many things: her devotion to duty, her love of the open roads, and her rainbow wardrobe that was ever in stark contrast to the weather of her country. England's longest-reigning monarch's fascination for colorful clothes is nothing new. According to a 2012 Vogue study (via the Daily Mail), 29% of the queen's quilted jackets, gowns, and hats were largely different shades of blue. Only 1% of the time, and mostly on sorrowful occasions, was the queen seen wearing black.
The queen's vivid color palette never failed to dazzle royal fashion watches. But it was her inclination to dress in one color from head to toe, however, that made her the classic example of British style. From the turquoise dress she wore on Prince Charles' wedding day in 1981 to the sunny yellow coat she wore for the 2011 wedding of Prince William, they were all paired with matching hats. Whether on purpose or of personal preference, the queen's single-color fashion collection never failed to hit the mark. Pointing out that the queen chose to wear festive colors to stand out from the crowd easily, royal expert Daisy McAndrew also said that the queen "likes all the matching hats and all the rest of it" (via NBC New York).
What is it about monochromatic outfits that won the heart of the queen for so many years? Here are some insights.
Queen Elizabeth wanted to be seen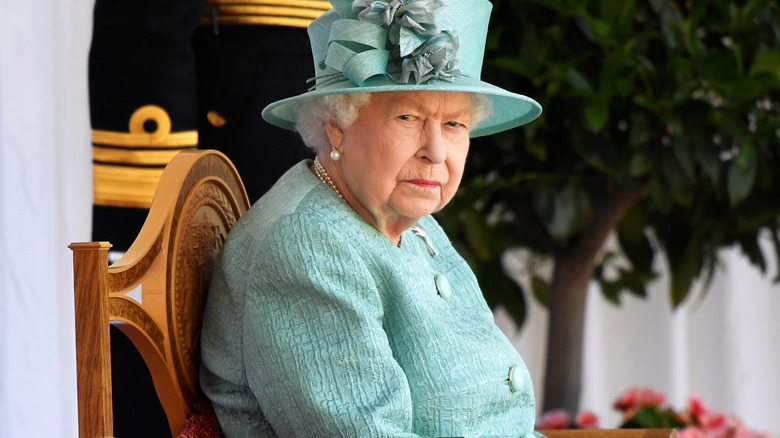 Wpa Pool/Getty Images
To decode the sartorial choices of the woman who carried out over 21,000 engagements throughout seven decades of her reign, one needs to understand her fashion perspective. Not a fan of muted hues, the 5'3" tall queen, the most petite member of her royal squad, believed in "being seen to be believed," per the biography "Elizabeth the Queen: The Life of a Modern Monarch." With that in mind, the queen chose to wear outfits of bright colors in most of her public engagements. And with color-coordinated hats and umbrella trims, it's hard to lose sight of the queen even when it rained cats and dogs. While it seemed that Her Majesty's outfits were a result of her personal preferences, they were anything but spontaneous or nonstrategic.
Angela Kelly, the queen's dresser for roughly three decades, shared in her memoir "The Other Side of the Coin: The Queen, the Dresser and the Wardrobe" that every detail that had to do with Her Majesty's ensemble, from the fabrics to the colors, had to be thoroughly researched beforehand. External factors such as weather forecasts and local customs were always taken into account to make sure every single one of the queen's appearances cut the mustard. Because trends come and go, they were off the table for the queen. Throughout nearly a century of upheavals and evolution, Queen Elizabeth II's unchanging style became a symbol of unwavering tradition and decorum.
Monochromatic outfits will always be beautiful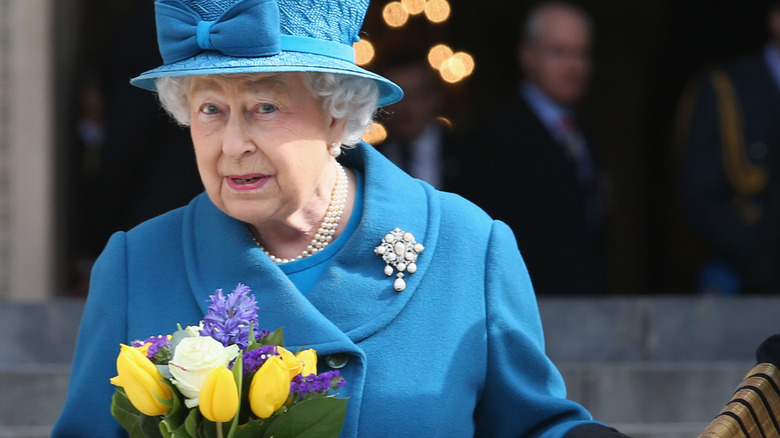 Chris Jackson/Getty Images
If Queen Elizabeth wasn't a fan of trends that are fickle, it's no wonder why she was a devotee of the monochrome style. Going monochromatic is all about wearing the color that suits you, and colors aren't affected by trends. In fact, wearing pieces of the same color elongates the wearer's frame, and draws attention to the most dressed-down ensemble. If you take a look at spring 2022 runways, you'll discover that monochromatic dressing is high-fashion styling, and donning a solid color head to toe is akin to singing on pitch. To pull off a statement one-tone getup, The Gray Details recommends choosing a color-coordinated jacket and pair of trousers with a matching tee underneath. If you want to keep your single-color ensemble balanced, put on a slightly patterned piece or wear different textures of the same color.
According to a quote attributed to Coco Chanel, "Fashion comes and goes, but style lasts forever." In the case of Queen Elizabeth, whose image will always be indelibly linked to her monochromatic attires, this couldn't be more accurate. Colorful yet relevant, eye-catching yet unflashy, going monochromatic was the style Her Majesty managed to keep so well for many decades.