Despite The Brand's TikTok Fame, Trader Joe's Is Struggling To Recover From The Pandemic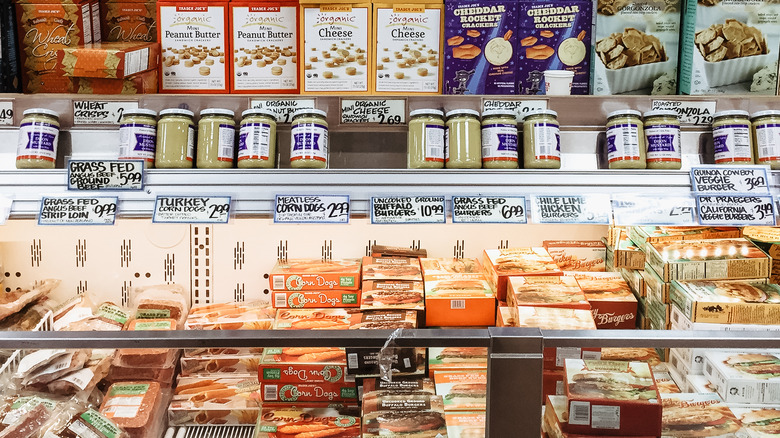 Corinna Haselmayer/Shutterstock
During the initial outbreak of the COVID-19 pandemic in 2020, between 12,000 to 15,000 retail stores in the U.S. closed while e-commerce sales soared substantially, CCIM points out. As pandemic restrictions eased and millions of people got vaccinated, many retailers have bounced back strongly, and core retail spending, though unevenly, has seen tremendous growth. Consumer spending, which constitutes over two-thirds of the U.S. economy, has remained stable from the beginning of the year until now. According to Colliers' Fall 2022 U.S. Retailer Report, the historic inflation brought on by supply chain shortages, the war in Ukraine, and an abundant labor market didn't deter U.S. shoppers from loosening their purse strings.
Some well-known retail businesses, nevertheless, don't appear to have yet profited from this broad increase in customer spending power. And that's what's taking place with Trader Joe's, a beloved retailer best known for its eclectic food selections sold under its own private label. Since its establishment in 1967, Trader Joe's has garnered a cult-like following for its affordable offerings and share-worthy recipes widely circulated on TikTok. Thanks to its narrow product lines, Trader Joe's enjoyed tremendous foot traffic success for many years. This strategy, known as the "paradox of choice," encourages clients to become more "option-aware" and increases their commitment to making purchases. Despite Trader Joe's popularity both offline and online, the company is having trouble getting back to its pre-pandemic foot traffic levels. Here's why.
After the pandemic, size matters for Trader Joe's
With average monthly foot traffic of between 75,000 and 85,000 unique visits, Trader Joe's did remarkably well before the COVID-19 pandemic, as seen in data collected by SafeGraph. Between January and March of 2020, the retailer received over 95,000 visitors a month. However, when the pandemic hit the U.S. in April 2020, traffic drastically decreased. Foot traffic at Trader Joe's began to gradually increase in 2021, averaging 65,000 visits each month. Throughout the first quarter of 2022, Trader Joe's appeared to be on course to reach pre-pandemic level of monthly foot traffic. Surprisingly, in May, foot traffic at the chain plummeted to about 55,000 visits, a significant decrease versus 2021. The number continued to decline in July, reaching roughly 45,000 visits. In August, Trader Joe's foot traffic was barely over 50,000 visits.
Trader Joe's post-pandemic decline in in-store traffic is triggered by a variety of reasons. And the most obvious one appears to be the size. The Patriot News estimates that the typical Trader Joe's store is between 8,000 and 15,000 square feet, which is about half the size of a typical grocery store. Although compactness might translate to better customer service, it can be a problem in times of global health crisis. To reduce transmission risks, the business must restrict the number of visitors at any given time, and customers are also less inclined to cram into a tight area. Per Interview Area, the retailer doesn't have self-checkout registers, which makes queue congestion a real pet peeve. Additionally, since Trader Joe's doesn't offer in-house delivery, customers are trapped between a rock and a hard place.
Trader Joe's has a high defection rate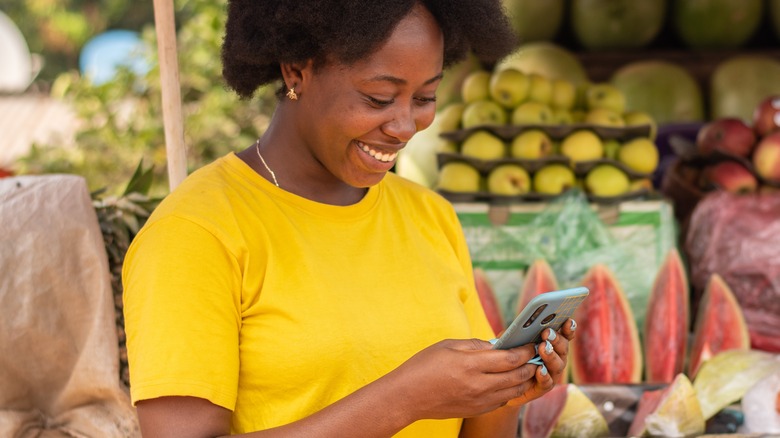 i_am_zews/Shutterstock
Lack of convenience aside, Trader Joe's has always had real competition to worry about even before the pandemic. "I would imagine that many Trader Joe's consumers were once Whole Foods consumers who migrated due to pricing or convenience," Matt Sargent, senior vice president of retail at Magid, tells Food Navigator. According to a 2018 study by research firm Magid cited by Food Navigator, Trader Joe's is most at risk of losing customers to Whole Foods and Amazon. The data reveals that Trader Joe's shoppers spend more than three times as much at Whole Foods and Amazon as the market average. In line with this finding, a 2017 survey by the Thasos Group points out that Trader Joe's had the highest rate of customer defection, equivalent to 10%, to Whole Foods.
Make no mistakes: Trader Joe's can beat Whole Foods hands down when it comes to cheap organic produce. Convenience-wise, however, Whole Foods seems to go one better. Not only are most Whole Foods stores three times larger than Trader Joe's, but Whole Foods also offers free curbside pickup, which is not available at Trader Joe's. Whole Foods also offers delivery service through Amazon Prime and more options for customers looking for diversity. If Trader Joe's doesn't up the ante anytime soon, it might lose more customers to its biggest competitor. That said, if cheap and quality house-brand groceries and enjoyable customer services are your priority, Trader Joe's will always be the place to go.