15 Dupes For High-End Makeup Every Budget Savvy Beauty Should Know About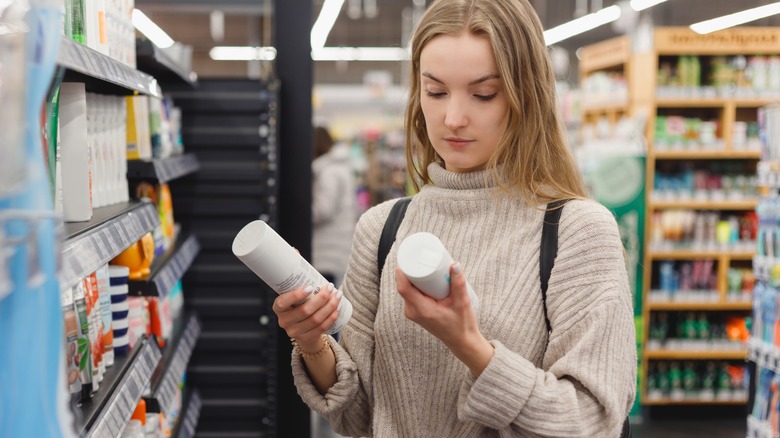 Vladeep/Shutterstock
Affordable makeup has come a long way over the past years. There was a time when you could count on one hand the amount of drugstore makeup products that were actually effective. Higher-end beauty reigned supreme for far too long, but today we've reached the point where not only are the two battling it out — but more often than not, the affordable option wins out.
Dupes are an intrinsic part of the makeup industry today. The moment exciting luxury makeup products drop, budget beauty brands head to their factories and attempt to develop affordable versions of them. The only problem with this is, how do you know the dupe is really a dupe where it matters? Too often do we find that an affordable brand will release a product almost identical in packaging and naming to a luxury product, but when you try it out it couldn't be further from a dupe. The actual formula of a product is what makes it comparable to higher-end beauty buys. 
This is why we've done the work for you and picked out some of the best almost-identical dupes on the market right now. Save your coins, but get the same results.
How we selected these dupes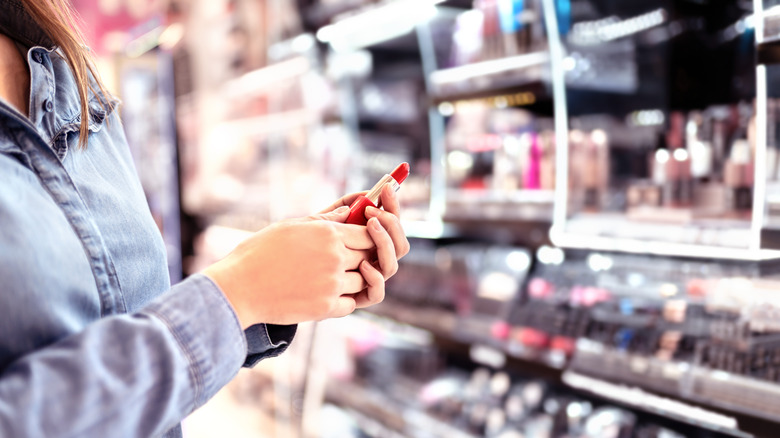 Tero Vesalainen/Shutterstock
Have you fallen victim to a budget beauty brand's claim that its product is similar to a luxury item, only to discover that the dupe is actually a dud? Your best bet to avoid that unfortunate moment in the future is to play the waiting game. Hold out and see what drugstore dupe actually ends up making a name for itself and is confirmed to be the real deal by fellow makeup lovers.
We've played the waiting game for you by sifting through the endless options and selecting some of the best makeup dupes on the market right now. Selecting dupes can be tricky. We made sure to only include options that have been heavily vetted by reviewers that have been around the makeup block.
The majority of the options on this list aren't only infamous dupes, but they've actually built their very own reputation around being amazing stand-alone products. We also selected these dupes based on products that function almost identically to, if not better than, their higher-end counterpart, regardless of the packaging. Whichever one of the options below you opt for, you're guaranteed to get a luxury beauty experience at a fraction of the price.
Dupe for: Charlotte Tilbury Hollywood Flawless Filter
When a product goes as viral as Charlotte Tilbury's Hollywood Flawless Filter does, everyone immediately needs to get their hands on it. Of course, the hefty price point makes it a little less desirable. Given that it was an entirely unique formulation of highlighting and smoothing hybrid products, it was impossible to find a dupe — until e.l.f entered the chat.
E.l.f. released their Halo Glow Liquid Filter at the perfect time and finally gave makeup lovers an alternative product that lived up to the promises of the Charlotte Tilbury favorite. The Halo Glow Liquid Filter is a "complexion booster" that is available in eight shades, each designed to give your skin that ultimate glowing from within look. Combining skincare with makeup, the product is formulated with hyaluronic acid, squalane, and finely milled powders that give your skin a smooth, airbrushed effect that catches every light. 
The multi-purpose product can either be used alone to give your skin an extra boost or under your base makeup to help it go on more smoothly. The best part is, at only $14, it does it all at a fraction of the price of the Hollywood Flawless Filter. One reviewer couldn't believe how well it worked, writing, "This stuff is magic alone & under foundation. I love it so much. And it's completely lightweight. It adds such a lovely, dewy glow."
Purchase the Halo Glow Liquid Filter at e.l.f. for $14.
Dupe for: Hourglass Veil Mineral Primer
The Hourglass Veil Mineral Primer has grown quite the cult following over the years, dating back to the OG YouTube review video days where it was every makeup guru's go-to primer. Of course, Hourglass price points are definitely overwhelming, so when NYX Cosmetics released their own dupe of the popular primer, everyone flocked to try it.
NYX Cosmetics' Angel Veil Primer may look very different from its Hourglass counterpart, but users have found that the two work the exact same way. The aptly named Angel Veil Primer is just as uniquely silky and smooth without being too silicone-y, as the Veil Mineral Primer can be. The satin primer gives you a smooth and poreless base while also minimizing shine and prolonging the wear of your foundation. 
NYX put it best when they said, "Your skin will feel like it's been touched by an angel with this skin-perfecting primer." And one reviewer of the 4.3-star-rated primer backed up the brand's claims by sharing, "You all, this primer here is a GAME CHANGER! I've used some of the higher-end brands and they just DO NOT compare. This stuff literally shrinks your pores and gives you such a smooth finish and lay with your makeup. ... I pray NYX never gets rid of this product."
Purchase the Angel Veil Primer at NYX Cosmetics for $17.
Dupe for: Charlotte Tilbury Beauty Light Wand
When a brand's products are priced like Charlotte Tilbury's, there's no shortage of people searching for dupes for them. Especially when it comes to Tilbury's iconic glow-inducing products. When the Hollywood Beauty Light Wand quickly became a fan favorite highlighter, none of the affordable liquid highlighters on the market could quite match its unique applicator. But Makeup Revolution has gained quite the reputation for producing almost identical dupes for higher-end beauty products, and the brand nailed it with its Bright Light Highlighters. 
The Bright Light Highlighters look a little different from the Beauty Light Wand, however, they come with that same unique sponge tip applicator. The highlighter comes in six shades, from classical champagne and gold to a unique duo-chrome lilac highlighter shade. What makes these sticks unique is that they are infused with quartz to achieve a reflective glow without being too glittery or chunky. One Revolution Beauty London reviewer confirmed that they are a match for the Charlotte Tilbury Beauty Light Wands, writing, "Gorgeous product. Has a little shimmer through it but definitely a dupe for the Charlotte Tilbury liquid blush." 
Purchase the Bright Light Highlighters at Revolution Beauty for $10.
Dupe for: NARS Radiant Creamy Concealer
With so many concealers constantly flooding the beauty market, it's pretty hard for one to hold on to its holy grail status as well as NARS' Radiant Creamy Concealer has. Releases come and go, but it continues to secure its spot in makeup bags everywhere. If you've endlessly searched for a dupe for the luxury concealer, Revlon has you covered. The Revlon Photoready Candid Antioxidant concealer is priced at under $8 and it's going to give you the same creamy coverage you're craving. 
The Photoready Candid Antioxidant concealer comes in a vast shade range, but it's the formula that makes it so impressive. While the creaminess is comparable to NARS Radiant Creamy Concealer as well as how much coverage it can give you, this concealer actually comes with some additional pros. Formulated as an antioxidant, anti-pollution, and anti-blue light concealer this will protect your undereye area in addition to hiding dark circles and brightening. It's ultra-blendable and super buildable so you can achieve the level of coverage you need, and the uniquely shaped doe-foot applicator makes it super easy and smooth to apply. 
A Target reviewer couldn't resist raving about this 4.4-star rated gem, saying, "This is my favorite concealer ever. The applicator is so ingenious. The formula is smooth and comfortable. Very lightweight, but full coverage. Works amazing on my blemishes and acne scars."
Purchase the Photoready Candid Antioxidant Concealer at Target for $7.89.
Dupe for: Fenty Beauty Gloss Bomb
When Rihanna first launched Fenty Beauty everyone wanted to get their hands on each and every product, but as the brand has continued to grow, and even expand into skincare and body care, there is one product that people keep going back for: the Gloss Bomb. This isn't just another gloss; with its uniquely wide applicator and shimmers running through its hydrating formula, this was a balm/gloss hybrid that gave an unmatched glow. Well, unmatched until Maybelline launched their Lifter Gloss Lip Gloss.
The Lifter Gloss even looks similar to the Gloss Bomb, down that beloved thick doe-foot applicator that gives an even sheen across your lips with one swipe. This gloss promises to give you an instant filler look by plumping up your lips while hydrating them with hyaluronic acid.
This gloss is also available in 20 shades so you have a lot more choices to play with. Each shade comes with glitter running through it to achieve that shimmering sheen that leaves your lips looking extra juicy. This Maybelline reviewer confirmed that the gloss deserved to win Allure's Best of Beauty 2021, writing, "HOLY COW. My favorite lip product ever. I wasn't expecting much but omg this is definitely a Fenty dupe and better. I have nothing bad to say, super easy to apply, not sticky but not slippery. Very hydrating on the lips and I'll forever keep buying this gloss."
Purchase the Lifter Gloss Lip Gloss at Maybelline for $9.99.  
Dupe for: Tatcha The Silk Canvas Protective Primer
There's definitely no shortage of pore-blurring primers on the market, but Tatcha's Silk Canvas primer offered something entirely different with the odd putty texture that you had to warm up between your fingers before applying. It was nothing like the many silicone-based pore-blurring primers we're used to, and no one seemed to attempt to develop a dupe for it except e.l.f. 
Somehow, e.l.f.'s Poreless Putty Primer has successfully mimicked the unique Silk Canvas Primer. It also comes packed in a pot and works the same way by asking you to wait 30 seconds after applying before putting your base on. The putty formula melts into your skin and forms a protective smoothing layer that gives you a blank canvas to apply your foundation on top of for an airbrushed look. 
There's a reason why this primer consistently sells out, retailing for only $10 compared to Tatcha's $54 version, the e.l.f. primer has the exact same effect at a fraction of the price. Successfully duped, if you ask us. What's even better is that the 4.5-star rated primer actually comes in three different formulations: poreless, matte, and luminous, to cater to everyone's skin needs. 
Purchase the Poreless Putty Primer at e.l.f. for $10.
Dupe for: Too Faced Better Than Sex Mascara
Initially, it was definitely the name that garnered so much interest in Too Faced's Better Than Sex Mascara, but once people got their hands on it, it was the unmatched volume that made it go viral. It's been years since it first launched and it remains a staple for many, but L'Oréal's version of the mascara has been so heavily compared to it that it has earned its very own fans.
The Voluminous Lash Paradise mascara has been TikTok viral for a reason, with a bow brush similarly shaped to Better Than Sex this mascara's effects are what makes it a dupe. The brush manages to give you fluttery feathery lashes while adding heaps and heaps of volume and thickness. Its 200+ bristles brush makes sure to catch each and every lash and coat it fully for a voluminous finish. 
One Ulta reviewer even claims that Voluminous Lash Paradise surpassed Better Than Sex's formulation, "It is truly a dupe for the Too Faced Better Than Sex mascara. It's not clumpy like the Too Faced mascara tends to be. Definitely recommend!"
Purchase the Voluminous Lash Paradise Mascara at Ulta for $12.99.
Dupe for: NARS Light Reflecting Advanced Skincare Foundation
When it comes to foundations, NARS has always been known for the Sheer Glow Foundation — but the brand's Light Reflecting Foundation became a new favorite for its unique skincare/makeup crossover formulation. Well, if the price has left you hesitant to try it out yourself then don't worry, a long-existing drugstore dupe exists to scratch that itch.
L'Oréal's base products have always been comparable to higher-end beauty brands, and the Infallible Fresh Wear 24HR Foundation is the perfect dupe for NARS' Light Reflecting Foundation. The Infallible foundation has long been a favorite for its high coverage and long-lasting formula, but its fresh and lightweight feel is what makes it a dupe for NARS. 
Promising up to 24 hours of wear and formulated with SPF, the foundation somehow manages to be full coverage and mattifying while still allowing your skin to breathe and feel weightless, rather than cakey and heavy. The Infallible Foundation has earned itself quite a loyal following, like this one Ulta reviewer, who wrote, "This foundation is literally the best foundation I have tried! I have tried numerous foundations and this one seems to last me all day and thankfully does not break me out! Perfect for any occasion!!"
Purchase the Infallible Fresh Wear 24HR Foundation at Ulta for $15.99.
Dupe for: ILIA Multi-Stick Cream Blush+Highlighter+Lip Tint
Multi-sticks have been a miraculous beauty invention that can save you a lot of time, but unfortunately not that much money. Especially considering the crowd-favorite multi-stick on the market happens to be ILIA's Multi-Stick, which costs $34. Sure, that still saves you the cost of a separate blush, highlighter, and lip tint, but what if you only had to spend $5 for that same versatility?
It's no surprise that e.l.f. is coming up yet again, the brand has recently mastered producing dupes for luxury products and the Monochromatic Multi-Stick definitely keeps their streak running. For the exact same amount of product at a fraction of the cost, this Multi-Stick comes in seven shades that are perfect to be used for everything from blush to eyeshadow. Some multi-stick products have a tendency to be too glossy to use everywhere, but this non-greasy lightweight formula seamlessly melts onto your skin wherever you apply it. The shea butter and vitamin E in it also make sure it's hydrating and soothing on your skin.
Purchase the Monochromatic Multi-Use Makeup Stick at e.l.f. for $15.99.
Dupe for: Anastasia Beverly Hills Brow Freeze
Brow laminations have definitely had a moment over the past couple of years. It's been all about the slick look of separated hairs pointing upwards. Anastasia Beverly Hills Brow Freeze was a product that could give you the brow lamination effect without the permanency. Well, enter e.l.f. yet again with the identical Brow Lift. 
At first glance, the two products look like dupes for one another, and they work identically as well. The e.l.f. Brow Lift is a clear brow gel packed in a tin that gives your brows extreme hold so that you can mold them in whichever direction you'd like. Similarly to Brow Freeze, this works as a soap brow product minus the flakiness of actual soap. The Brow Lift manages to be lightweight and not overly sticky or chunky while slicking your brows and keeping them in place all day. One Ulta reviewer even preferred it to the OG, writing, "This is my favorite thing for my brows. It's even better than hair gel or the Anastasia brow freeze."
Purchase the Brow Lift at Ulta for $6.
Dupe for: Rare Beauty Positive Light Liquid Luminizer Highlight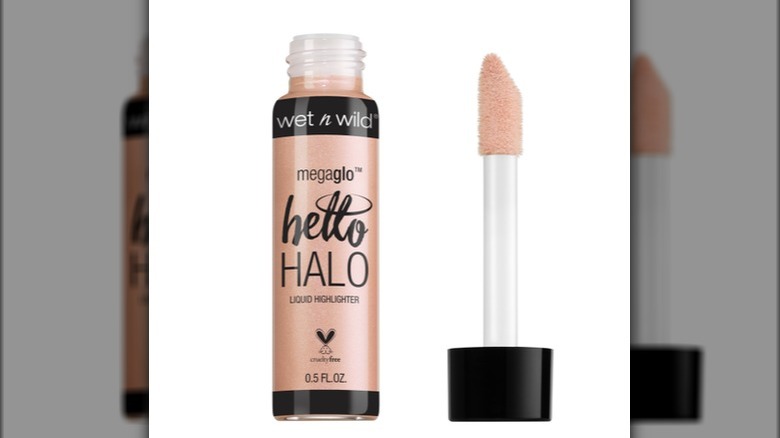 Wet n Wild
Selena Gomez's Rare Beauty is only two years old and the brand has already become a makeup favorite, and the Positive Light Liquid Luminizer was one of its first hits. The liquid highlighter quickly became a favorite for both highlighting and using as a base for a glow from within. But you can easily get the same look with this Wet n Wild dupe. 
Wet n Wild's MegaGlo Liquid Highlighter-Halo comes with a similar thick doe-foot applicator and applies a stunning shimmering highlight of finely milled sparkles to give your skin a beautiful sheen instead of a glittery mess. What makes the highlighter melt into your skin so beautifully is the super hydrating murumuru seed butter, grapeseed oil, and vitamin E it is formulated with.
The liquid highlighter is so buildable that you can either go for a subtle glisten or a full-on blinding highlight, and you don't have to worry about it getting patchy and sticky when building the intensity. This Wet n Wild reviewer couldn't rave about it enough, saying, "These liquid highlighters are amazing and blinding!!!! I love how my skin looks after I apply this highlighter it looks like I just came out of the shower and makes my skin glow like the stars in the sky!!" 
Purchase the MegaGlo Liquid Highlighter Halo at Wet n Wild for $5.99.
Dupe for: Beautyblender Original Makeup Sponge
It's not just makeup products that have dupes, tools do also. Especially in the case of the pricey BeautyBlender which quickly became everyone's go-to base applicator. The drugstore market is actually filled with BeautyBlender dupes, but it can be tricky to figure out the ones that actually compare. Morphe's Highlight and Contour Sponge passes that test with flying colors. 
The Highlight and Contour Sponge is almost identical in texture to the Original BeautyBlender. It has the same bouncy softness without being too porous and soaking up too much product. In fact, the Morphe sponge is a little smoother and can give you even more of a flawless finish. 
One of the best parts about this sponge is its unique shape. The two flat sides make it perfect to double up as a contouring sponge or to really press powder products into your skin for a seamless application. The edges also mean more corners to work with to get into tricky areas like the sides of your nose. The 4.8 star-rated dupe has wowed everyone, especially one Morphe reviewer who said, "Super bouncy and efficient and way cheaper than a beauty blender."
Purchase the Highlight and Contour Sponge at Morphe for $9.
Dupe for: Tarte Shape Tape Concealer
No concealer has been quite as sensational as Tarte's Shape Tape. In fact, it has been so successful that it's since expanded into a variety of formulas and even a foundation. But the concealer remains the unrivaled icon. Well, unrivaled until e.l.f. had something to say about it. 
E.l.f.'s Camo Concealer has won its fair share of awards for how great of a concealer it is, but the real selling point is how spot-on of a dupe it is for Shape Tape. Finding a concealer doe-foot applicator as thick as Shape Tape's is rare, but the Camo Concealer nailed it. Of course, applicator aside, it also has a very similar creamy formula that provides impressive coverage buildability while also having skincare benefits thanks to the kaolin clay and avocado oil it contains. 
The concealer promises to be crease-proof and last up to 16 hours, and this e.l.f. reviewer definitely backs those claims up, writing, "This formula seriously does not budge or cake up and it kept my makeup looking flawless for a long time. I'm totally reordering this product!"
Purchase the Camo Concealer at e.l.f. for $7.
Dupe for: Stila Glitter & Glow Liquid Eye Shadow
Glitter can be tricky to get right. It's one of those makeup categories that can very easily go wrong, leaving it looking too chunky, too patchy, or having a strange tinge to the liquid that holds it together. Stila got it right when it won everyone over with the iconic Glitter & Glow Liquid Eye Shadows, and Covergirl has now provided the perfect dupe for that classic. 
Covergirl's Exhibitionist Liquid Glitter Eye Shadow definitely looks the part as it comes in the exact same rectangular tube as its luxury counterpart, and what's in the tube matches even more. Available in eight shades, the shadow features the perfect balance of glittery goodness with a smooth liquid base that applies the color evenly to your lids. 
This liquid glitter may dry quickly, so work as fast as you can to blend it. But once it's set, it's there to stay. One Covergirl reviewer gives it the dupe stamp of approval, saying, "Love these liquid eyeshadows! Very similar to the Stila liquid shadows. Very affordable and tons of colors!"
Purchase the Exhibitionist Liquid Glitter Eye Shadow at Target for $5.69
Dupe for: Urban Decay Naked Eyeshadow Palettes
If you've been a makeup lover for quite some time now, then you'll appreciate why it was only right for this classic to get an honorable mention. Who could ever forget the chokehold that Urban Decay's Naked Palettes had on us all, and who could forget the endless parade of dupes that were released that all missed the mark? Perhaps a few years too late, Rimmel London finally gave people the affordable dupe that could live up to the revered classic palettes. 
Rimmel London's Magnif'eyes Eye Shadow Palettes are available in four color stories, from warm and cool neutrals to the bold Rainbow Edition. Not only do some of the palettes have identical shades to the original Naked palettes (especially the Naked Heat and Naked 3 editions), but the formula is seriously impressive for a drugstore eyeshadow. Powder eyeshadow tends to be one category the drugstore struggles with, but these palettes are creamy, blendable, and insanely pigmented. The rich and intense colors also happen to be crease-proof and promise longevity. 
The 4.4-star rating is backed up by loyal fans of the palettes. In fact, one Target reviewer even reaches for these over her higher-end eyeshadow palettes, saying, "This is hands down my top favorite eyeshadow palette. Even compared to my expensive palettes this is still my number 1 go-to."
Purchase the Magnif'eyes Eye Shadow Palettes at Target for $7.99.